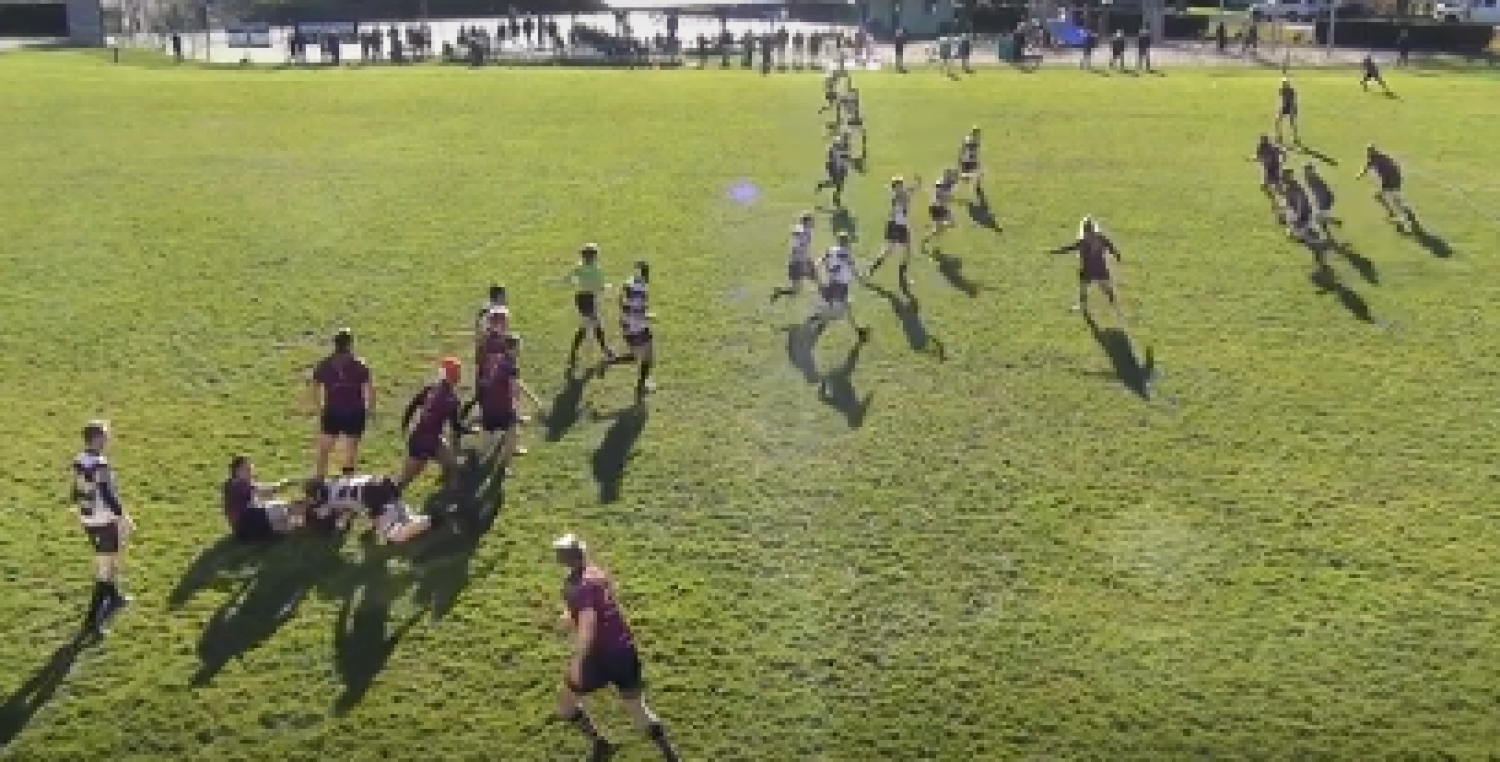 Bowd finds another way to beat the defensive line.


The day unfolded under a glorious sky, yet a chill, when out of the sun, and no wind factor to speak of. Fans had barely settled and for this pundit, years of "eyes in the back of the head", caught Makaroff diving over under the posts! From the re-start, the CW defensive pressure was so intense that a pass was telegraphed and pinched by an alert Boyd-Porter, back from injury and he scooted for the line, a 12 – 0 lead after a mere seven minutes. Not long after, following further pressure, then a series of recycles and good support, Gerhardt scored for the 17 – 0 lead. Lomas had been embedded in their half for the first twenty-five minutes. Captain Hohert, pinching balls frequently and leading the charge was a motivating force for CW. A lengthy and pacey break occurred from #9 Cullen, no try, but again, CW on the front foot. From a 5m scrum, a dominant CW pack shunted their opposition at a rate of knots. A 'thank you' at the base from Cullen, one step, a dummy and a try registered, 24 – 0.
CW opened the second stanza with a classy, passing flurry, the ball moving between five or six sets of hands for Makaroff to finish the deed for his brace, 29 – 0. A penalty to the Loma saw them bang it to touch and it started a different complexion on the match. Lomas visibly stiffened, won some ball, and started asking a few questions of the defence, almost scoring on a couple of occasions. The defensive resolve was apparent, repelling the effort. As the match wound down, CW had more in the tank. It was Gerhardt again, running hard all day and on this occasion, dishing to Boyd-Porter for his brace and 36 – 0 victory.
The score line gives a reasonably accurate reflection of the proceedings. For Meralomas, I liked center, Edwards as my P-o-M, with some hon mention to Peko and Perry in the backs. Tight head Brown caught the eye a couple of times and it looked like all of the Loma bench got a run. Plenty of hands were raised on the day for CW and for the likes of Winser, Ilnicki, Gerhardt, a little salve for some past, tough losses to this club. The FRF, highlighted by Peters – apologies for singling out Jace – a jug when The Temple reopens, and one throws a towel over the equality of contribution of the rest. The backs were also hot. White constantly caught my eye, although it was tough not to name everyone. In this one, I give my P-o-M to #9, Jonny Cullen – a good display.
It was not the same, very early start that it was against Burnaby by the Prems. It was a more methodical, patient opening, a break by Griffiths, a burst by Schelly, a couple of good crashes from Sponarski. Lomas had the first chance with a long penalty. It soon became obvious that a CW try would come, but how, when and by whom? It was Bowd who gave a crafty, sleight of hand and his instant acceleration gave him the gap and the ensuing 40m, he came close, but it was #9, Pilgrim who was the recipient for "first blood". Then it was Captain Chisholm with clean heels and 40m of territory. CW worked the ball from this position with support and strong drives before Bowd found another hole and finished the job himself, 14 – 0. The train was out of the station!
At the mid-half, three or four quick hands got the ball to Bowd who exhibited the cleverest of chips, snapped up by 'The Magician' Ngongo, on return, 19 – 0. The honor of transferring the title of 'Maestro' from Monro, Canada's last, quality #10 was being discussed on the balcony! Pyke made a good break, Sponarski, running off Griffiths in the centers was a bull. Griffith, or was it Tait, and an offload to Pilgrim for his brace, came next, and a 26 – 0 lead. Pilgrim added insult to injury with another 50m break but he was halted by a commendable tackle. Soon after, from ¾ recycles, Braddock ground over. The contest was one-sided, for the Loma was denied possession and their scrum shunted often and when called upon, the home defence was impregnable. Meralomas did give it a go, but Tait banged a line clearance 60m. From another attack it was almost a pity that a try was not scored when beautiful ball and accurate passes found The Magician on a blind side "fill", it was sweeping flow leading to an Adibe break, only for the ball to be knocked on by a desperation tackle. Bowd tried an almost unbelievable grubber, in reverse to his stride and flow, such guile, only for an unlucky Schelly being able to snag it. There was one more score to come. Initiated by the backs who had been disciplined but far short of lacking creativity, ably coordinated by excellent communication to this point, a penalty was earned. From the lineout, a Sawyer drive off the back finished the half at 40 – 0.
Were we to watch the same club in half #2? It was a very different Loma that took the field. CW was aware that this team had outscored Ravens last week in the second stanza however, there was no transfer of this information. The half ended, Lomas 24 – CW 7! Not to take one thing away from a renewed resolve and a gritty, gutsy effort. For the home team, "embarrassment" comes to mind. There will be much soul-searching for CW. Lomas were quicker to the breakdown and more dominant in this phase. They challenged the defensive alignment and tackles were missed. One team's error count decreased, the others visibly increased, etc.
It was only eight minutes old when Loma's continuity was rewarded with #9, Viljoen, breaking the bagel. On a CW attack, slack passing saw an alert center, Williams, intercept the pass, pin his ears and eighty meters later it was 40 – 14. A blocked kick by Pilgrim was the first sign of Tricolour hopes rising but it came to naught after turnover ball started a good foray on a long way back. Quick ball movement to the right saw Featherstone dance in and out to get free, thence a feed to Williams again, who beat all to the try line for his brace and 40 – 19. Meralomas were using scraps to ask massive questions, their confidence growing and CW errors piling! The penalty count also piled up, a repeat of the Burnaby game. A useful break by Pyke which should have been rewarded ended in yet another turnover ball. This invigorated, enthusiastic, and sensible pressure was causing fits for CW. Eventually, a clever grubber saw Williams finish with his hat trick. This man has serious speed. It was all Lomas, 40 – 26. CW made some headway only to be nullified again by error. The Faithful were finding this unfathomable. Time was running out as the deficit had been reduced to two tries. After a good break by Tait, it went on to Pyke, thence a hard crash line from Chiz to Schelly to extend things to 47 – 26 with mere minutes remaining. "And that was all she wrote". One wonders, how could this have been?
It really was difficult to attribute the turnaround to any one factor. Starting with Meraloma resolve and belief vs an almost lackadaisical, not by all, effort, on the part of the Home team, a visible difference from the first half. Lomas with possession brought on by solid tackles and serious foraging, grew their belief and transferred it to points.
I thought the Meraloma locks, Hogan and Fanislow, may not have been brilliant but stuck with it, toiling away, and earning mention. Farris at #8, also worked hard. The writer was so dumbfounded that all credits may not be entirely accurate! Captain Evans, and #9 Tommy Viljoen were the pick of the backs. Man – of – the – Match (Lomas), for me, was Dewi Williams with his hattrick and exhibition of pace that was admired by all. For CW my P-o-M were loose forward Pyke and #9, Pilgrim. We've described Bowd's first half performance, but he was sprung by Pilgrim with speedy, accurate spirals and he also created his own havoc.
Thanks to officials on the day, Kevin Smith, and Julianne Zussman, also a young male and female touch judge who took their task very seriously. 'onyas, all. No Men's rugby next weekend.
Over at Carnarvon Park, CW Premier Ladies were involved in destruction of their own, demolishing a quality UBC Women's team. Heard the scoreline was something in the fifties for the hosts and a twenty point differential. Amazing. Evidently the UBC pack was a handful however much of this domination was negated with ferocious defence and obviously all guns were blazing on attack. Well done, Ladies.
Ed. Addendum and erratum, with sincere apologies to #6, Steve Pyke. Bowd's "cleverest of chips" for The Magician's try was actually executed by Pykie, attaboy, Steve!
---