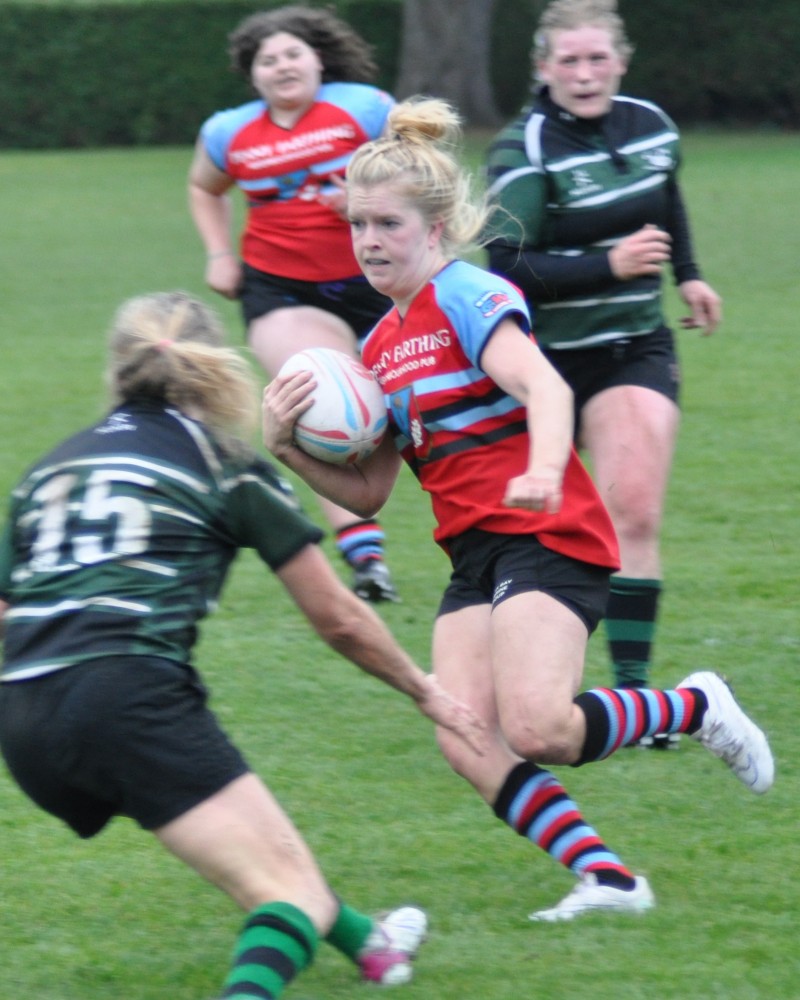 The table was set nicely by the Tricolour Women when they defeated Cowichan 38 – 17 in the VIRU semi-final but it was UVic that enjoyed the banquet after their Norsemen thumped The Ones 57 – 0 and the Vikes won the Premier game 36 – 22.
The Cowichan/CW battle was arguably, closer than the score line indicated although the hosts generally held the territorial advantage. Cowichan opened the scoring fifteen minutes in after 'good hands' saw the scorer ramble thirty meters for the tally. It took another twelve minutes before the hosts responded with a lively equalizer when #9, Sargent, alertly took a quick tap and somehow, bravely forced her diminutive frame through the masses. CW found themselves a player short after a yellow card but #8, Nedved (who had a 'blinder'), took a second tap penalty , ducked, weaved and dove for the 'go-ahead', not to be bested again. Next was a hard run from Bellamy, off-load, four pairs of hands and Katie McNally was in, under the posts for a 19 – 5 lead at the interval.
Early in the second stanza, Nedved scored her brace, a classic #8 pickup and sheer strength for the twenty meter run to the posts, a great skipper's try, – 26 – 5. After further continuity, Crowe-Hutchon finished it with yet another good dash, 33 – 5. Next it was winger, Charity Williams to show a clean pair of heels for a deserved, brilliant solo effort and the end of CW scoring, 38 – 5. With liberal substitution but fair credit to Cowichan, they had the last say (literally), from #15 who had plenty to say during the game, when she put her money up with a forty and sixty meter solo brace of tallies, shaking off tackles on her way to the line. Final score, 38 – 17 to CW.
In summary, a well-played game. Good skills, hard running, courageous tackling and knowledgeable use of space. This pundit has copious bouquets for CW players and a 'thank you' to Cowichan players for what they brought to the match. A smaller pack of forwards led by their Captain, Marlene Nedved, got the job done. Loved Lauren Sargent's speedy and skilled service from #9 and Galbraith played well at #10. Katie McNally, Williams and Stefani Hanson @ #15 all had great moments. So, it's back to Westshore to see if the outcome can be improved against an experienced and talented Velox side. A great spectacle and a tip of The Ruggernut's cap to all.
Men's Rugby
CW congratulates the Norsemen on their 57 – 0 win and thanks to the officials in a rather one-sided parade to the posts. CW "grads"; Rhys Prevost, Evan Cambridge, Alex Kanty, Jacko Nyren, Daniel O'Flynn and Morgan Tate all played their part in the students' win.
Premier Rugby
On paper, there was more of the same – "grads"; Bos, Erlic, Hall, and Tate and 'senior student', Chapman, key Vikes players to return to the scene of many a fine 'juniors moment'. The first points belonged to the Vikes when Bowd slotted a penalty. CW responded immediately through Crossland to Barkwill and youngster Ngongo finished for a fine tally and 5 – 3 lead after twelve minutes. Bowd showed again when he eluded two tackles and dummied for an easy score, 10 – 5 and he, the sole scorer. Grady Bowd had a very good game today. We saw this man's potential with The Fire when they won the summer CRC title – he is indeed one to watch as Canada digs to find a permanent 9/10 combo. Next it was a nice burst from Crossley Stewart to feed Aussie #8, Williamson, a big unit, for a good try and 17 – 5 lead. Close to the half, Hall fed Kaay, a huge unit on the wing and he bumped off two "would-be's" to cross for a 22 – 5 lead. This should have been the end but CW coughed up an easy ball to Ollie Nott (whose first visit to Windsor was as a mini) and he bumped off two tacklers as well for a well-earned but "soft" try and unassailable, 29 – 5 UVic lead.
Whatever was said at the interval bore fruit as the boys had a three-try to one, 17 – 7 second half advantage. This was a good sign as it is usually the case that CW wilts to the students. A noticeable change occurred with Ilnicki coming at tight head. The sets gave CW the front foot and all became inspired with the 'Clever' Crossland dictating attacks in the backs. The second stanza was good value for "the faithful" and The Tricolour was worthy of their four-try bonus point.
Play started very evenly with CW having a slight territorial advantage, then Crossland made a clever feint to produce a 2 on 1 and offer a slight of hand and scamper for the tally. At 10 – 29 and 25 minutes in, Crossland found a good touch from a penalty and Thomas found himself catapulted over from the ensuing line out, 15 – 29. Unfortunately, with The Tricolour FRF getting the upper hand, UVic earned a line out, 30 meters out and Williamson broke for a hard run to earn the try and an end to any CW, slim chances. 15 – 36. The hosts countered with an enthusiastic effort from the k.o., only to drop the ball over the line. The pressure was maintained and CW forced Thomas over for his brace and well-deserved bonus point, 22 – 36. The second half had salvaged what might have been a train wreck.
For UVic, Herron, Nishima and Chisholm were all hard workers in the pack but Williamson at #8 was the pick. In the backs, Bowd benefitted from good service from Pitbaldo and the rest, Kaay, Stewart, du Toit, Erlic and Hall all shone at certain times.
For Ceedub, Thornber and Thomas were the pick of the pack, with Clayton showing his former turn of pace, (add a Maori side step to your bag of tricks, Clay!), with Grdic and Albornoz offering a more constructive contribution. In the backs, MacPherson gave good service and again, Crossland was MoM for this scribe. Ngongo was startling both ways, until he left with an early injury and again, the diminutive Hickman shirked from nothing. Next up – JBAA to see who has another crack at UVic in the Barnard Cup Final. Thanks to today's officials, a competent job by the M-i-t-M and it was very gratifying to see a good gathering at The Park and thanks to our players for their second half offering. Go, CW!
Photos of today's action (courtesy, Ron Willems) can be viewed
HERE.
---