Saturday's Doings - Where to Start?
---
---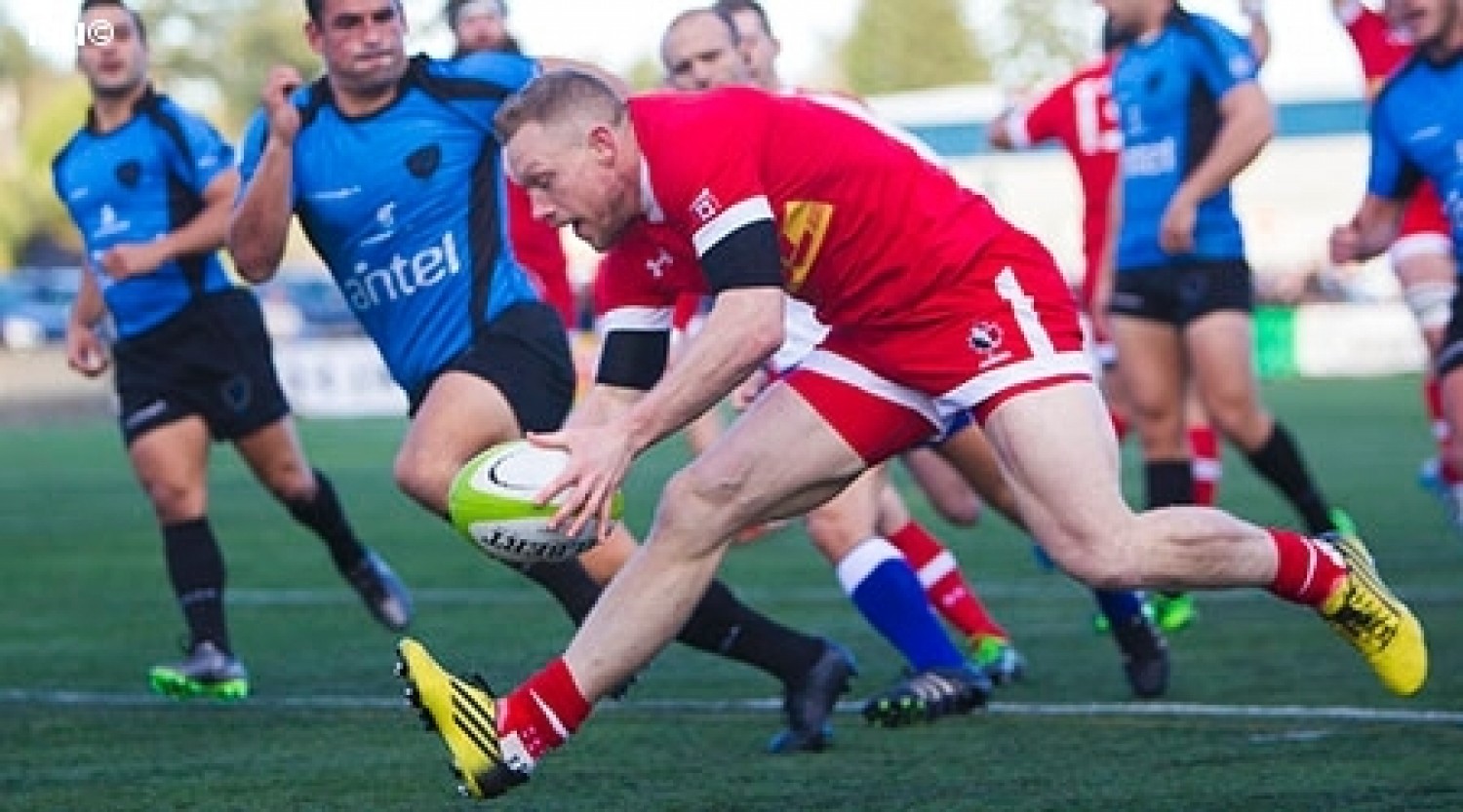 Get your pipe and coffee for this diatribe! The weekend started with a 'downer'. Sydney Sevens on day #1 and Canada drew a bagel. This outcome was particularly disappointing after an early brace of pretty good performances vs N.Z. and Australia, when the boys tanked in their day-end loss to Portugal.
Out to Westhills and a first visit to Goudy Field – a second, all-weather option at the National Centre. It was a match between Premier Women contestants, CW (2nd place) and Capilanos (3rd place and fresh off a win over league leaders, Seattle on the road). Caps had schooled CW at Klahanie, so the chips were down. When the dust had settled it was CW with a 33 – 17 bonus point win and consolidation of their second-place standing.
First blood went to Caps, Robinson, after a solid run from Nat's, Burke. At the 30min mark, quick ball with width went to CW's Maddy Graham who turned it inside to Waters, CW 7 – 5. The teams battled each other evenly, Caps grinding runners being rebuffed with CW's outstanding tacklers. CW deservedly, created turnover ball after a series of these tackles. Nielson quickly fed McNally, "filling" from #15 and her evasive 45m run saw CW in front, 14 – 5 at the interval.
The second stanza saw Caps press their case following the start-up when Andrea Burke, a threat all day, chipped, chased, regained, to reduce the difference to 14 – 10. This buoyed Caps hard runners, led by Leith, Hammoud and Janzen and things looked 'testy' for the hosts. However, it was ball against the grain again after a hard thrust from Hansen that went to Waters who shimmied and scooted another 45m sprint for her brace to give the Tricolours some breathing room at 21 – 10. Caps showed their pedigree, returning to their strength with hard running and despite tough 'D' from Hansen and Senft, Hilary Leith powered over to bring the score to 21 – 17.
The match appeared to be in the balance with the next score being critical. From the re-start, CW's Galbraith appeared 'over' only to be unable to ground the ball. When Caps regained from the scrum and kicked to clear, the ball went to Sargent, on the wing on this day, from her customary #9. Laura, smartly went wide, straightened and fed – guess who? Waters went 35m for her hat-trick, 28 – 17. CW then added an exclamation point with the try of the game. The ball went through ten pairs of hands, switching back and forth, to get to Hansen who drove the final ten meters for a deserved, well-earned, final score, 33 – 17. For the last fifteen minutes the two teams battled with no scoring forthcoming.
In summary, it was a game based on two very different team strengths and it was good to see the teams use their strengths. The TSN 'turning point' was CW's courage in tackling the big Cap forwards, their hard work at the breakdown and their use of the ball to their speedy backs. W-o-M, Caps, Andrea Burke/ Hilary Leith. CW – Laura Crowe-Hutcheon/ Gaby Senft with hon mention to Kara Galbraith and Brit Waters. Go, you beauties! A special shout out to the ref of this one. Very nice job!
This scribe then meandered "down" to the main pitch, only to see The Ones get schooled, 39 – 0 by Caps. The best thing about it from Ceedub pov was the numbers and keenness, even in the late going. A lot of work needs to be done on the training pitch to convert these factors to a "W".
Next up, Premier rugby and an old nemesis. CW started with a flurry when Oliver crossed after lineout ball was won from the k.o. Keshoofy converted and followed with a trey for a 10 – 0 home lead a mere 7min in but this was to be the best of the day for the hosts. Caps came back with their patented attack of hard-nosed hit-ups, notably from Boyd and McKinnon and Charlie Jones linked nicely with Robinson to release a very big unit in Pitman that all too soon, had the score tied. Around 26 min Caps received a card but CW made no addition. At 35 min, CW received a card for a thoughtless dump tackle. McKinnon peeled off ruck from a lineout drive, 10 – 15. Right on the half, Caps scored a beauty, started by Jones through the hands and finished by Carlson, 10 – 20.
From the re-start, CW transgressed and it was 10 – 23. Thirteen points was heavy punishment for the perpetrator of the sin. Caps were full of running – forwards, backs, retention. CW did offer a small glimmer with a diagonal chip to the 5m mark, only to turn over possession and at the mid-point, Caps scored a "too easy" try. Some inaccurate back and forth kicks were exchanged, concluding with a clever Jones chip to space for a team mate's touch down, 10 – 28. Caps had 15 players on the "same page" vs CW at 6's and 7's. About 25 min a good run came from sub, McLean, dummying the defensive line, quick ball from the tackle saw Ngongo, the beneficiary, 15 – 28. CW started to "hang around" but the running was passive compared to that of the opposition. They did retain some possession however, some ill-timed passes and six phases later, there was yet another Caps try to end the passing parade at 15 – 33 (three tries to five) – an accurate score line on the day. Well officiated, Phil Smith.
Caps are a very good club team. They are fortunate to have roughly the same selection, week in and out and both their senior teams play the same, simple pattern with few errors and do it well. It was not all doom and gloom for Ceedub. Hats off to Jason Allen, Nathan Oliver who, with his counterpart, Boyd, get my M-o-M's. Good to see Dougie Fraser and Kenton Styles back in CW jerseys. Keshoofy could push McPherson at #9 and although Hickman tried hard he was snuffed by an active defence that saw CW runners jinking to find breaks, rather than running hard at the line. The final plus was the set scrum, an area of noticeable advantage on the day but nothing really came out of it. Next up, a local derby against a "re-enforced" James Bay at Windsor next Saturday.
Contest #4 was the 'Big Game'
. Canada certainly came to play in this one, winning 33 – 17. They started with their foot on the gas and kept it there with plenty of error-free retention. Three tries within thirty minutes was extremely entertaining stuff. A rather dubious assessment on a penalty try awarded to Uruguay was the only blemish. Dubious, owing to the fact that the Canadian ("CW") FRF had 'popped' their counterparts in no less than five scrums! In the second stanza, Canada convincingly went ahead 26 – 7 and 33 – 12 before Uruguay finished the scoring.
This writer liked plenty about the action – the dominance of the scrummage, pretty good line out play, particularly from Morrison at the back. In fact, both locks put in a good day. Panga at #8 was very active. The McRorie – Bowd link wasn't bad although Bowd on debut did some good things, his tactical kicking was questionable. Loved the aggression and hard running from the centers with Samson, especially noticeable. The real revelation was the 'quicks' from newbie, Moor, who deservedly bagged a brace. His counterpart on the other wing, Mackenzie, looked for work and was often a threat. Parfrey wasn't really tested. So, hats off to all concerned – players and coaches. Great to hear the table-thumping passion from Jamie Cudmore from behind my viewing angle!
Finally, for the day, home in time to note two good wins in Sevens; vs Wales 32 – 21 (a brace for Whitey); vs Scotland 35 – 12 (Jone's hat trick) and best of all to watch a real quality victory over Samoa. In this one Hirayama scored two and uncharacteristically dropped a third chance, admittedly, a toughie, with the line wide open. Canada went up 17 – 0 and Samoa's two late tries gave respectability rather than any threat, 17 – 12. Canada's eight points earned brings #11 Scotland, Samoa at #10 and France at #9 all within sight. It's a scramble on the lead with Fiji, RSA and N.Z. tied. N.Z. won an exciting final over the hosts with a very late try. Sydney was a first time, huge success on the circuit. For Canada, Sean White had a great tournament – his best in a Canuck jersey in my opinion, Hirayama, second on the series Scoring List, - Jones and Moonlight are world class. Fuli looked good but Cejvanovic and Zaruba did not stand out as much. I say, let's get the speed of Moor into Sevens! A tip of the lid to all. A very, very good day #2, results again showing that; "on any given day"…… Well done, Canada!


---