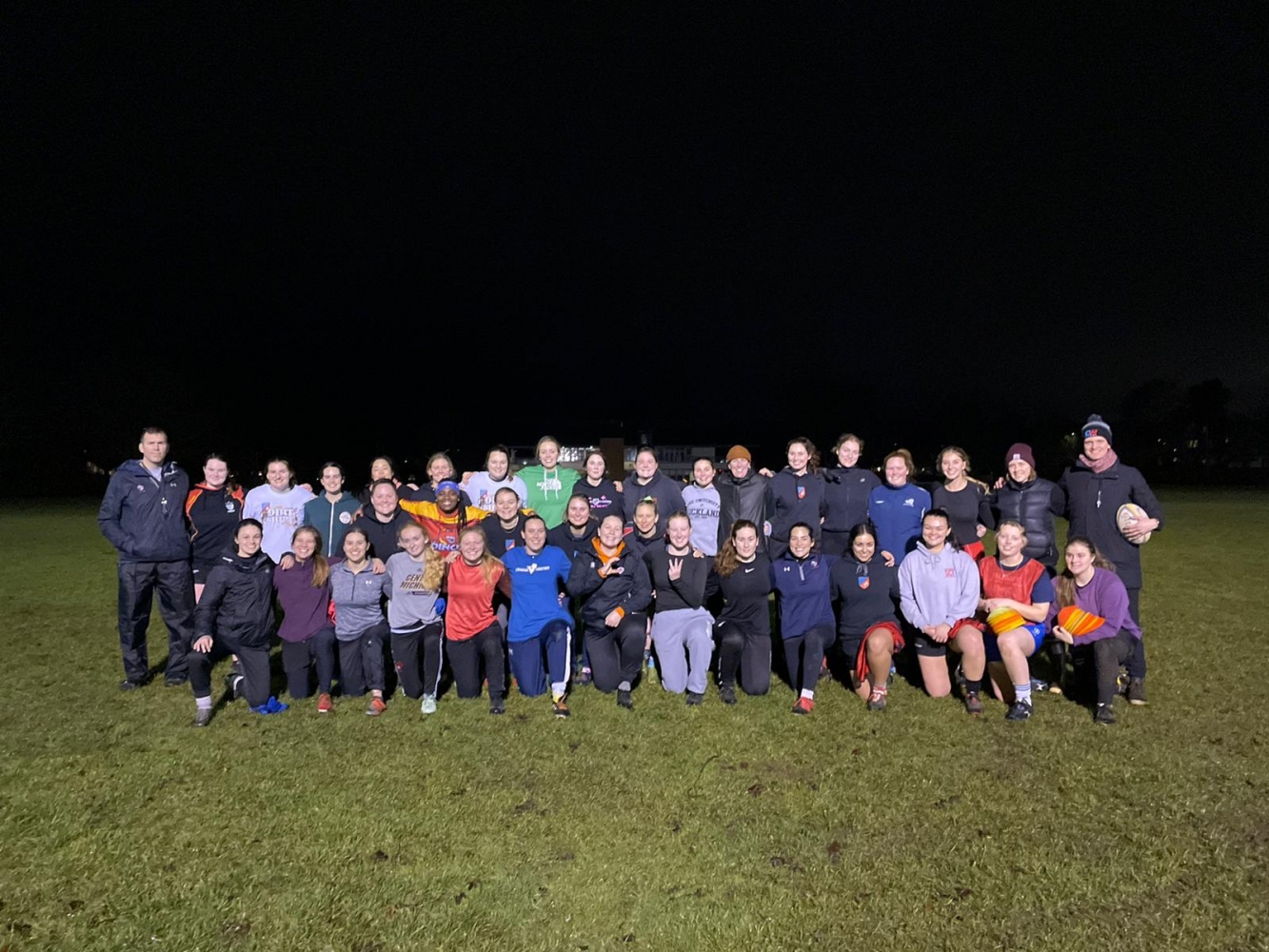 CW Women's Rugby is once again fielding two teams. Thanks to the recruiting from our junior program, and the efforts of Coaches Caitie and Albert, both our Premier and Division 1 sides are looking strong.
The Women's 'Divvies' will take on Burnaby Lake RFC at Windsor Park, starting at 12:45 p.m. A few familiar junior faces will be making their senior debut including Avalon Crawford, Jesse Knaggs, and recent 'Dirt Shirt' recipient, Ella Gallant.
Burnaby Lake will be very strong with an experienced pack. Gabby Hindley, likely Captain of their forwards will join Lauren Tagg and Emily Van Gulik, providing a very experienced backrow. Aly Govorchin will be exciting to watch in the Burnaby backline.
If the CW forwards can hold their ground against this pack, then our speedy back line could excel. With some impressive speed in the back three, this Divvies side just needs to get the ball wide.
As Bublé would croon, "it's a new dawn…." A New Year, no more Covid attestations, green grass to play on—but one thing hasn't changed; the CW women's Prem team is lacing up the boots against Westshore Valkyries! Start time – 11:15 a.m. at Windsor Park.

In their last match-up, the CW Women fell short by a few tries to a skilled and pervasive Valkyrie brigade. Westshore was short handed, and because CW was able to lend their opponents several players, the game continued with the caveat of a forfeiture in favour of The Tricolors.

Saturday's fixture should look a little different. Westshore's roster is longer, and CW Women are more experienced this time around. A notable player to watch on the Valkyrie side will be young and impressive utility forward, Kate Fields. She was Player of the Match at the last meeting. Several experienced UVic "crossover" players (University rugby is done for the year), will solidify an already deep roster. Westshore will be missing capped players, Paige Farries, Fancy Bermudez, and Elissa Alarie, who will be wearing the Canadian jersey at the Seville 7s this weekend.

Coming off an impressive first half, CW's Emily Samek will likely catch the eye on Saturday. She'll be joined in the back line with the strength of Madison Aberg, the speed of Danica Pedrick, and the capped skill of new member, Julia Schell.

The CW forwards will be led by Louise Erickson (c). Louise says she's "excited to see the results of set piece sessions with [coach Ed Knaggs], be put to use". She's most excited to have some fun and "find the best player combinations early in the season". Erickson is an experienced player who leads by example.

(Ed. Thanks to Julia Folk for this pre-match report.)


The main game for the Men this Saturday at the ''House of Windsor'' will be against Burnaby Lake RFC at 2:30 p.m. CW lifted the Island Title in December while many Burnaby players participated in the BC Coastal Cup Competition. Saturday begins the journey for all BC Clubs toward the Provincial Rugby Title.
Burnaby is always big, fast, tactically exciting, and consistently amongst the top four teams in the Province. For CW, the training has been gruelling and competition for a Premier starting position is intense. CW supporters will be well entertained by the style of play and skill level of all players from #1 to #23, instilled by new Head Coach, Ken Goodland.
CW Div 3 vs UVic Saxons kicks off at 12 noon, at UVic's, Wallace Field. This 'Islanders' Men's team will be a mix of young and old. The Saxons will offer a great start to what should be an exciting season for the Islanders. With a handful of younger, talented CW players joining the more senior battle-wise warriors, it should be a run-about worth watching!
(Ed – Thanks to Brent Johnston for these notes.)
Selections not available at time of post.
THIS SITE WILL NOT BE UPDATED DURING THE COMING WEEK - NO GAME REPORTS. Fans will have to take them in live!


---