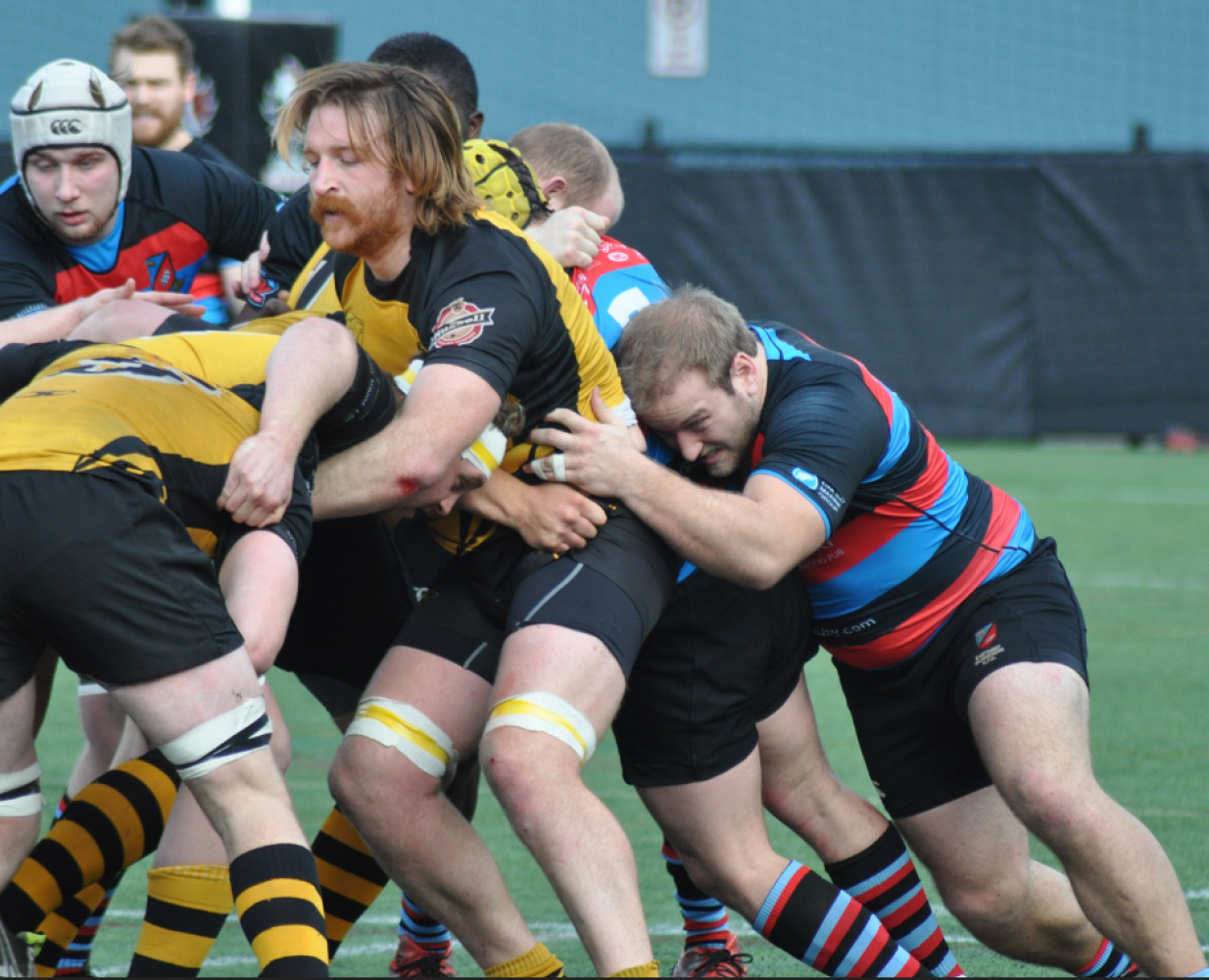 It seems almost foreign to see a Caps team minus Glen McKinnon!
With weather predicted as perfect, CW will take to the pitch on Saturday for three outstanding contests. The Premier Women kick off at 11:15 a.m. Vs Westshore. With only the two women's teams in town, the matches between these two clubs have been epic and Saturday promises nothing less. The Tricolors will present a mixture of experience and new faces. Julia Folk, Lizzie Adams and Nicole Shaver in the forwards are very familiar names to this writer with Lauren Sargent being the "veteran" in the backs. The backs will include a number of ladies who have made a statement in early season games, Brook Bazian at #10 and the speedster, Sara Einarson in the centers being two of note. Westshore are always loaded for bear and CW have a reputation for their competitiveness. Hopefully this curtain-raiser will be well attended with strong support for the ladies; go, you good things.
The Men's Reserves kick off at 12:45 p.m. Capilanos are winless whilst CW are 1 – 1. This pundit has viewed some very competitive matches at this level over the years, both at Windsor and Klahanie and with the records to date this season, suspect it will be more of the same. For the locals, players to watch are Elliot, Anderson, Samayoa, Kirk and Moar in the pack. The backs will feature an ever-improving #9/10 link with Kanty and Sandner and heaps of speed outside.
The main game starts at 2:30 with Andrew Foster in the middle. Capilanos are celebrating their fiftieth year of existence and they are doing it with Capilano flair to date, winning both of their matches at home, against Lomas and Seattle. It will be interesting to see just how they fare on the road but they are always a very competitive team and serious respect must be given. As our photo suggests, a Caps team minus McKinnon seems strange, missing this season due to a knee reconstruction. It appears from their game reports they are melding into a force to be reckoned with, led by Chris Robinson, trying his hand at #10 this year, the wily, aggressive and often thorn in CW's side, Alex Boyd and Sam Franklin in the custodial spot, kicking goals and "inserting" as a threat are possibly their "big three". The youth contingent, a speedy and brave crop seem to have buoyed the Capilano fans in this their celebratory season.
The locals will match this with a slightly altered side from the past two weeks – no Finnemore, no Stewart, and a couple of positional changes. Caps FRF has proven to be a strong group but the Tricolors are an experienced and gnarled lot. It was great to see some scampers from Burger last week and Sponarski had one of his best in the uni. JB is always 110%. The engine room of Evans and Adams will be under the scope, much has been credited but the potential still remains unrealised in this writer's eyes. Polson comes back into the back row with Bradley getting the start at #8, complimented by the hard-working Dawe, this group looks to have an edge on their counter-parts. Pitbaldo returns to #9 and Pat Kay gets to finally start at #10, his favourite position where his experience allows him to put his stamp on a match. The omnipresent, Schellie pops up in the centres this week, a first that I can remember. This pint-sized fireball is a threat wherever he appears, so I would expect nothing less, either as a link or a mercurial runner. Isaac Kay gets his start this week and he will be very keen to show his wares. Morra, Adibe and Dalsin round out the back three, pace to burn and pretty solid defence. I am not making a prediction as Caps will have the massive motivation however with this probably being the last week with RC's Sevens players, they too will have much to prove and put on show. Thus, a memorable encounter. Fie thee on down, enjoy the sun, the rugby and perhaps even a cold beverage on the balcony! Go, CW!
---