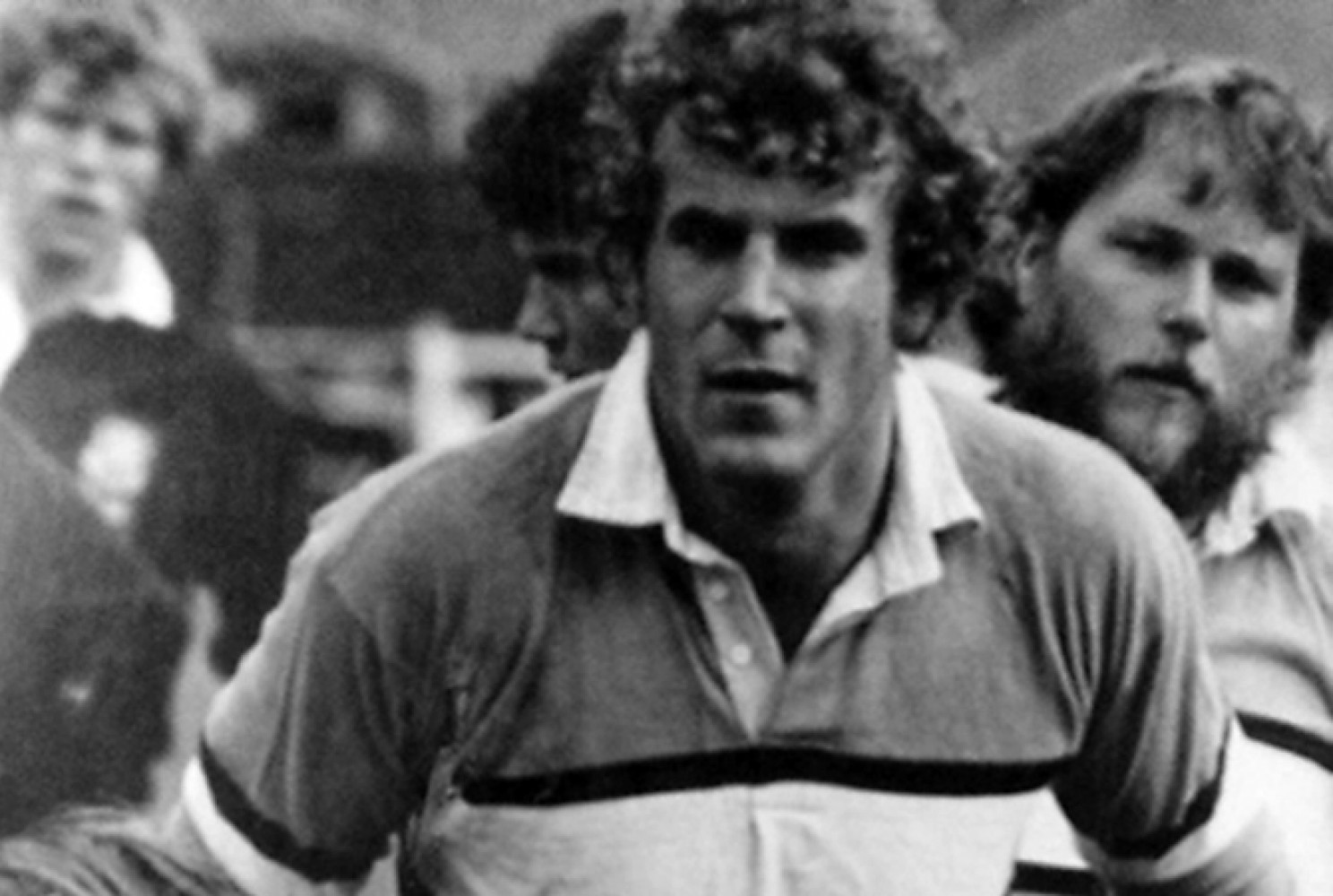 Congratulations to our CW mate, Steve Thompson, better known in Rugby circles as the "Ox"! The announcement was made this morning of his selection as B.C. Speaker of the House. Unfortunately, in the crazy world which is B.C. politics, his reign may be a short one. No matter your politics, Steve has served his Kelowna/Okanagan constituents faithfully, with honour, diligence and hard work during his three terms in Government, earning a place in the Caucus by serving as Minister in two different portfolios for the past six years. Of course, Canadian rugby fans know Ox as a hard-working, journey-man lock who earned the right to play for his Country.
The above picture has Ox in the lineout, awaiting Larry Chung's throw-in, ready to take another one. Steve was on Tour with the Castaways on their famous Tour of Europe in 1978. This was a banner year for Canadian clubs, with two club sides, actually defeating International combinations. Early in the summer UVic Vikes took the Yugoslavian Nats down, 16 – 11 and then the Castaways repeated the feat, defeating Belgium, 18 -3. This rarity was first achieved when UVic defeated Uruguay, 12 - 3 in 1975 and to the best of this pundit's knowledge, these are the only three occasions when a Canadian club side has completed this achievement. We do take a moment to remember members of these teams, Tom Stobart, Peter Reinholdt and Allan Grey., R.I.P., men.
Speaking of Ox and the NSMT brings us to Saturday upcoming when the NSMT plays the U.S. in the first home-and-home double header, with the winner going automatically into the 2019 World Cup draw for Japan. There will be plenty of sidebars to this one, not the least being the news that John Mitchell has declared his resignation from the coaching position, and what effect it might have on the U.S. boys. Canada's Coach Anscombe has no rabbits he can pull from the hat with Hassler and Sinclair seemingly out of the picture, he has resorted to re-jigging his backline combo with the hopes of execution sending Paris and Coe off to the try line.
The quest for "Bill" begins!
It is an "all Tricolour" FRF with Barkwill raking between DJ Sears and Ilnicki. Beukeboom locks with Olmstead, a capable combo, Ardron tails up and Cejvanovic and Heaton occupy the flanks. It is the backs that will have a different look. Braid might be the lucky recipient of a "second look" after a performance he will have wanted to erase last week. Mack serves at #9 and links with O'Leary and the prospect of attack looks brighter to this writer. Braid has been retained and will be used, probably as an inside centre to serve DTH outside him. Coe comes into the side on the wing and Paris occupies the other wing with Hearn at #15. Ciaran also knows he has a better game in his arsenal than last week. It is hard to take a line between the teams but some measure may be the U.S. performance Vs Georgia, getting close in the late-going, 17 – 21. The clash of the two #10's will be interesting with the U.S., and Sale Shark's, Mac Ginty being a proven performer who we have observed skewer the knife in the past.
It will be televised on TSN #2, with patrons noting the kickoff change to, 12 noon. Canada has not defeated the U.S. since 2013, lots of tears in the beers over these four years however, once again, we will wear the Maple Leaf proudly on our sleeves and cheer loudly for our men.
Not to neglect the women who will be playing in the final Sevens Round in France. Matches can be viewed on downstream @ www.worldrugby.org and we are pleased to report that they finally received their kit late on Thursday.
Viewing options at World Rugby here.
Game times from Clermont-Ferrand:
Canada's Clermont-Ferrand Sevens Day 1 Schedule (Saturday, June 24):
Canada vs Brazil at 7:06 am ET / 4:06 am PT
Canada vs England at 9:50 am ET / 6:50 am PT
Canada vs Russia at 12:34 pm ET / 9:34 am PT
Go, Canada, Go !
---