Rowers Enter The W Column @ CW's Expense
---
---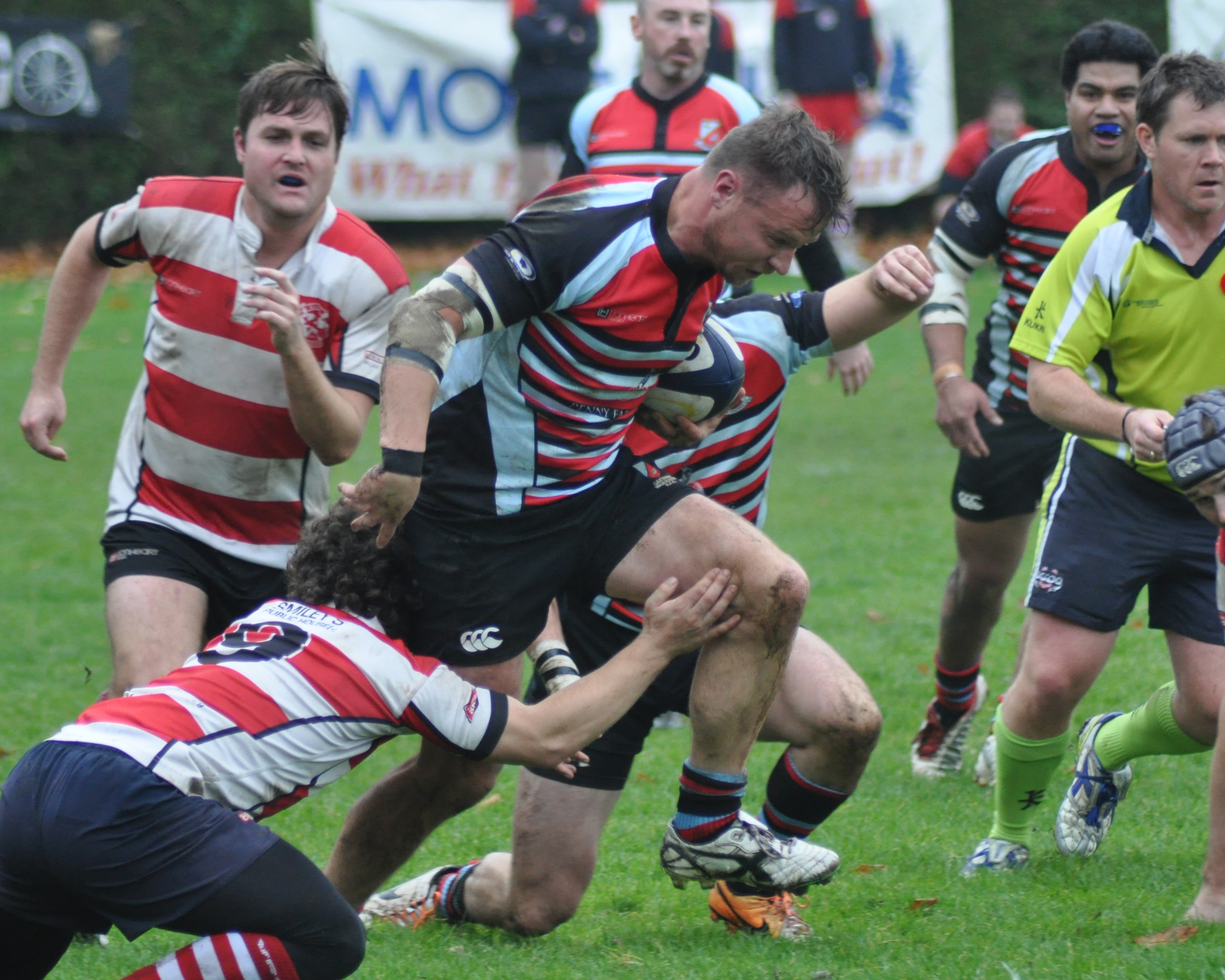 It was day of mixed results at Windsor. All in attendance hoped that the table had been laid with a highly motivational and inspirational victory by The Ones. The locals led early and it lasted for a long time, in fact until the last five minutes of the half when the dam burst and Rowers scored a hat-trick of tries to lead 21 – 3 at the changeover. CW had squandered some good chances, giving up possession with the try line in easy reach.
The second half opened with an Armstrong intercept to "repay" the Rowers for their earlier "snitch". The try buoyed CW who kept good pressure and possession and soon after, Armstrong was over for his brace and a score of 15 – 21. The boys then played some of their best rugby this season to work the ball back to Rower's Red and Carnet drove over off the back of a maul, 21 – 20 and Lazarus was arising!
Rowers finally gained possession, threatened and almost scooted away but it was not to be, as soon after, CW crossed for their bonus point tally, 25 – 21 and Lazarus was emerging! There was enough time for Rowers to come back but a spirited defense snuffed out the flame. CW then bravely, used a penalty to find touch, rather than taking a shot at goal. They were duly rewarded when the lineout was won and Carnet was driven over for his brace, 32 – 21 and Lazarus had resurrected!
To our casual readers, you may wonder why so much ink given to this encounter? An unanswered 29 point spree is something to crow about in a season, which to date, has not had much joy. We are now on the positive side of the points table, well done, Ones! This scribe liked the efforts of Faasavalu, Haight, Fenton, Dalsin, Armstrong, Kelly, Tabor and Noel however I give newbie, Kennet Moore, my MoM and am left with the indelible memory of Heppie, throwing a dummy and attempted jink but it turned out to be a genuine "Maori sidestep"……'onya, Dougie.
The Prems took the field minus an injured Kehoe and Panga but with the recovery of Morris. The teams exchanged early penalties. There was plenty of energy from both teams, much of which was responsible for errors resulting from solid tackling. Rowers gave evidence by their pace and defensive organisation that they are a side well worthy of the CDI League. Suddenly, CW's handling came good when Morris made a shrewd break with sleight of hand and pace. He fed Oliver who was to be prominent all day and as the cover closed, he slipped the ball inside to Horton who outpaced the chasers and converted his own tally, 10 – 3 (CW). The lead held up for a lengthy spell but Rowers were next on the board when Derham scored after a solid charge from Seyler. Recinos added the extras, 10 – 10. Rowers play reflected a certain confidence and they worked play into CW territory where they earned another penalty, coming after a desperation try-saving tackle form Oliver and so it was at the whistle, VCR 13 – CW 10. It had been a close and intriguing tussle.
CW opened the second stanza with a flurry of some 13/14 retentions, working the ball to the line, around the line, every which way but OVER the line. Fuli was almost over, Henderson and Oliver were repelled and it all looked pretty good with almost ten minutes of good pressure. The good work was to be undone with one fell swoop when a scrum was awarded to CW and the set was lost. Arguably, the TSN Turning Point…..CW unable to break a committed defensive line and although the pack had held up rather well to this point, even stealing a head and certainly shunting the visitors back on more than one occasion, the very scrum that was critical, was lost. One thing led to another and newcomer, Thomas in only his third game and prominent to this point needed to be replaced. Fuli made another break and Bishop was unlucky not to finish it but then the errors crept in after all these chances with nought to show for the effort.
Rowers backed their defence and gained possession and worked the puck into CW territory where they recycled a number of times eventually causing referee Assmus to award a yellow card to the hosts. This occurred about 25 minutes in. Rowers capitalized when a substitute burrowed his way over from a scrum, 18 – 10 for VRC. With no impact to inject from the bench, CW was hanging by a thread and the pendulum was clearly visible. Rowers were next to score after yet another penalty saw the hosts "obstructing", marginal call from my lookout however the score was 25 – 10, with not a whole lot of time remaining. Credit to the boys' efforts, as Mike Fuailefau made a nice break and a subsequent eighty meter run only to be tackled by a hard chasing oarsman. The writer notes that the Rowing Club team had plenty of pace and commitment in their backs and the tackle was a beauty! CW had numbers and the ball swapped hands, Bontus had a genuine crack but it was Morris who spotted width, a tactic used all day by The Tricolors and it was Fuli who was on the receiving end, duly awarded for his break and Horton converted form the sideline, 17 – 25….just missed our first point, darn!
Congratulations to Rowers – full value for the win, their first this season. They are a club who have run all of their opposition close, within a point of JBAA (who upset front-runners, UBC, yesterday); earned a bonus point against UBC; tied Burnaby; so these score lines indicate their pedigree. On the positive side, although it was not the hoped for victory, again, the boys' efforts have them ever so close, a credit to a team that has to be patched up each week and face the monkey. Yesterday they did this with a solid work rate and plenty of desire. There were many who stood out…Braddock leads by example and Brattan got through a ton of work and stood up to the opposition fearlessly. Clayton Daum, forever Mr. Reliable played another one of those games that we see from him, week in and week out. Sam Bishop was tireless. This man is a pretty good player and Oliver and Ilnicki worked and worked, trying so hard to make it happen. Macpherson gave a quality performance, he is reading the play better each time out and his service was impeccable. Johnny and the rest of the backs busted their butts, although the attack was rather predictable and Rowers read it well, foiling most of the breaks. Thanks to officials in both games for your contributions.
In conclusion, the style of newcomer, Bontus, epitomized the day. Adam took a rather severe arm injury in the early stages of the second half, he said nothing, despite the wing being visibly affected, he just plugged on, making four tackles in a row at the same breakdown at one point and always trying to break the line with his hard running style. The style of this group cannot be criticized. At the moment we are facing bigger and often faster opposition and certainly not backing down. Boys, you have sympathy from the balcony – we have all been through such rough patches in our past playing days….and check out the Raiders, go, CW!
---