Road Warriors Bag Hat Trick
---
---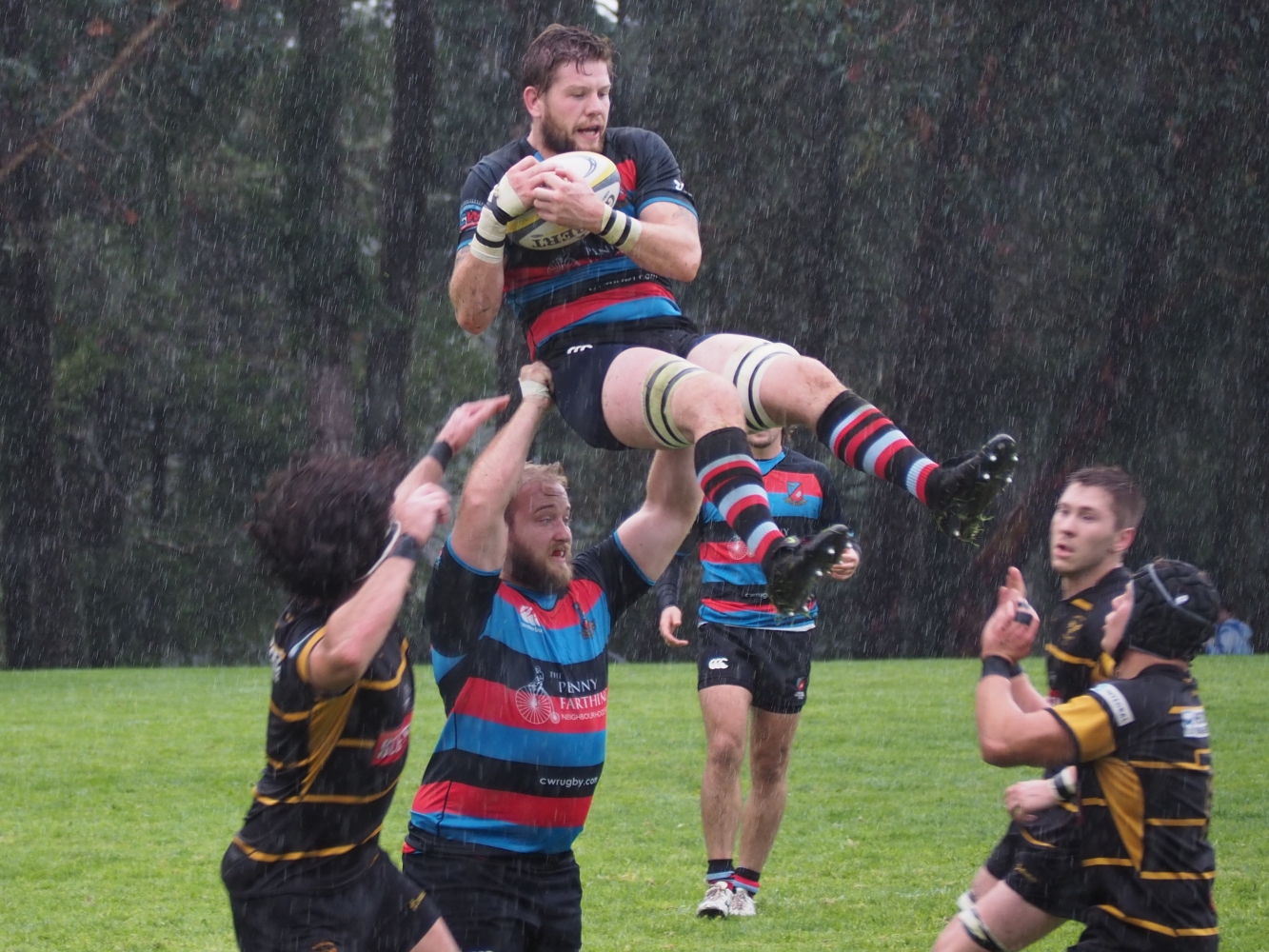 Captain Stewart, airborn!
It was a good day for the Tricolors in Nanaimo, winning all three matches and at the same time sympathizing with numbers issues the home club is facing. CW has known this problem all too well and may very possibly face the same issue, sooner rather than later and to read elsewhere that it was a "CW trashing" is an absolute assumption and unfair conclusion of feelings of both teams on the day. To print the score is a measure of culpability in dishonoring the Hornets. Enough said. CW women opened with a 22 – 15 win to even their account for the season. We have little to report except that it was "a good, hard-fought match". Well done, ladies.
The Reserves broke out with some quality and excellent support under the leadership of Ilnicki, to score a plethora of tries. This fan did not catch the full match however, noted the return of Anderson for a complete eighty minutes proved to be a good "fill" for the missing Hohert and McLean. Jon Moar in his first start in the forwards on the flank, had a good outing and Mitch Eliot was his usual fiery self. In the backs, linked by Kanty and Sandner, Keta, Winsor and Justin Logan had a field day, Keta and Stephenson being voted M-o-M by the opposition. Well done, Divvies. We must honor Nanaimo, depleted in numbers but hanging in for the last three tries of the match, earning their stripes on the day.
On a day when focus could have been easily lost, the Premier boys deserve credit in sticking to the plot, maintaining structure and finishing off patterns with quality tries. With the skies opening up with deluge upon deluge, CW complied in kind, scoring some thirty three points in twenty-five minutes and it never ended. Mike Adibe must be lauded for his hat-trick and 35 points on the day. McCloskey and Bradley added their brace and many others were at the end of a good pass and got in on the parade. The ever-feisty, Brad Marshall got one for the hosts early in the second stanza when the Hornets pulled up their socks and provided good opposition with a period of retention and attack. The efforts of Fowler at #9 and the non-stop eighty minutes from Halaliku were noticeable. The Hornets provided their customary, convivial post-match hospitality. Speaking with Head Honcho, Darren Wicks, this writer could only empathize as he noted the club's awaiting the services of four boys on fire-fighting and tree-planting duties and five new "imports". Good for the black and gold and we will expect a solid contest from this ever proud club in the return encounter.
For CW there was plenty to smile about, knowing full well we may only have the services of our "7's boys" for another week as the rumor mill has talks "moving along" – 'bout time! The sheer joy these boys had playing club rugby was a delight to behold – thanks and well done. Captain, Nate Stewart had a memorable outing and was awarded the player's Hard Hat, with Luke Bradley winning the opponent's M-o-M however, for my money I give Jack Sponarski the marbles. It was his best outing for some time – non-stop work – carries, tackles, sets and breakdown. Burger put in a solid forty minutes as did Wooly in his cameo and Braddock and Finnemore were good value for their eighty. The backs, re-shuffled significantly after the interval, all played well, keeping opponents in check and working the ball to space. Apart from Adibe, Owen, Pat Kay and McCloskey all were near-perfect but it was Dalsin who really caught this fan's eye. I have always been a strong proponent of Mikey's game and despite the lapse of a season, nothing has changed. So it was a fun trip home on the yellow bus for Rookie Nite and no further comments! Thanks to the officials on the day, well-orchestrated in trying conditions. Next week it is the storied Capilanos at Windsor, as they celebrate their fiftieth year
---