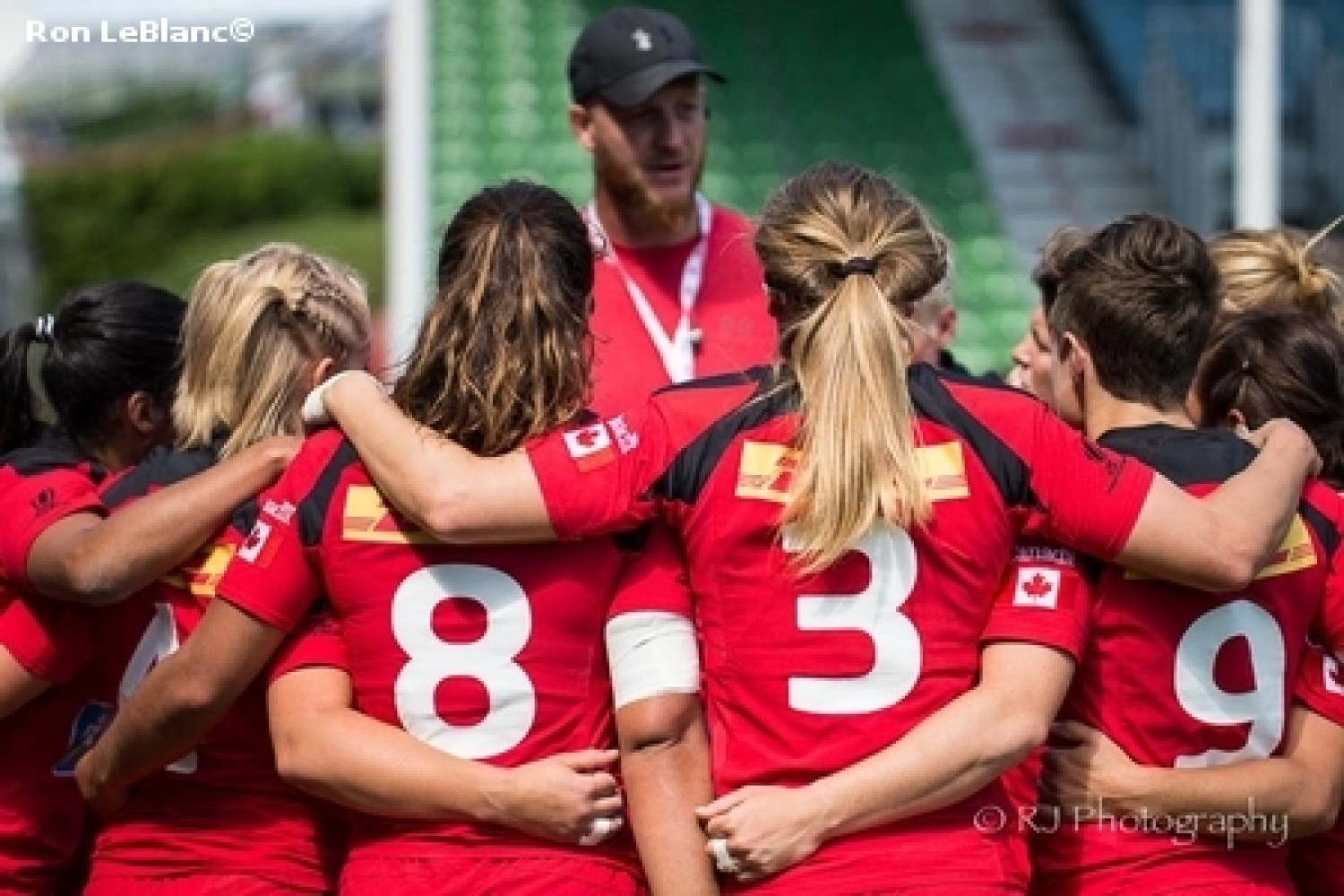 In what has been a heady twelve hour period of Canadian rugby, we salute our NSWT Sevens. For this pundit, no surprises with their second place finish at London, retaining second overall but now, being tied with the Aussies. Our women are flat out, very good! Day One they pounded their English hosts, 31 – 0 and nipped Russia, 14 – 12. Day Two – a HUGE win in the quarters, leaving no doubt this time, 26 – Russia 5. A very solid but close win in the semis over the U.S., 17 – 14. The final against the Wallerettes was just a cracker, with Canada winning it pretty much everywhere except on the scoreboard. Landry completed what was, arguably the tally of the tourney, to put the ladies up 12 – 5 at the half. When they went up 17 – 5 following a massive tackle from Kish, the Aussies looked like they were out of gas. Never presume it`s over in sevens!
With one player in the bin and three minutes on the clock, the Aussies scored a very inspirational try and the air was visibly out of the balloon as two more followed, to pinch the victory, the winning try coming following a penalty with no time on the clock – simply gut-wrenching! I would like to have heard "Big John`s" post-game chat, as the girls must have been gutted. So, it`s off to Amsterdam for another chance. One simply could not name one player over another and the one very heartening outcome from this tourney was that the Black Ferns proved to be vulnerable, losing to both Spain and Australia. I dips me lid to all of the teams, the standard of play was fantastic……again in front of a poor crowd, making Westhills look even better! 'onya, Canada!
Men`s U20. A very solid result against Hong Kong, a 24 – 15 victory to remain undefeated. Good job, Canada!
NSMT Sevens. Canada`s men will be making their third consecutive Cup appearance in London tomorrow after a "qualifying", Day One. Two good opening wins, Samoa, 17 – 14 and Argentina, 26 – 5 with an olio selection following injuries, saw Canada up against a rampant Fijian side at the end of the day. Evans and Braid had been called in to fill the gaps and to their credit did well but it was not quite the `machine` we have become used to. This is a very in-form Fijian side, playing almost consummate sevens. Fiji not only have great skill, they have great guile and particularly at 50-50 situations they seem to get the rub of the green against lesser seeded sides. Despite the score line discrepancy, I was extremely impressed as to how the Canadian men stuck to the task, eventually dropping a 31 – 14 decision. Their quarter final tomorrow will be against a U.S. side who were undefeated in pool play, highlighted by a heady win over RSA. The Americans will be after a Maple Leaf scalp following an embarrassing loss last weekend. Even with duct tape and magic glue, nothing would surprise. I would take the odds and back our boys. Go, Canada!
---