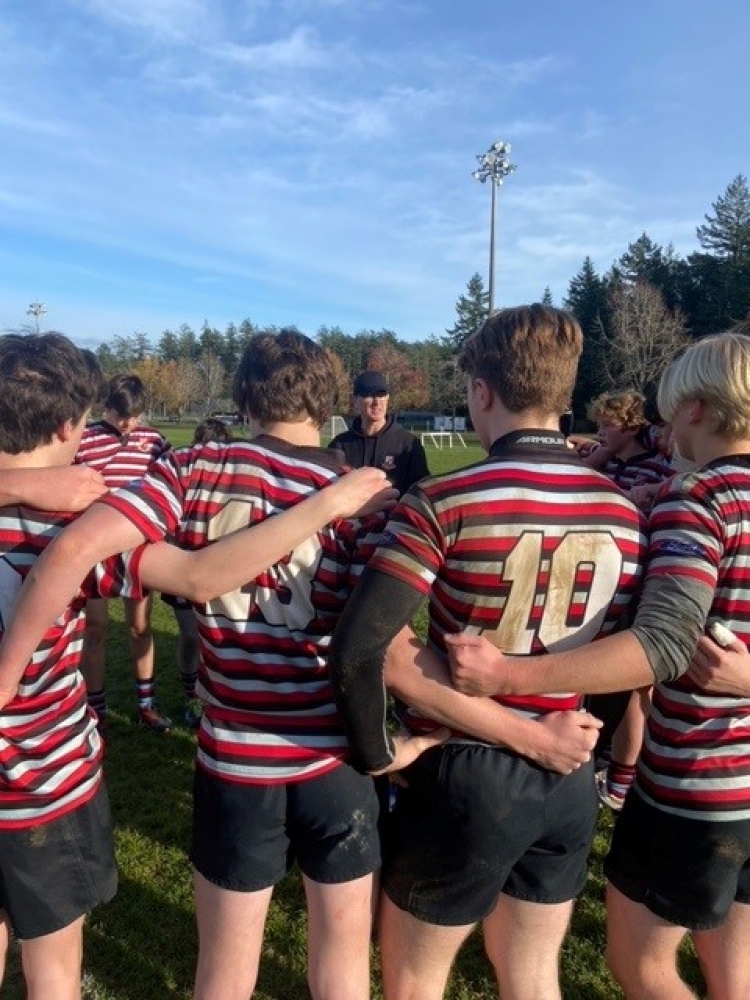 Yesterday whilst gathered at Crappy's Corner to raise a celebratory toast to the life of Ivor Hughes, a group of coaches of the Junior Men's Age Grade program was espied. The chaps were reviewing the season and progress of their teams. I received this summary for posting to our followers.

U15 Boys went undefeated this season, including a win against Vancouver's Bayside RFC in an exhibition match. Coach Morgan has invited players from Cowichan, Westshore, and James Bay to join the CW boys in a match this Sunday at Windsor. Players will be divided into two even teams and it will be an opportunity to give the boys from all clubs, one last match of the season. (Ed. This is how to grow the game – rugby is the winner. It is to be hoped that there will be at least thirty lads in attendance.)

U17 Boys are heading up to Cowichan this Sunday to play in the Gold Medal match against JBBA. After winning against Westshore last weekend by a score of 27-22 the squad is faced with an injured/banged up group. OOPS! Most unfortunately, late breaking, the lads must forfeit the result, given the status of injuries. All will not be lost as Coach Darren is mustering some lads from Westshore to join CW and give the boys from the Bays a match. Congratulations, JBAA, V.I. Champs.

U19 Boys also faced the plight of numerous injuries to the roster this season. There are enough troops around wanting a final match. Coach Alistair and Coach Brandon have invited available players from other clubs to come to Windsor on Sunday for a similar "amalgamated match". (Ed. For interested spectators, a guess at k.o. times. U15 – 11:00 a.m. U19 – 1:00 p.m.)

The Coaches report they were happy with the success of the programs despite the Covid times, its awkward protocols, and reduced numbers, more than likely due to the virus. Everyone connected with the programs needed to be resourceful with drills and ensure protocols were accurately followed. Coaches report players and parents were happy with the programs. The Junior Boys program will look to building on this success and return in 2022, even stronger. Merry Christmas and thanks to all players and parents.
SUPPORT OUR CLUB
Our Girl's and Boy's Age Grade programs (cf. above item).

Our young Men & Women in their pursuit of health through fitness, teamwork, community and success, all important life skills.



Christmas time is a time when those of us who are able, turn our minds to those less fortunate and we can manifest that by giving. CW Rugby is very fortunate to have a community that generally, is able to do that and we thank you for the greater good that provides.






Today we ask you to pencil on your calendars two events which are fund-raisers for our club programs. The operating budget for a rugby club is significant and every little bit counts. Our community and friends, post-Christmas, use our resource provided by the generous support of Bartlett Trees to dispose of their Christmas trees after the festive season. This is the fifteenth year of this service. We simply ask for a token donation for the service. Stay tuned for dates and times.
On a grander scale, President, Brian Hill-Huse has announced the return of our
Annual Fun(d)raiser Dinner and Grand Auction on March 12th
at the Victoria Union Club. Don't pencil in this one,
INK it in your diary ( tickets go fast)!
It is a must-do event. Good food, good company, and great hilarity. Book it. It is a special occasion when new and old families of our club can meet and mingle and enjoy a good cause. Go, CW!
---