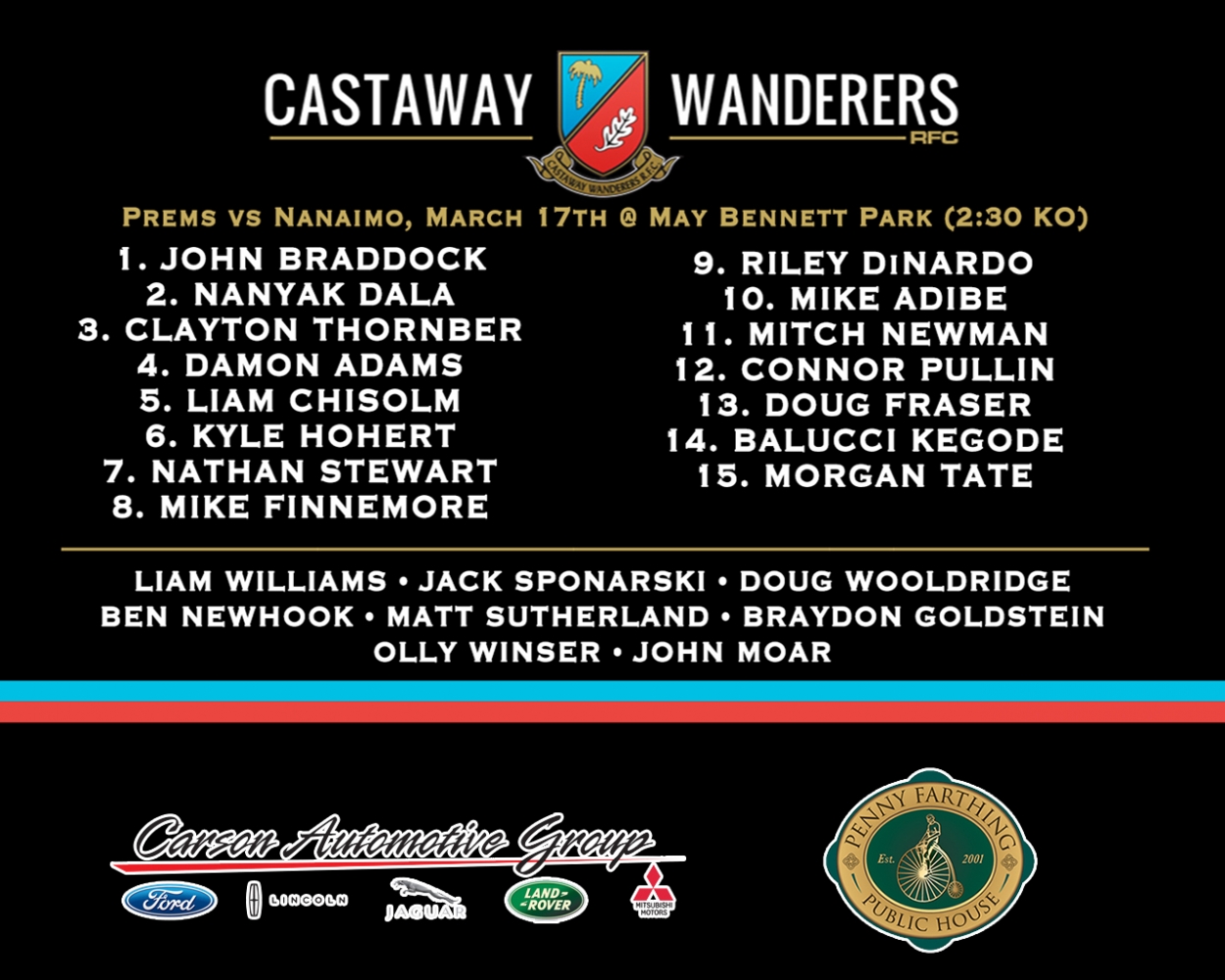 With four senior teams on the road this weekend, player resources have been stretched to the max and fortitude will be required if victories are to be secured. Firstly, our Premier Women are off to Bellingham to play Seattle. The women had a quality win over the Sarries a couple of weeks back however, they are a very different team when at 'home'. CW will field a good combination. The FRF is a combination this pundit is not familiar with, Arndt, Crump and McKinnon and if the team is to succeed, this is where it will have to begin. The remainder of the pack includes Nedved, Hawkings, Adams, Folk and Louks. Ever reliable, Lauren Sargent will link with Galbraith at #10 and the rest of the backs, highlighted with Graham, German, Trafford and McNally are threatening enough. The ladies will be travelling with a reliable bench, a luxury. There is a very outside chance at playoffs, so the W would be critical. Go, you good things!
The VIRU Div. 2 Islanders will be travelling to Port to play the Black Sheep, always a tough opponent. The Islanders took one on the chin at their last outing against Westshore and on paper, commitment to this league has not been an easy task for the club however, it has provided an opportunity for match competition for those who just enjoy playing their rugby. Great to see Chipsy and Wolfie putting their hands up for this trip, an indication of the fun they have had against the Port in home games and hopefully an inspiration to Riley's Rovers. At this late stage, numbers are getting close and the bus has been ordered, so get with the program boys and get on board!
The Reserves and Prems are in the Hub City to take on the Hornets, so due to the Port commitment, the bench will be short. The Reserves have slightly "lost their way" in their last two outings but there are some committed players amongst the group and a win will keep them hanging in with playoff chances, dig deep, boys.
The Prems make a number of selection changes once again, mostly from what appears as necessity. Of interest is Adibe at #10, as it appears that the search is on for a more productive, 9/10 combination. He will be fed by Di Nardo who is playing very steadily. Adams and Hohert have earned another start, Damon, joining the big man, Chisholm who is starting to play some assertive rugby. Yak Dala has been selected at hooker, perhaps seeing the FRF as a more mobile combination, aiding the style the coach wants to play. Stewart will lead the pack from the back row. Pullin and Fraser (C.) return as the center combination and Kegode slots in on the wing, on debut, a well-earned reward for a good last outing, although we must admit, a tough omission of Keta who also played well last game. David's name is not evident on the long list, so injury must be his fate. Tate, who is becoming the team's Jack-of-all-Trades, takes over at #15 and his sure tackling should make the line tough to crack for the Hornets, a team that is very capable of scoring tires. The bench looks very strong and it is good to see Ben Newhook back after protocol.
We have not seen the Hornet's selection but will outline some very capable potential that we might see. We must start with prolific try-scorer, Jared Stephens in the centers, leading what will be considerably more of a handful than that which was experienced at Windsor before Xmas. Speedster, Peyton Eager, a name that is becoming known, will be returning from his Vegas experience. We have seen Kiwi, #9 Sam Fowler who is a capable and nifty half back. Probably Pat Milford will lead the side from prop and Kiko Halaliku is a big unit in the second row. They have also been known to use a rather large back, at 6'5"", Dave Evans! Based on these notes alone – a formidable opponent who has achieved very satisfactorily at the Premier level. Don't have details but have heard there is room on the yellow bus for any supporters. Will try to suss some info on this for anyone interested – a great Paddy's Day roadie. Go, Ceedub!
---