RECORD REMAINS UNBLEMISHED
---
---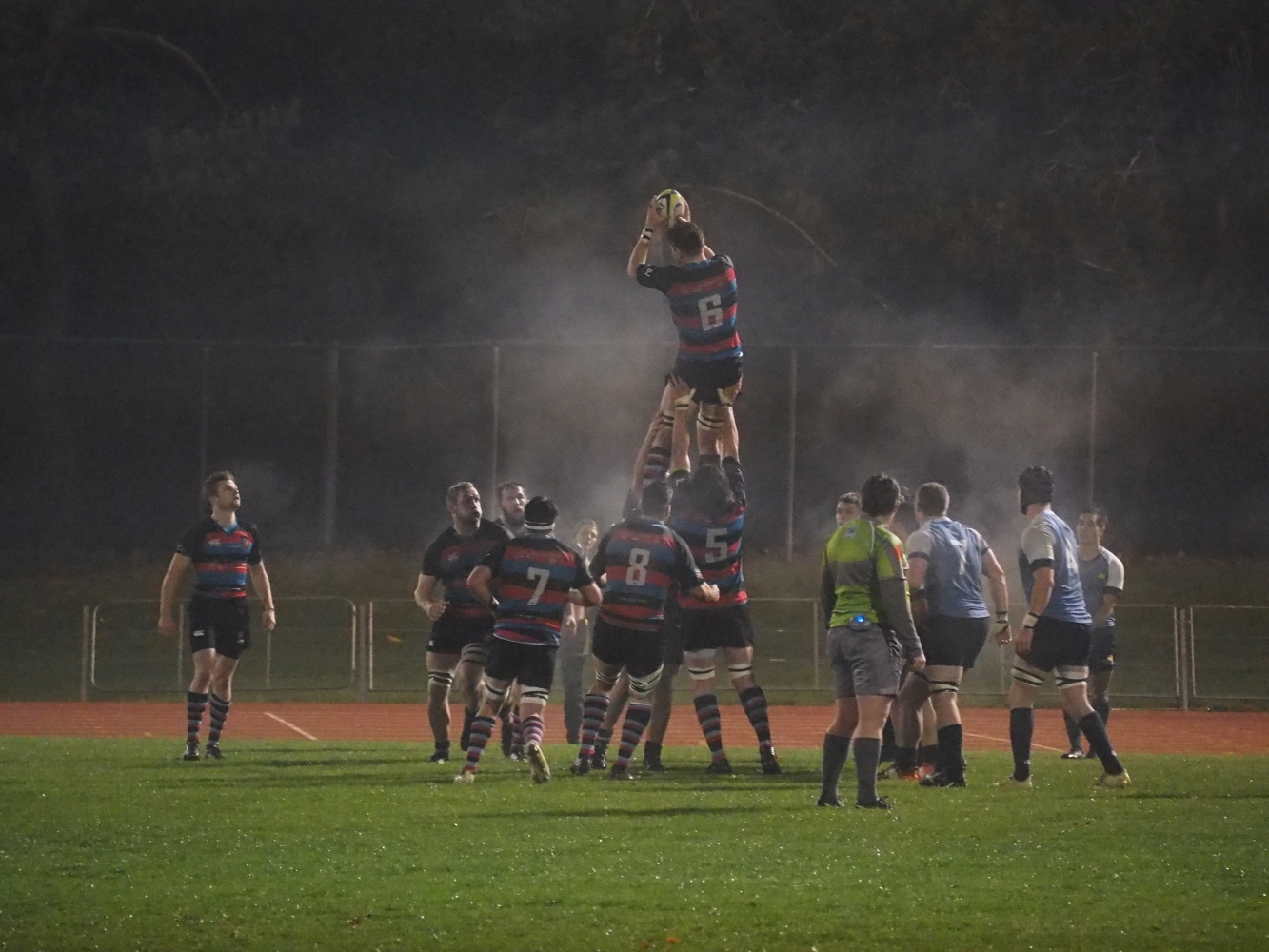 Surreal?
On an almost perfect night for 'Under the Lights' football, the Vikes and many alum with CW, assembled to do battle. In a match that was far from technically perfect, it mesmerized with its tenseness and all out energy. A throng, worthy of the occasion filled the stand and the university coffers, vocal supporters of both camps urging their warriors on. Unfortunately, for this scribe, much of the action was on the "far side" and looking into a bank of floods made identification of individuals difficult, so it is with apology if the odd wrong name was discerned. Further, action was so torrid as it waved back and forth that it was impossible for note-taking to keep pace. With these comments as a prelude, I will attempt a flavoring of the evening.
The early phases saw CW with good field position, an early tight-head scrum and asking good questions with their flow. They were met with enthusiastic resistance with the students showing no fear of their rivals. Nott was visible with a little "to-do" with Dobravsky. A penalty to CW saw Bowd make a threatening break at the quarter mark and when a rather 'soft', late tackle occurred on the same man, accompanied by first card, he found touch at the five meters but nothing came of the threat. After a plethora of whistles, the referee talked to both captains however the tightness of the competition gave this lecture little chance of falling on receptive team mate's ears! Around 25 minutes, CW showed plenty of patience and variety and after a number of recycles 'Burger' Thornber crashed over in the corner from eight meters.
CW's Owen worked a switch with Kegode and Logan almost got away. At thirty minutes came the second of many yellow cards and shortly thereafter it was the crafty Stewart who spotted a defensive gap at the ruck, throw a deceptive 'dummy' and he was over for a 7 – 5 lead. Stewart is a fine, young player, in the mold of Mack and a prevalent try-scorer to boot. My notes read; "U.Vic's Matthews and Feek looked lively; CW's, Schelly was then to put his first stamp on the contest with a good 'gainer'". Thornber was forced to leave and UVic immediately returned the tight-head favor! At 36 minutes it was Carson, mysteriously to this viewer, in the bin. UVic probed after gathering a loose ball. CW escaped the danger, only to be penalized. With field position it was Feek or was it Kratz Lockie; then Gavin Kratz had the student fans on their feet with a hard-nosed "stadium side" burst and the home team attack seemed to continue in waves in the late going with Nott, Bowd, O'Neill (Canada U20 Captain) and Kapi, all playing well. Fortunately, CW managed a lively and sure defense to end the half down 5 – 7. I would objectively comment that the Tricolor might have rued the fact that owing to errors – knock-ons and penalties, they may well have left, arguably, two tries on the park.
The second half which would prove to be close to "epic" started with plenty of life. Schelly from Hall for thirty meters, a dangerous break by Dobravsky, met with a jarring tackle, eventually earned CW a penalty and their fifth or sixth visit in the match to the red zone only to squander the position with a crooked throw. Vikes, Lockie Kratz showed family and friends his stuff with a 40m burst. Then there were the scrums where CW started what would become the TSN Turning Point. Nick Carson somehow managed to get ball away from the debacle in front of him, a sight we saw repeatedly when OBHS played SLS in High School action last year. Another, almost immediate CW monstrous shunt produced another penalty against the Vikes however the advantage was not fruitful as the Vikes defensive line sniffed a whiff of superiority and play vacillated back and forth in midfield with little creativity or pattern from either team. UVic recognized the slightest of errors during the game, tackling and counter-rucking productively.
CW earned yet another scrum penalty and rather than taking the points to tick the scoreboard over, they opted for touch and the red zone lineout. There ensued 5/6 tight drives and then a knock on! UVic asked questions with their pace of play and it all became somewhat "harem-scarem". Crosby Stewart made another good break but that was to be nullified after another splintered scrum and tight-head win. From this, Dalsin backed himself only for the ball to be lost and UVic were away again with pace but then it was their turn for an error. At this stage of the match, CW had plenty of possession and field position and a JoMo "switch" went 15m and was stopped a fraction short. Then it was Finnemore and Braddock and Finnemore again, being "held up".
The ensuing UVic defensive stand against at least twenty CW thrusts was amazing as time ticked down and a lesser character side would have yielded under such attack. Yet again, a CW scrum obliterated the opponents and Costa was binned. CW kicked for touch, won the lineout and another 7/8 cycles were repelled, only for the attackers to knock-on! Boring?? Hell no!! From the defensive put-in, a super CW effort again blitzed the boys in blue and the referee, Smith had no option but to award a penalty try and go-ahead points, 12 – 7. From the re-start with about five minutes remaining, CW tried the "possession game" – twenty pick and goes at the mid-stripe for ten meters of territory only to give away a penalty! UVic rallied and looked to threaten when CW committed another infraction. Touch was found and from the lineout win MacNeill made a bold effort only to be met by a massive tackle and have the ball jolted free. Sponarski pounced, the ruck was won and the ball banged to touch. Game over!
There were plenty of heroes for both teams, many aforementioned in the report. For CW, the boys gave the Hard Hat to Captain Stewart, clearly the best choice for my money. The Tricolors had more than ample possession and position to have created a greater differential but it was squandered with error and there will be work to be done after "winning ugly". This comment is not to detract in any way from a gutsy defensive effort from the Vikes and their often, threatening attack. It was a match punctuated with a cacophony of whistles and a prayer flag of five or six cards. Such flags normally promote peace, compassion, strength and wisdom, virtues deemed far removed from their causal factors in this match! Despite this comment, it was an outcome decided by the players and the hair of the chinny-chin-chin! Thanks to the trio of De Goede, Zuss and Smith for their management of a challenging encounter.
In conclusion, CW wishes the Vikes well in their quest for a National University crown in two weeks. Before that event, the Vikes travel to Westshore and CW looks for payback at Windsor next Saturday after their only loss this season to perennial cross-town rivals, JBAA.
TSN Turning Point??
UVic Norsemen returned the compliment today with a convincing win over CW Reserves. The Norse were very quick on the loose ball and used a wide and pacy attack to outflank the CW boys. Despite the scoreline (??) heard it was not all negative with returnee Hohert getting the Tricolor Hard Hat vote.





SUPPORT THOSE WHO SUPPORT US!
---