RECORD REMAINS INTACT - BARELY
---
---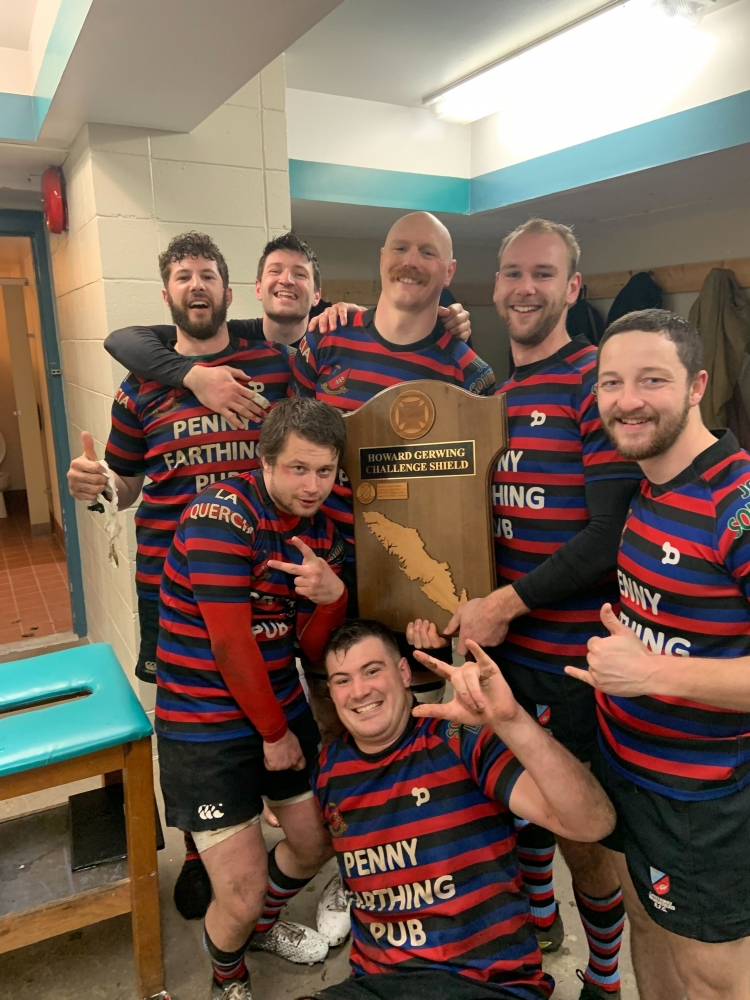 (Crediit, Mark Bryant - BCRN)
By 2:30, the heavens had opened. As with the pre-game prediction, "inclement weather and home field" were factors. In my opinion, it was more how the boys wearing White played, fighting for every inch before capitulating, narrowly, 23 – 15.
It was obvious from the start that Captain Chisholm's reminder to his players about Westshore would be manifest on this day. Led by #8, Symon-Burke's very effective carries and some dangerous scampering from #10, Isherwood, CW was made well aware that they would have to earn any laurels. It was Isherwood who made a nice break after a missed tackle, feeding Bespalko (?) for first blood. Next it was Symon-Burke who physically broke the defence, two or three recycles later, wide ball went to the wing or was it Dashkewytch (?) who scored "untouched", 12 – 0. When Elliott made a clearing error, it was all hands on deck. Then it was Isherwood again, but his pass never went to hand. Westshore had their tails up, taking chances and having a decided territorial advantage as the half drew nigh.
The second frame opened with more accurate execution by CW. A focus on the forwards saw big men running hard and retaining possession. Aided by two penalties, one of which Adibe (solid on the day), made useful yards and CW set up the lineout. It was won cleanly, and the drive initiated the propulsion of Finnie and a 12 – 7 score. Westshore came again and after some threatening recycles, took advantage of "free ball" and on a strange decision, Isherwood chipped an easy field goal. The one advantage taken was that this did keep the scoreboard ticking. Still, it was more Westshore with Heuser, who had a good day, bouncing off a couple of tackles for twenty metres, asking questions, but the finish was not there as the defensive resolve stiffened. #15, Mouret (W), ran back a "wasted" Garryowen to no avail.
(BCRN)
CW's focus on the forwards was showing a far different resolve and they basically had their Hosts pinned in their own half. Amongst a myriad of whistles and stoppages for sideline consultation, a couple of penalties finally came CW's way, thanks to a pack that was asking very real questions. Adibe slithered it to touch once again, for a good gainer. From the lineout, which was a very effective weapon on this day, thence the well-executed drive and Pyke was driven over to get it to 15 – 14. As the clock clicked on, the dominance became such that the win was starting to look a possibility. It seemed the only way this forward juggernaut could be halted was to incur a penalty. The first, and probably most important, came from the boot of Tait, whose tactical kicking on the day was not exactly stellar. To add to his woes, the sideline sledging from his previous teammates was considerable. To his absolute credit, an almost 'Joe Cool' slotted the first of three penalties and a personal bag of 13 points on the day. This gave a second half differential of 16 – 3 for the Visitors, and that was "all she wrote", oh, and the Gerwing Shield came home.


In summary, well done Westshore, led by Burke, Captain Holland and Heuser, a lively backrow, and in the backs, Isherwood and Dashkewytch were the troublemakers. For CW, Finnie had a "cracker" in my books, and White, on debut, performed as predicted. Today showed that all was not according to Hoyle and there is still plenty to do in the backs. Team defence was a definite "check", with any breaks, hard-earned.
Although earlier talk was CW Vs UVic 'Under the Lites' on Friday, it appears that will not be so, and The House of Windsor will see at least two, with possibly three, home encounters against UVic this coming Saturday.
(Thanks to match officials, although the game tape will provide important feedback as that for the players).

MEN'S DIVVIES CONTROL

Akin to Westshore Women in the early game, this group had no trouble with their opposition, posting the half-century, including a severe castigation from a senior member when they somewhat, casually, allowed the bagel to be broken late in the game. CW 54 – 5.


It took fifteen minutes for the scoring parade to start. Once it started, the floodgates opened. This match was also based on forward dominance of the Visitors with the backs exhibiting considerable pace and flair. The "wide game" with good execution was a joy to watch as the chill set in and the weather became gloomier. It is hard to mention names in what was a complete team effort, eclipsing the closeness of a previous meeting. I must name Warren and Montgomery in the forwards and Winser manipulated a pile of talent in the backs to attain their best outcomes. As an old school guy, - "let the ball do the work and back it up", it was textbook stuff. with the "Back 3" scoring seven tries!


I rate Jack Warren as my M-o-M, not bad for his second outing with his former club, only by a shade ahead of Gareth Sandner in the backs. Should be classic next Saturday at the meeting of the thoroughbreds, when the UVic Norsemen with their customary fliers will visit The House.

WESTSHORE WOMEN BRING 'A' GAME

Yesterday, CW was given a look at what it would take to win a Premiership. The Westshore Women are a team that is built for such a win and on Saturday they displayed the full range of their talents, schooling the Visitors to the tune of 39 – 7, amassing seven tries in the process.


Rather than relate the scoring parade, the writer will try to capture the highlights. The Valkyrie game is based on the effectiveness of their set scrum, the tight five being virtually immovable, producing front-foot ball aplenty for the backs to revel with. Westshore's running lines caused havoc for the defense and it is a credit that CW did not pack it in. Without a program, I credit #2 & 9, (ladies who were also outstanding at Windsor Park), as spark plugs, with # 10, 11 and 12, the recipients who completed the carnage. The Westshore FRF is not only big, but also quite mobile and with a very useful 'Back 3' as well, there were no weaknesses spotted.


For CW, it was not all gloom and doom. Julia Schell at #10 and Louise Eriksson never let up. The team had plenty of willing runners whenever they were able to secure the ball. Retention at the collision needs work, two "easy" potential tries went a-begging. There was no lack of heart for the tackle, but it took its toll. Heard both teams were missing UVic players, but one could not speculate what and if, a difference may have been made.

Did hear CW Div. 1 was down at the half 0 – 17 to Cowichan, over at Windsor.

Thanks to Referee, Neish.
---