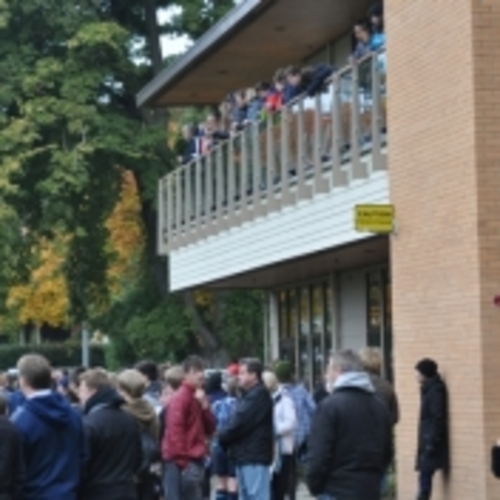 CWRFC was able to take great consolation after a hat trick of senior mens losses over the weekend with a fantastic day of mini, girls and junior boys rugby on Sunday last. The Minis hosted an "interclub" day, with teams from Campbell River, Cowichan and Velox playing in U8, U10 and U12 action.
The U14's and U16's, then "re-organise" to play an extra match at the U15 level against teams from Bayside and Capilanos. Finally, the U18 men played Caps as well in an exhibition. Meanwhile the girls were in action at Carnarvon, playing the Velox in U14 and U18 matches. We include a snippet of the action in today's story.
U14's: "Later in the day, we got to the exhibition game we were all waitng for - Capilanos RFC! Our five players who had played U15 were rested, ready to go again, this time with their team mates from the U14 ranks. Caps brought a talented and experienced side with some significant size. It was not enough as our boys moved the ball and used the full pitch to spread out the defense and find space to run. Both sides were well disciplined and keen to make an impact but the tourists had to leave with a desire to settle the score on a reciprocal visit."
U15's: "Devin, Liam, Michael, Nick and Lachlan joined the younger U16's to form a CW first for the season, "U15" team. The fact that the boys had only been assembled on the day did not seem to impact their ability to communicate and work together. The opposition was Bayside RFC. The game was a titanic struggle with CW ending up on top by a score of 29 - 15. Captain, Jim crossed for two tries and added two huge conversions, Jai and Lachlan added singles. Sam and Lachlan ran the backs with aplomb; linking well and getting their backs running hard onto the ball under intense pressure, David was outstanding in the centers and the find of the game was Devin, on the wing. A well earned win in a hard fought match."
U16's: "Although the scoreline may not have reflected the effort to earn the win, every inch of ground was hard-fought. Captain, Brandon, led by eaxmple in his first game as a flanker, scoring two tries and making numerous tackles. Jai scored a hat trick in his "second" match, Myles and Connor added singles with Brennig converting five of the tallies. Special mention must be made of Jamie who found out just before kickoff he was at #15 for a first time and proceeded to play as a natural. No "I" in this team!" Final score, CW 45 - Caps 7."
U18: "Capilano proved to be a formidable opponent in this game. The first half was evenly matched. the CW forward pack dominated line outs and scrums and the backs showed skill in linking. Caps backs were very fast and showed their intent to run from every phase. Caps led narrowly at the half. As an exhibition game, the coaches subbed liberally to give players exeprience and in the final ten minutes, the many changes took their toll as Caps began to dominate. Though the score favored Capilanos, CW showed they have the skill and size to match the mainland teams. Huge thanks to Braonain and James who urged team mates on in the forwards and Jack and Jay did a similar task with their backfield mates."
GIRL'S NEWS: To start the day, Velox, Cowichan, Campbell River and CW girls participated in a Clinic run by Rugby Canada's Brittany Waters and including a number fo U20 and Senior NWT players. The girls benefited from drills and skills demonstrated by these top players. Two games were then held with CW playing Velox at Sevens and a modified XV's game included players from all four clubs.
CW wishes to thank parents who billeted mainland players, cooked hot dogs and cheered vociferously. To our co-ordinators, Matt, Don and Dave; managers, Anne, Allison, Tami and Peig and our coaches, we doff our cap for this "crazy, busy day"; "making this day possible"; "a great day of rugby for which we can all be proud". Go, Ceedub!
---