Provincial Double for Junior Boys
---
---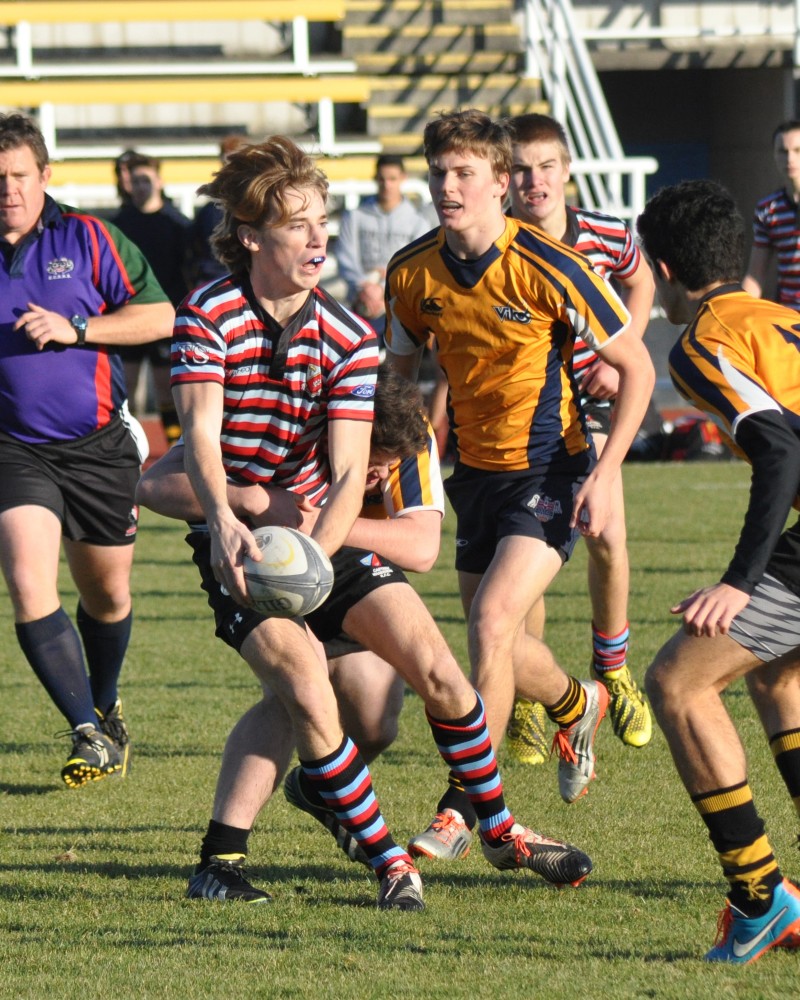 The fact that CW was victorious in both the U14 and U18 Age Grade Finals on Sunday was part of a great story of Junior Rugby in B.C. The games that were played (U16's won by Cowichan over Capilanos), all resulted in close scores and the two games reported on this site, also displayed great rugby and sportsmanship. Hats off to those clubs involved (Capilanos in all three finals), their coaches, managers and parents. To those teams that did not quite make playoffs or played in Plate and Cup Finals, we also salute. Junior rugby, although not without glitches, is alive and well.
The U18 Final was an intriguing struggle between two storied clubs whose work to develop junior rugby in B.C. is almost without peer. We start with some final words from the coach, Spencer; "The joy on the faces of 32 players, their parents and grandparents, coaches and manager personified what CW is all about. An undefeated season based on an unbreakable spirit. Thank you CW for supporting this team from pillar to post, from Langford to Leicester!"
The game opened in a positive fashion for CW however no points ensued and an aggressive and quick Capilano prop drove hard downfield with a good gainer. CW managed to move the ball quickly through the hands back to the red zone and this time came away with points. From an ensuing ruck, Brandon Schellenberger found the line, 7 – 0. Territory was even as two skilled sides tested each other and the defences were solid. At the mid-point of the half, Hahn crossed from his center position following a clever "switch" and 12 – 0 lead. Caps finally created some space with good handling and searing pace, they opened their account about 24 minutes in, 12 – 5. Thence "issues" started to happen for the visitors, getting on the wrong side of the ref at the breakdown and suffering a yellow card for multiple transgressions. Prevost obliged with a nice penalty from out wide and 15 – 5 lead. Despite being a man down, it was only desperate CW defense that kept the Caps out after a very strong break from a hard running scrum half and that brought up the interval.
The second stanza saw CW strike early with another Prevost trey. Then Caps woke up with energy. Initiated by #9 & 10, full of running, the #12 centre took a half gap and evaded the defense on his forty meter scamper to the line, 18 – 12. At the ten minute mark it was Kahn who in great haste, blocked an attempted clearing kick and surprised himself with the try, his brace and a 23 – 12 lead. Next it was Caps turn and following quality continuity, they crossed out wide, 23 – 17. At the mid-point, the more Caps sought to retain or gain possession at the breakdown, the more they were deemed to transgress, finally, receiving a second yellow and Prevost obliged, 26 – 17. With about ten minutes left on the clock, Caps moved the ball wide and used their power and speed to find the defense wanting, to score their fourth try. One could see a visible momentum swing at this stage but with some fresh legs, CW dug deep. With three minutes left, Prevost opened the differential to seven, 29 – 22. This man was to end the scoring with a perfect 5/5 penalty goals and a final score of 32 – 22.
The scoring sequence told the tale of the tape, back and forth. Caps, although they played well, were never able to get their nose in front. CW finished with an undefeated season and reversal of last year's results when Caps won as U16's. In naming a couple of CW players in no way is this meant to downplay the word "team". In the forwards I liked David Carson and Carter White and in the backs, Brandon Schellenberger and Brennig Prevost. Thanks to the referee and a Doff of The Ruggernut's cap to Manager, Tami, Coaches – Rogie and Spenny. Thanks to the players for a great season.
The U18 match had been preceded at Windsor Park on a crisp, chilly yet sunny morning, when the hosts, CW U14 Boys, managed to eke a hard fought result from Capilanos, 27 – 24. It is with "thanks" to Caps for making the trek with Klahanie closed. As both coaches agreed, post-game, it was well worth it as it was the strongest opposition and best game their teams had played all season. This scribe would have to agree. The Capilano team had some big lads and upon first viewing, gave rise to the question of delineation by weight vs age. This was purely academic on this day and once CW got over their shock, they proved that not only could they play with Caps but do rather well.
Caps opened the scoring after early territorial advantage with their big #8 crossing for the try. CW resisted for a long time however they were under the cosh and an athletic and speedy #10 finished off this lengthy field position advantage, 12 – 0. CW seemingly caught fire, earned some possession and mid-half a good run was halted short of the line but possession was retained and CW's big unit, Josh Mao, alertly went blind side to open the home team account, 12 – 5. From broken play, CW's Owen Smith made a lengthy 35 meter break, evading tacklers and brought the score to 12 – 10. All of a sudden there was parity and subsequent confidence displayed, was typified by two great try saving tackles by Matthew Gordon to retain this difference at the interval.
The second stanza was only five minutes old when Smith made another lengthy gain and the boys recycled and hit up 2/3 times when Mao finished his brace and a 15 – 12 home team advantage. Next it was a good break form the winger, Alec Boegman, feeding Tom Craig. This boy was not to be denied. With legs a-pumping he proved unstoppable from some fifteen meters, taking two or three tacklers with him and a 22 – 12 lead. Caps threatened only to be thwarted yet again by a gutsy tackle from Gordon and Smith cleared with a kick and chase. Despite easing the pressure, it was not enough as Caps retained possession for a series of rucks, aided by a couple of missed tackles and it was 22 – 17. Yet again, Gordon made a try-saving tackle, his fifth for the match, as Caps threatened. It was Craig again, who was to finish a good passing thrust, for his brace, 27 -17. CW had space but was it to be enough? The Caps scored another converted tally, 27 – 24 and it was all hands on deck as they continued to threaten with positional advantage. It was not to be, as a CW player banged the ball out to win a Provincial Title, 27 – 24.
The match was appropriately, well handled by the referee – thank you for helping the boys to display their best. It was well played with good skills on show and a tight Championship game. Well done, both teams.
FOOTNOTE - CW U16 Boys won the B.C. Plate title with their 33 - 12 win over Westshore and the CW U18 Girls lost in their Final of the U18 BC Girls Jamboree, against Abbotsford, 22 - 5. Well done, both teams.
---