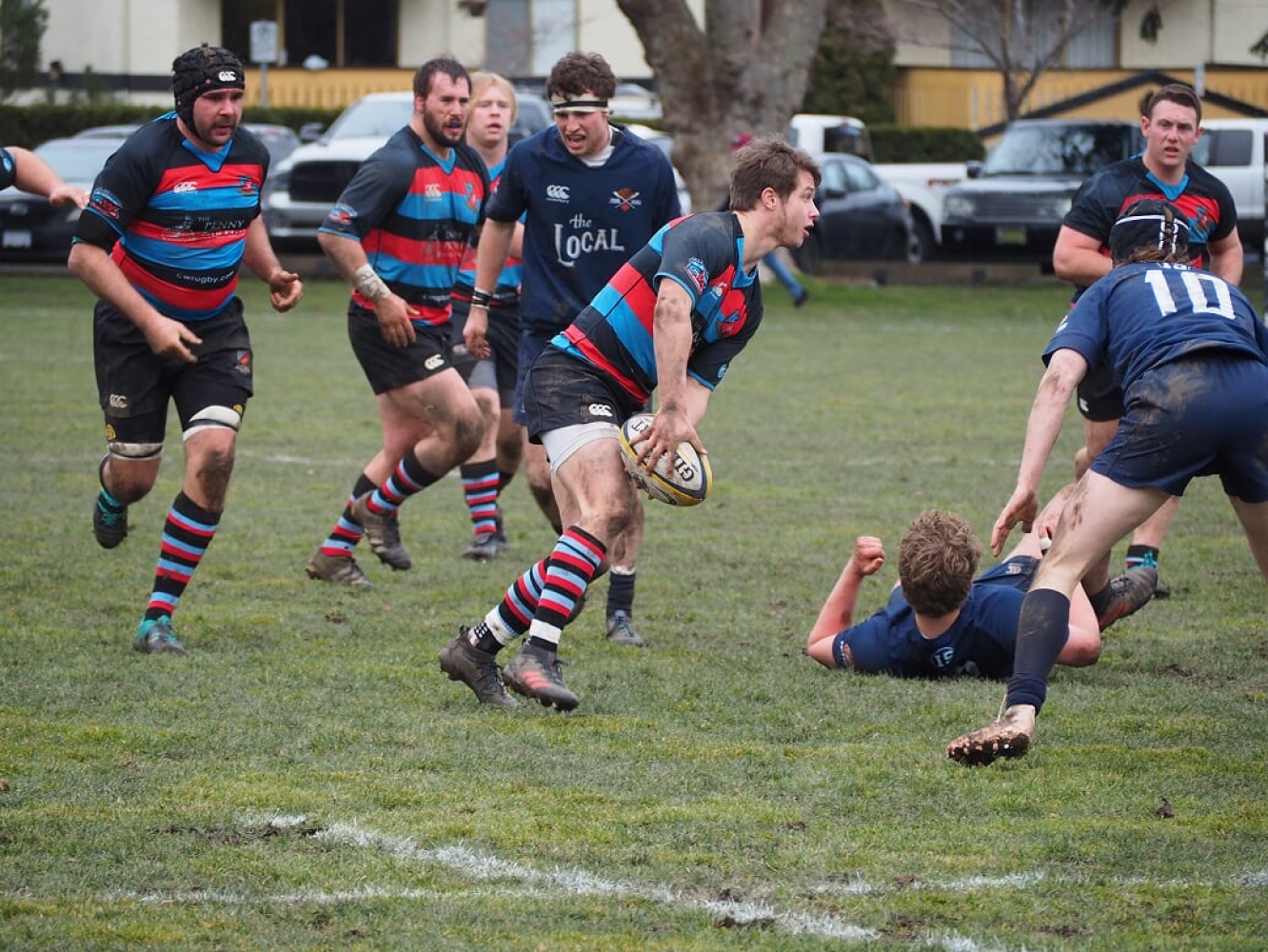 Riley Inicki and Cole Braid in action, Saturday.
Yesterday's game report was cobbled through rather hazy eyes after a BIG weekend! In the report we applauded the Bay's, Cole Braid who had overcome a go round with cancer some years back. Some of our special interest and pride comes from the fact that Cole learned the game at the beginning, playing Minis and Age Grade at Windsor Park.
Today we remind readers of another story about overcoming adversity. Former Club Captain, Riley Ilnicki at 29 years of age had to undergo open heart surgery to repair a damaged aorta from his youth. This was some two years ago. Having happily handed the reins to fellow, Williams Lake native, Nate Stewart, Riles got on with the business of recuperation. He first returned to the practise pitch, taking on the coaching of Riley's Raiders, our Men's Third Division team. Last season he was back on the pitch with the Reserves, scoring the winning try in his first game back against the Bays. This season he has returned to the Prems, earning an increasing amount of time from the pines and one start.
At thirty years of age, to put in the necessary work, along with a burgeoning professional career, is a massive credit. On the weekend he came on in the lock position. Riles replaced another, overcoming adversity from a chronic back condition, Liam Chisholm. Chiz put in the first quarter, scoring a try and feeling satisfied with how he "pulled up". Riley ground out the remaining three quarters of the match, doing the work we are so familiar with from him. Good 'onyas all three men in this story.
Riley, taking care of business!
Postscript to the postscript! Some remarks re yesterday's 50/50 at Royals game, noted on the site. Indeed, a sum of $3400 and change is the correct total. With editorial apologies to Lauren Sargent. Again, kudos to Scrumsargent anf her assistants. 'onyas.
---