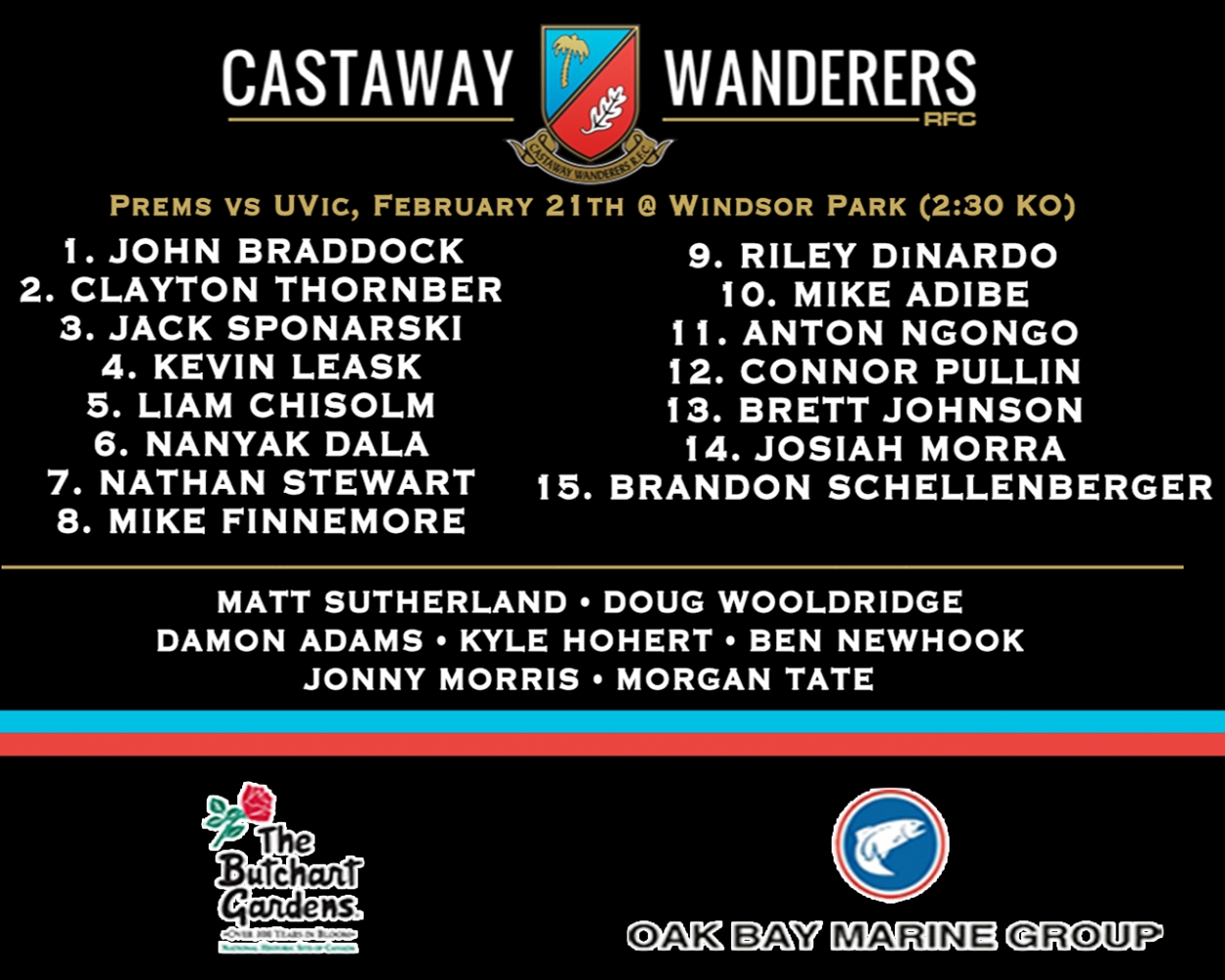 CW Men go into three weekend playoff matches. The Islanders (VIRU – Div2) travel to the mainland to play Meralomas. This is a tough result to predict as The Tricolours have not named their selection and the strength of the Lomas is unknown. I suppose, given the inconsistency of the visitor's results during the season, one must suggest that the home side is favoured. I base this on the fact that the Lomas Reserves are lying in second place, indicating a depth in the lower grades, a resurgence that has been long awaited, although it would be a pity to see it inflicted on our boys. Nevertheless, The Islanders have shown spirit and with Riley leading the Raiders, I suspect they cannot be counted out. So, best of luck, men. Also on Saturday, our Premier women will travel to Burnaby to play a critical clash against the hosts, a side which is cock-o-the-hoop after defeating Westshore two weeks back. A win and we are in the playoffs. Go, you beauties!
The Reserves travel to the mainland also, only on Sunday, to have another crack at UBC Braves. Two weeks back at Windsor, The Divvies gave a clinic to the third place team. Evidentially the students had many players facing Saturday exams, as does UVic in the Premier stoush and an agreement has been reached to play on the Sabbath. This may be a benefit in disguise, enabling CW to travel at better strength without having to leave their top players at home to sub for the Premier contest. UBC at home are a handful and could well revert to top form. CW has surprised the last two weeks, those of us who have dutifully followed all season. They should have had a Norseman scalp last week and I suspect there could well be an upset in the cards in this one. It will all depend on the CW selection. But the recent, new found spirit and play cannot be shunned. Wish youse Divvies well.
Finally at the House on Saturday. A repeat of last weekend, UVic Vs CW. There are no secrets between these two. Tactically, UVic will seek to dislodge CW ball with solid tackling so that they can counter from broken play. If CW can protect their possession, this will be difficult for the students. If CW can nullify the Vikes attack from basic play, keeping an eye on Bowd's gifted hands, cover his boot and keep McCarthy under wraps, then defensively that might do the trick.
I see CW overall, man for man, to be marginally stronger and execution of set attack, allowing the enterprise of Schellie, Morra and Ngongo and a hard-running back row which will also need to 'out-quick' UVic to the breakdown, to do their thing; might be a slight difference. Quality set piece possession at lineout and scrum needs to be very tight, of course McAra and Bosie will test this but I don't expect the turnovers by the home side to be as frequent this week. This protection of possession will be critical, ball in hand with the boot only being used if retention % is high.
It will need to be quality rugby at pace for CW, a side which may be fragmented next season, not to say it hasn't these past few weeks but this will be an opportunity to realise the work and growth and achieve the next step. Have not seen the Vikes selection and know exams on Saturday morning will not necessarily lead to being conducive to playoff rugby however clubs can also complain that players cannot always make practises or full sessions due to demands of work and family, so, that's a saw-off! CW has made two changes. Jackie Sponarski starts in the FRF and Leask moves from the side to lock, with Yak coming back out to flank. I see this strategically to complement some of the aforementioned thoughts. This pundit is confident the boys can get the job done in a close match. Go, you good things!
Midweek, HS action. Oak Bay Barbs knocked off SMUS in the Annual Rees Boot Challenge. The Barbs are starting to get into top gear, having a full squad available, coming off an undefeated tour of Spain and Portugal and ranked #3 in B.C. It is very rewarding to see their squad stacked with CW former Minis and Age Grade players; Henry Down, Zarya Djurickvic, Wyatt Giesbrecht, Connor Hills, Tom Abercrombie (C.), Nick Carson, Jackie Carson, Lachie Kratz, Hector Jardine, Nick Bamford, Dev Finnerty (?) Dalton Kolkema and Trevor Izard. Now that is some who's who?! Keep it going OB!
Finally, we are quite chuffed to announce the opening of the CW Store via our website. In conjunction with Team Sales and driven by our President, Matt Gordon, this has come to fruition. We have a limited selection for starters but plan on expansion soon. Items currently available are selections based mostly on the suggestions of senior men and women players. The quality is deemed to be the best available. As the ordering becomes more requested, we will be able to reduce the "wait time". This has been a long requested service and has been given considerable thought and attention. We hope our supporters will avail themselves of this service to purchase "swag" which clearly shows where your allegiance lies! Go, CW!
Home Page - Header Menu - "STORE"
---