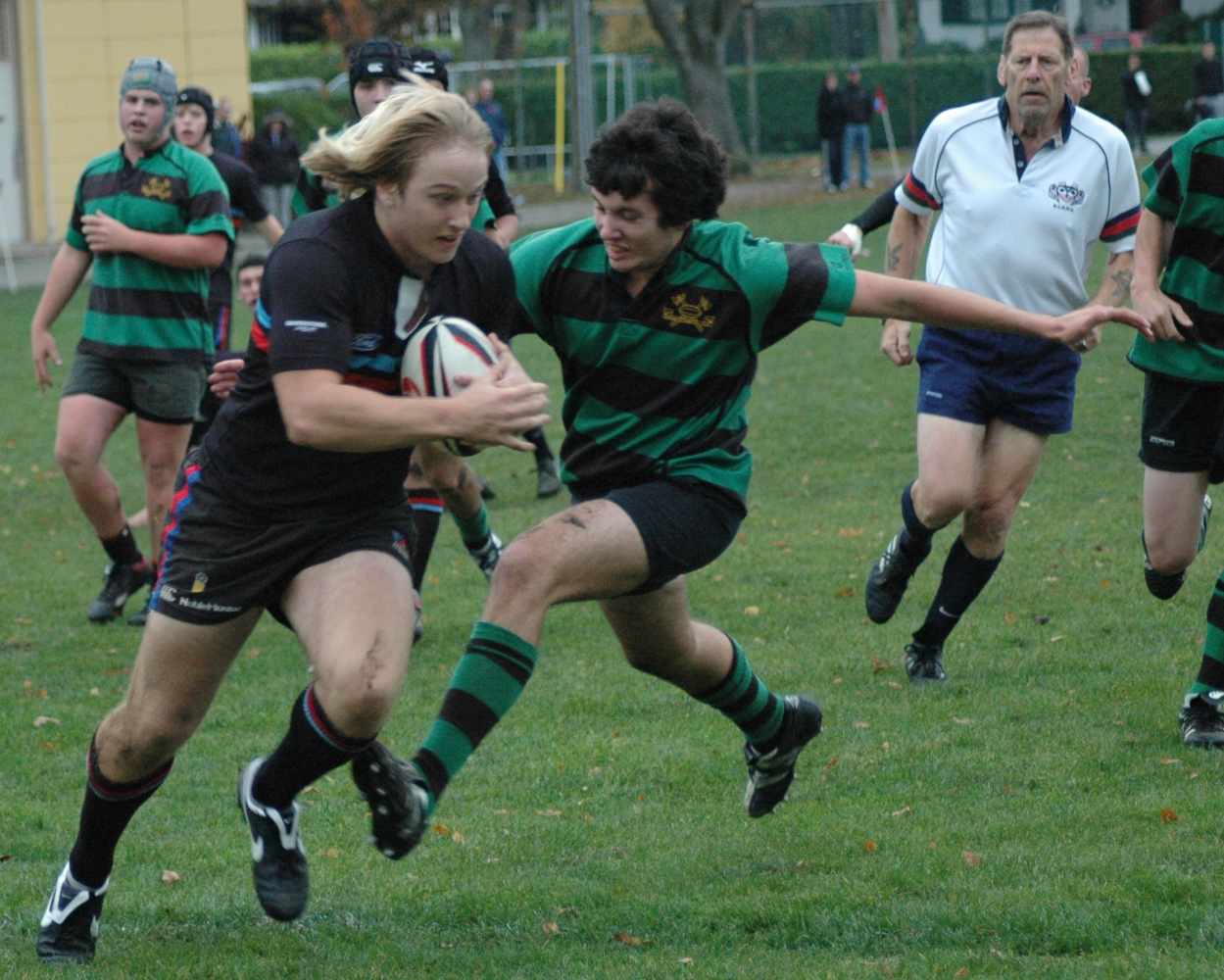 Is this a Canadian Schalk or not?
Today we feature Clayton 'Burger' Thornber. Clayton had his introduction to rugby with CW Minis. He attended Shawnigan Lake H.S. and played on the wing. Clay and his best mate, Mac Poole, were two solid flyers who racked up many a tally. However, Burger at a young age was a "died in the wool" Tricolour as he would find his way to Windsor to play age grade on Sundays and took great delight in playing against his school mates wearing Piggy colours! He was a valuable contributor to the team.
Clayton went through a stage where he could not seem to find a fit as to his best position and gave an impression of being lost with rugby. (Ed., sole pov.) Fortunately, for our sake and Clayton's, along came Ian Hyde-Lay, a masterful judge of character and athletic ability in young men. Hydes suggested that Burger try the dark arts of the Front Row Fraternity. Clayton has never looked back, from halcyon early days, book-ending with 'Loopy' to take a B.C. First Div title to last week where he was a threat to find open space, every time ball got to hand. Ever since he moved into the FRF, he has been a keen learner. Clayton as a young man was very "coachable", today, nothing is different, as he moves between prop and hooker and is still blessed with his winger's speed and useful fend to make the hard yards and frequent tallies, the envy of many of his peers.
He has spent much time with guys such as Frank Walsh, the 'Bus' Franklin, Tieds, Woolridge, Raymondo and the Moose; from whom could you get better information about the dark arts? Clayton has played on CRC teams and this pundit wonders why R.C. has not taken a look at him as a hooker? Perhaps as a front row forward, he is just coming into his own. Clayton, whose play has always been "solid", seems to have raised the bar to another level this season. His increased seeking of work as a one-off ball carrier, better decision-making when distributing and more accurate lineout work, all serving as examples to the point. Burger has been the consummate club guy to boot and often can be seen talking with younger players. So, thanks, Clay, for all you have offered. In conclusion, Saturday looks like a day for mudders rather than thoroughbreds – guaranteed to see Burger being able to handle this as capably as all the other challenges thrown his way!
---