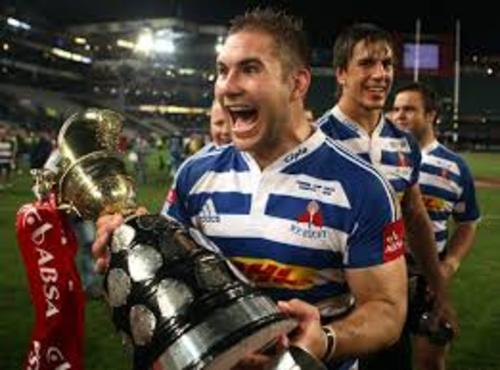 Former Tricolor, 'Jab' Sinclair tastes the nectar of victory!
It's been a dream start to their Ospreys careers for Jeff Hassler and Tyler Ardron. Both signed in the offseason to provide depth at the Welsh region and both have more than achieved that goal only weeks into the season. Hassler almost immediately stepped into a starting role for the club and has now started four times with an additional appearance off the bench. He has also scored two tries. Ardron hasn't started in as many matches as Hassler, only two, but he has made five total appearances for the team as they sit tied for first place in the RaboDirect Pro12. Both players have also played in the Heineken Cup for the team.
Scrumhalf Phil Mack joined Hassler and Adron as Ospreys late in September on a month-long injury cover contract. Unfortunately, he wasn't able to make an appearance for the team, but he did make a couple of appearances for Neath in the Welsh Principality Premiership. DTH van der Merwe has had an up and down season so far for Glasgow in the RaboDirect Pro12 only playing three times, starting twice. But in the Heineken Cup he has been outstanding with two tries. Glasgow currently sit third in the league and are last in the bottom of the Heineken Cup pool.
Over in the Aviva Premiership, Jebb Sinclair has made three starts in four appearances in league play and two starts in the Amlin Challenge Cup for London Irish. The Exiles were one of the teams tipped to fight for relegation this season, but Worcester's struggles have them breathing easier. They also lead their pool in the ACC. Also in the Premiership, Phil MacKenzie has started three matches in four appearances for Sale. He has made one start in the ACC where Sale also lead their pool. The Sharks sit eighth in the Premiership table.
Down in France, Jamie Cudmore's season has mirrored his club's season. Clermont are second in the Top 14, but have had their share of losses this season as well. Cudmore has made three appearances, all starts. Shane O'Leary hasn't had an appearance for Grenoble in the Top 14, but did make two substitute appearances in the ACC.
Staying in France but down a division in the Pro D2, Taylor Paris has settled in nicely with Agen. He's scored three times while starting in seven matches. Agen are nicely poised to fight for promotion. Also in the promotion hunt are Jason Marshall and La Rochelle who sit one spot above Agen in the table. The prop has played three times for the team with one start. Lastly in the Pro D2, Cam Pierce has yet to see action for Pau.
It's been a nightmare season so far for James Pritchard and the Bedford Blues in the the Greene King IPA Championship. Bedford were expected to fight for promotion but only have one win in five matches. That's not Pritchard's fault, however, as he has two tries and nine penalties in four appearances, including three starts for the team. It's been better for Aaron Carpenter and Matt Evans at the Cornish Pirates. Carpenter has a try in two starts and four overall appearances, while Evans has two starts.
Brett Beukeboom has a try for Plymouth Albion as they sit in the middle of the table. He's started four matches with one more substitute appearance. Club captain Sean-Michael Stephen has also started four times with another substitute appearance. Young Richard Townsend has two starts in four appearances for bottom place Ealing. Rounding out the English second division, Tyler Hotson has started twice for London Scottish.
Hubert Buydens earned some valuable minutes with Manawatu in the ITM Cup. The prop made four appearances, three of them starts as the Turbos barely missed out on the playoffs. Also in the Southern Hemisphere, Evan Olmstead had a nice season with Parramatta in the Shute Shield.
Lastly, around the lower divisions in Europe, Mark Kohler and Coventry sit near the top of the National League 1 table, and Jon Phelan and Lille are doing well in Group 1 in the Federale 1. Over in Ireland, the season is still young for Jack Fitzpatrick and Trinity. They currently sit last in the All Ireland League Division 1B without a win.

Canada will host the New Zealand Maori All Blacks in Toronto on November 3, and will then immediately travel to Europe where they are scheduled to play a three game tour, beginning in Georgia, continuing on to Romania, and finishing in Portugal.
(This report by Rugby Canada)

---