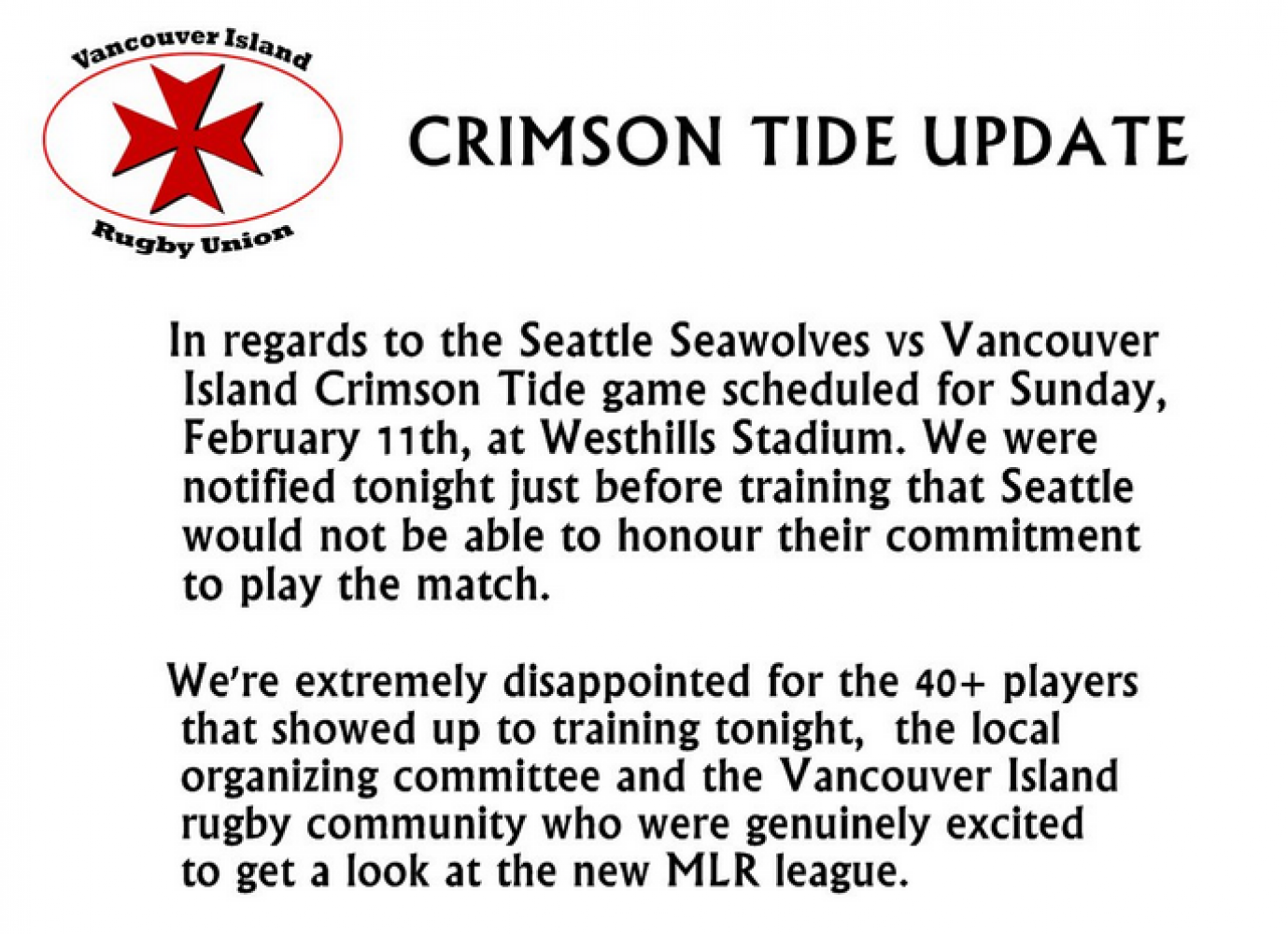 Quoth The Sage; "Now you see wolves, now you…." It appears that the Seattle Seawolves failed to realise in sufficient time that their players would require a passport to enter Canada – a condition that B.C. Premier Clubs' Team Managers need to recognise and deal with some months before their scheduled matches against Seattle Saracens! This is just another price of "doing business" in the B.C. Premier league. As a result, the "professional" Seattle Seawolves cannot meet their planned engagement this Sunday with the VIRU Tide. This match had been recently agreed to by the VIRU and some forty players were out to vie for spots at practise on Wednesday. Tide officials had organised a presentation ceremony; venue and time to maximise fan attendance; and a post-game function for the players – bummer! Maybe the reason could be excused as a "rookie oversight" but the nature of its notification – if true – is "bush league". Officials read the news on the Wolves Twitter feed, a post that was later removed. This new ALR has been touted as a venture which will outlast its predecessor, Pro Rugby. The jury will be out for a while. Bad luck for our Island players but I guess everyone deserves a second chance?
Meanwhile, for the rest of the crew, despite a bye weekend, training continued. "Find 2 buddies of equal speed or position; 100 meters between you, 2 on one end 1 at the other; Run 15 lengths; First five can be warmup and building up speed but by the 6th one we should be at 75% plus; one works, two rest; push each other!" ……And that's for the warm-up! Go, CW!
Reflections from the Coach
Surprising the number of European pros still available for Canadian selection Vs U.S. in Sacramento on Saturday for their ARC match. The FRF consists of three ex/current CW guys – DJ Sears, Ray Barkwill and Jake Ilnicki. Dusty Dobravsky and Robbie Povey will be on the pines for insertion. We offer congratulations to Luke Campbell (JB); Guiseppe Du Toit (UV); Martial Lagain (Sherbrooke RFC); and Cole Davis (Calgary Saints), who have also been added as newcomers. Go, Canada.
p.s. Caught the Uruguay W over Brazil this afternoon. If Canada can catch the ball and maintain pressure when they are tiring, the win should be forthcoming over Brazil on 17th.
Whilst lauding CW guys, we include Jarvis Dashkewytch who has been selected to the Men's U18 Nats team for upcoming matches in Hong Kong. Jarvis had been selected for the earlier NZ trip however was injured at the time. He should be hot to trot now and we wish him well.
---