ONE WEEK OUT - GRAND GALA OPENING DAY
---
---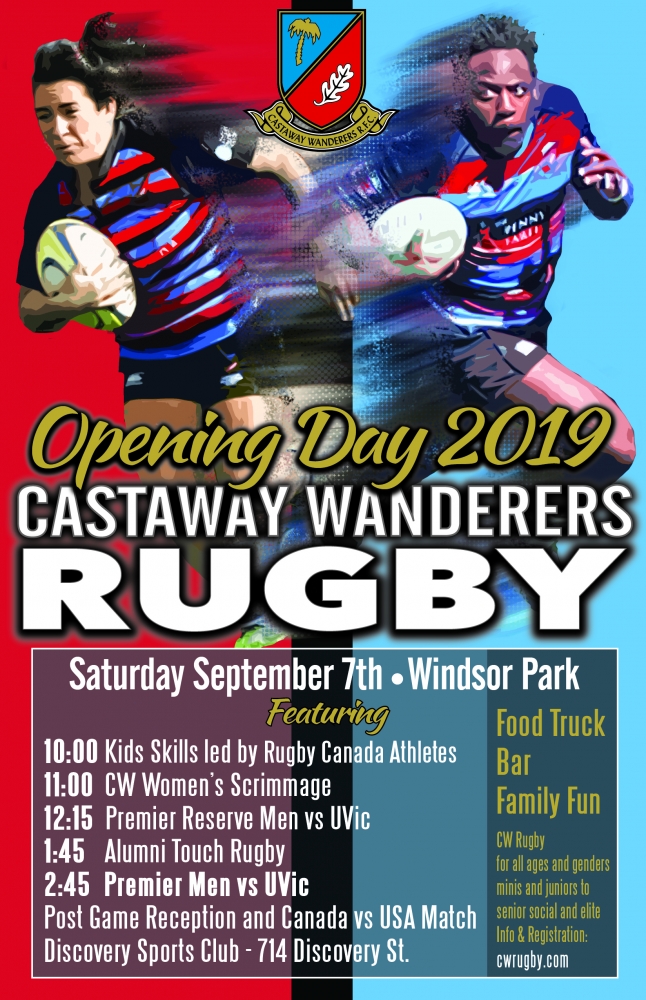 OPENING DAY - A FAMILY AFFAIR - Saturday, September 7, 2019

Next Saturday's CW Rugby Gala Opening at Windsor Park will feature current National Senior Men and Women who will help host mini and junior sessions, with the day featuring a Premiership match between CW Premier Men vs. the University of Victoria and a CW Women's team scrimmage.
"Our opening day is one of the best days of the year for our club as we celebrate our players, coaches, volunteers and also recognize our National representative players that have worn the Tricolours and are currently playing for Canada which is proof of quality of our great program" said Castaway Wanderers President Matt Gordon. "The day is a true family affair with something for everyone and to cap it off with a Premier match vs. UVIC, fans can expect a high-paced and entertaining game. I encourage everyone to come out, meet with the Rugby Canada players who have worn the CW jersey and enjoy a fun filled day of rugby at every age level."
Saturday's Gala Rugby Opening is especially important for new players and parents, to come and learn what the Castaway Wanderers are all about. Today, CW Rugby involves more than 350 players in our mini, junior, senior men and women's teams plus dozens of coaches, managers and other volunteers.
"Running a community club of our size can only happen if we have volunteers committing their time and energy to the club," said Gordon. "CW has been very fortunate to have the most loyal volunteers, but more are always needed, and we hope that by introducing ourselves to more parents and community members this weekend we may attract new volunteers."
There will be no shortage of activities on the day including the flagship senior men's match vs. UVic, former and current National players helping out with "Try Rugby" activities planned for boys and girls, aged 7 – 15. For these players there will also be a Skills Competition where the youngsters can earn decals for their "passport" upon successful completion - FUN! For the youngest of rugby enthusiasts, we will have an inflatable Rugby Canada "mini pitch" for the 'pre-minis' onsite to romp around.
The day will also include a fun challenge touch game between CW alumni (men and women) at 1:45 p.m.
For parents and players, CW kit will be on display for sale or sizing for online ordering and purchase. Volunteers will be on hand to answer any questions from parents (including registration).
About CW Rugby
CW is a club with a foundation based on respect and honour for the game of rugby and commitment to each other on the pitch. We are equally committed to our community as proven by the countless hours our members commit each and every year to various causes.
Saturday, September 7th, Windsor Park, Oak Bay (2451, Windsor Rd)
Festivities kick off at 10:00 a.m. and run through the afternoon until 6:00 p.m.
A Beer Garden will be open upstairs in the pavilion and a food venue will be available on site.
On line player registration guidance and CW swag ordering will be available to parents, players and supporters alike.
9:00 a.m. – Setup (Volunteers for set-up and skills sessions show up before 9:30 a.m.)
10:00 a.m. – 11:00 a.m. - Skills Clinic featuring RC athletes (all welcome)
11:00 a.m. -Inflatable Rugby Field along with fun skills stations
11:00 a.m. - Food & Drink facilities open - Dray's Bar (in Pavilion), Food trucks (Fresh Coast Food Truck, Jackson's Ice Cream Truck)
11:00 a.m. - 12:00 noon – CW Women's team scrimmage
12:15 p.m. CW Premier Reserve Men vs. UVic Norsemen
1:45pm - Alumni Touch game (All men's and women's alumni players/coaches are welcome!)
2:45 p.m. - CW Premier Men vs. UVic Vikes
There will be a post-game Reception @ The Temple - Discovery Sports Club (714 Discovery St.) The Canada Vs U.S.A.match from Vancouver will be telecast on the BIG screen.

We look forward to seeing both new and old CW players, parents, and supporters at our opening season event!
ANOTHER CLASSIC CW Vs UVIC BATTLE ANTICIPATED!
OPENING DAY FUN!
---