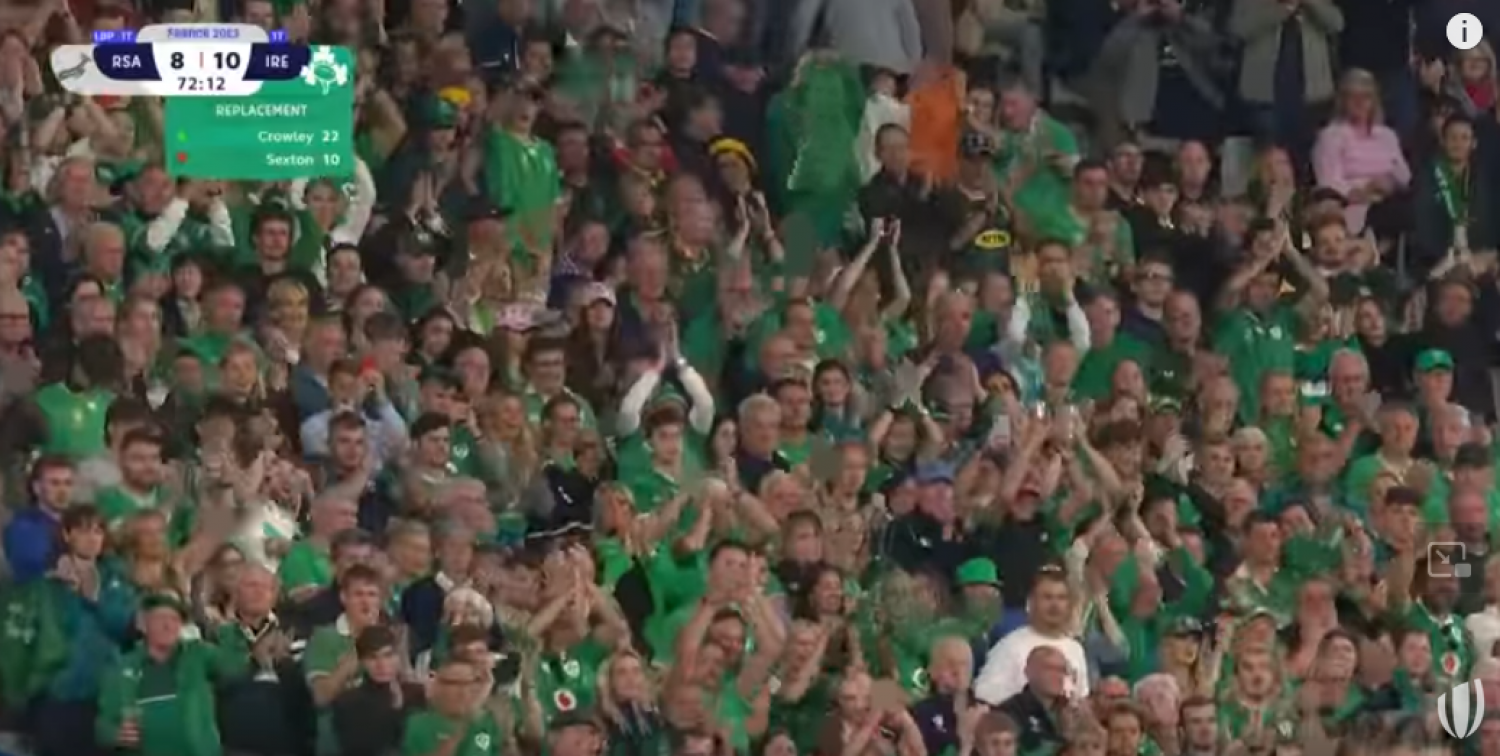 Johny Sexton leaves the fray. Credit Rugby World Cup.
As predicted, it was a must see! Ireland placed their strong claim to the Webb Ellis trophy with their victory over RSA last weekend. There will be a couple of other thrillers this weekend when Fiji pushes their claim for the final eight, New Zealand seeks to regain form and Australia try to avoid limping out of the picture with tail between their legs, when they play Portugal and oh, yes, CW Men First Division plays James Bay!
On the local front, CW Men take to the Mac at for a make-up contest from three weeks back. The word is that numbers are steadily growing at Windsor. CW Age Grade teams will also be in action when eight Sevens teams will travel to Kamloops for what has become a prestigious early season event. Good for Kamloops RFC and good luck CW.
Today we include a few comments about the current plight of Australian rugby. We, in Canada, have seen a demise of our men's game and know the hurt it causes for loyal fans. With a convincing win by Wales last weekend, Wallaby Rugby dropped to an all-time low.
The following comments come from an Australian weekly rugby commentary, The Roar. We offer them as opinion pieces and simply an opportunity for us to realize that it is not only Canada that is experiencing woes with the game and the need to re-think our approaches to ensure its very survival.
"There are Aussies desperate to see Wallabies fail, and many want to see the sport's complete demise."
Writer's opinions;
"Club rugby being true grass roots or Shute shield? My home towns club was founded in 1878. Last year I believe was the first time that they did not field a team. They did come back with a single team this year.
Meanwhile the town of 7000 odd people now has a thriving league, soccer and AFL club. The latter 2 only having a senior men's team for the first time post 2000.
Now tell me that grass roots are not dying?"
"Spot on James. That club had 3 strong grades in the 1990's and now has to work very hard to pull together a single men's team despite a solid growth in the local population over the same time. Pulling together enough players for a women's 10s team has been a major challenge for 3 seasons now, while the local women's league team has been very successful.
In the same comp, several other clubs are hanging on by the skin of their teeth and Batemans Bay had to combine with Broulee to field a team this year and they still played short some weeks. When one of the bigger towns on the South Coast is struggling for numbers, you know the game is in trouble."
"Club land is not thriving. We need to stop saying this. The elite premier clubs are doing alright currently because there is a siege mentality created in them but outside these clubs it's extremely dire. I have just returned to my home town in QLD after a decade away. We used to have 4 divisions with around 7 teams in them (around 10-15yrs ago) now there is 2 divisions, one of the divisions has 4 teams, so it's hardly a comp. Some clubs are only fielding a single team because numbers are so low. I know this is a common story throughout the country.
Part of the issue in Aus rugby is the following.
– the non premier clubs have more distaste for the premier clubs than the professional sides
– the premier clubs have distaste for the pro sides
It's a nasty loop and a lot of people that support the premier club don't realise just how despised they are outside their circle. I know many people that cringe when they cry poor when 99% of the other grassroots clubs are using equipment with gaffer tape on it or don't have any more than 1 ball to use per team.
We all need to have our bubble burst and we all need to do things differently."
"Club land is thriving? Maybe for a couple of big clubs, but not even then.
Let's look at Sydney Premier: Two Blues couldn't field their teams this year. Southern got hammered all over the park. Wildfires are doing their best but will never have the Colts. Norths Colts program fell to bits and Warringah's Colts were great but their Grade were thumped.
Emus looked for greener pastures and got much the same as they did in Shute, but with longer bus trips.
Meanwhile in Subbies, last year's First Div Colts champions couldn't field a Colts team this season. No surprise – SRU warehousing Colts actively harms the rest of the landscape, but nobody will call them to account.
Most Subbies divisions shed their lowest grade, and the average number of games per registered player dropped (again), along with competitiveness of clubs across each Division.
Brisbane Subbies is basically dead. Central Coast and Illawarra are killing themselves in a financial arms race.
But Randwick did OK, so I guess everyone is fine." ("Subbies" = Sub-District.)
This offers plenty to chew on.

CW OFFERS CONGRATULATIONS AND BEST WISHES - MERALOMAS 100 YEARS.
On a final note, the Dunbar Keg U20 competition comes to an end this Saturday at Wallace 12:45 kickoff. Vancouver Wave vs Tide. We have eight CW boys playing in this game. Marshall Stove, Annan McAllister, Mason Levin, Jackson Powell, David Escalante Nava, Fraser Roethel, Yahya El Dakhakhny, Danni Gordon. Should be a great match up. Good luck lads, Island Vs Mainland!
---