NSMT Plays Cherry Blossoms Tough
---
---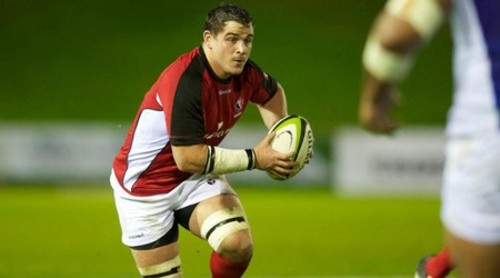 In what could only be described as a chaotic and brutal schedule, Canada's Men's Team was nipped 16 – 13 in Japan yesterday. With a bare three day recuperation period, including a cross-Pacific flight Canada faced an up beat Japanese side that had just drubbed Wales 28 – 3. The players must have played on a fuel tank of pride, both personal and national and team unity to have kept the score line to this three point differential.
The severity of this past month's schedule has forced Coach Crowley to have drawn on a far deeper pool than was available in the past. The coaching staff can be credited for identifying and growing this pool. CW heartily congratulates all 23 men dressed for this encounter. The following game report comes from Rugby Canada's web site. Most players can now look forward to a "rest" of some seven weeks before they take on the U.S.A. in a critical RWC Playoff Home & Away Series.
"After exciting wins over USA, Fiji and Tonga to open the 2013 Pacific Nations Cup, Canada was one win away from capturing the Championship in their tournament debut. However, Japan's Ayuma Goromaru played spoiler by scoring 16 points to seal a 16-13 victory in Nagoya on Wednesday.

Following last Saturday's match against Ireland in Toronto, Canada travelled across the Pacific Ocean to Nagoya on a four-day turn-around. However, as all five Pacific Nations Cup sides have faced similar travel conditions, the Canadian side will not be making any excuses.

"We fought hard under a short turn-around from Toronto, I'm really proud of our guys," said Captain Aaron Carpenter following the game.

"Credit to Japan, they played with a lot of heart today."

Under wet conditions at Nagoya Municipal Mizuho Park Rugby Ground, Canada opened the game with early possession, stringing together 10 phases after the opening kick-off before a penalty was awarded. James Pritchard, playing in his 50th test match, stepped up and slotted the goal to give Canada an early lead.

Playing in his fourth test, and second start, flyhalf Liam Underwood broke through a gap shortly after, but couldn't link up with winger Connor Braid on the outside. After a back-and-forth set of phases, Japan's Goromaru missed a makeable penalty kick. Not long after, Japan elected to go with a quick tap off a penalty instead of going for points and pressured deep in opposing territory. Canada's defense held strong inside their 10-metre line before relieving the pressure.

Canada scrumhalf Sean White, playing in his 21st test match, made a number of strong tackles in the first half and broke the line nearing the 25-minute mark to feed hooker Ryan Hamilton for an impressive break. Canada and Japan - having tied in the 2007 and 2011 Rugby World Cups – maintain a history of close games and the two sides continued to exchange possession after a series of turnovers due to the wet conditions.

Near the 30-minute mark, Canada's Ciaran Hearn attempted a 44-metre shot at goal, which had the distance, but narrowly missed the left goal post.

Looking to get on the board nearing the end of the first half, Japan poured on the pressure. After putting together 11 phases, a chip kick into Canada's right corner forced a lineout with less than three minutes to the break.

Pressing on Canada's goal line, a jarring tackle by loose-head prop Hubert Buydens and flanker Tyler Ardron forced a knock-on and Kieran Crowley's side took a slim 3-0 lead into half time.

Early in the second frame, Hearn unsuccessfully attempted another long-range penalty from 54-metres out. Japan's clearance kick glanced off winger Taylor Paris' hand and found touch inside Canadian territory. Following a penalty, the boot of Goromaru tied the game at 3-3 with a penalty.

Immediately following Japan's penalty, Canada, on the attack, put together a solid team try to re-take the lead. Flanker Nanyak Dala, fresh off celebrating his 29th birthday yesterday, broke the gain line before feeding to inside-centre Nick Blevins. Blevins then offloaded to White who was tackled three-meters from the line before offloading to Hearn for the score under the posts. Pritchard slotted the conversion to bring his points scoring total 499.

At the 61st minute mark, BC's Aaron Flagg and Mike Fuailefau replaced Aaron Carpenter and Taylor Paris to receive their first caps for Canada.

Not to be outdone, Japan answered back after a line break from their flyhalf inside Canada's 22-metre line. Japan's outside-centre Male Sau furthered the attack and offloaded to Goromaru who scored beside the left post. The fullback converted his score to bring the game to 13-10 for the home side.

Canada's bench continued to enter the game as Newfoundland's Pat Parfrey replaced Underwood, BC's Cam Pierce received his first cap by substituting off Jon Phelan and Alberta's Andrew Tiedemann came on for Jason Marshall.

Not long after, Pritchard slotted his second penalty goal to tie the game at 13-13. With the three points, Pritchard passed the 500 all-time test points milestone in his 50-cap career.

At the 72-minute mark, Japan was awarded a penalty inside Canadian territory after an arguable high-tackle call against Tyler Ardron. Goromaru stepped up and slotted the kick to give his side a narrow three-point lead with under seven minutes to go.

Ontario's Tom Dolezel later subbed on for Buydens, as Canada looked to narrow the gap. However, it wouldn't be so as the Canadians failed to break into Japanese territory and would eventually fall 16-13.

With the defeat, Canada completes their inaugural Pacific Nations Cup with a respectable 3-1 record. Canada currently lead the five-team tournament with 13 points, holding a two and three point respective lead over Fiji and Tonga, who have yet to play one another."
---