Not Necessarily A Very Good Day!
---
---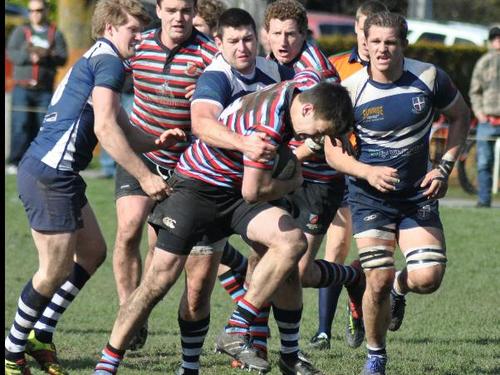 Saturday last saw The Tricolors visit the Shark Tank. Bayside, a club battling relegation and their plight looking even more dismal following the Ravens win over hosts, JBA, provided more than sufficient creditable opposition for the visitors.
The Ones needed a win and a win of some measure of quality if they were to stake their claim as worthy repeaters for the Ceili Cup this season. Although their jump out of the blocks was solid, no points resulted and when some calls seemed to go the "wrong way", the troops became flustered and frustrated. This stemmed into a second half of plenty of watching and very little doing. An observer reported that "sadly, when CW played a straight forward game and ran hard, they made ground easily but this seemed to only happen in spurts". The final result saw the Hosts earn a 28-12 bonus point win. There are two games left against two tough teams and it will remain to be seen if The Ones "man up".
The prems snuck a bonus point win....if a one point margin could be called that. However, looking at the other matches, CW must be gracious in taking five points from South Surrey and sneaking within three points of fourth place Lomas who must have had a miserable ferry ride home. Rookie CW Junior, Evan Seal scored a brace from his #15 slot and Schlotzie reportedly had "not missed a beat", adding another tally. Skipper, Matt Buckley was MoM in a game filled with yellows and reds. (It would be interesting to see the number of cards issued each w/end in the CDI League as a couple were also issued at UVic....to this pundit's way of thinking, they may have been very critical to the match outcome but which were very debatable. An Ed POV.) Credits to the Hosts for a very tough match, as The Sharks battled to refrain from relegation.
Next week sees a classic at The Park when BLRFC visits us. Despite their winning ways of late, Burnaby will be very respected but not awed. Add to this the fact that a last minute penalty from the sideline by Ciaran that gave Ceedub the brace last season, over a very good rugby team who will now have revenge at the forefront of their minds. One of the reasons for Burnaby's successes this season is their ability to have selection stability whereas the other top clubs never really know who will be playing until the Thursday "before". This being said, CW has the potential talent pool to still field fifteen capable of beating The Vistors with an almighty effort. This being the last Home game for the season, will draw heaps of The Faithful to the balcony and overflow. Go, CW!
---