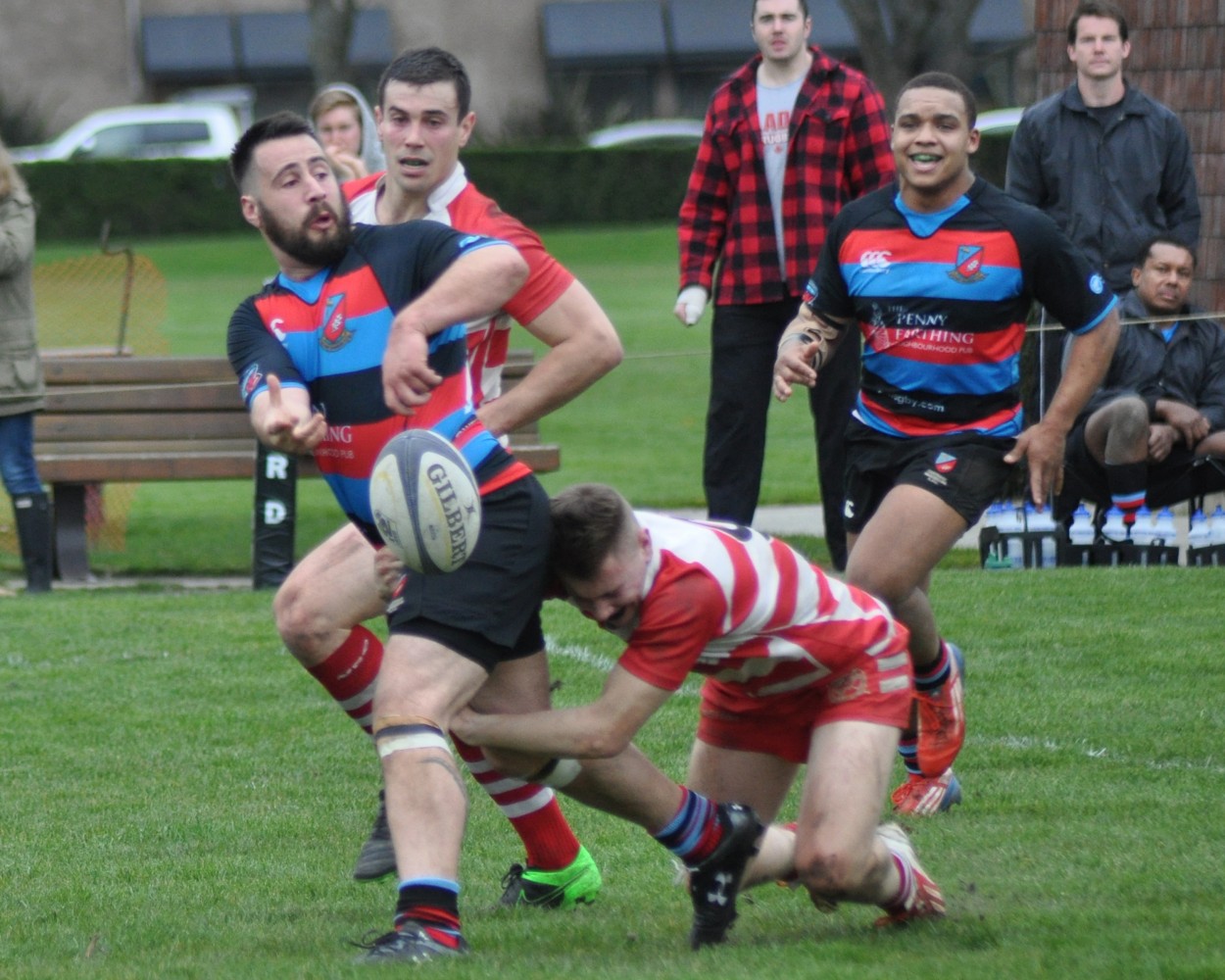 S.B. Morris at his very best!
It was a strange day at Windsor on Saturday. It started with some disconcerting news from Schwartz Bay, where one of a number of vehicles transporting SFU Women was rear-ended, resulting in a visit to the E.R. SFU had a "bare XV" and the other ladies were duly concerned about the state of their team mates and phoned to cancel the match. Latest news is good. Our best wishes go out to all involved hoping there will be no after affects. The match is in abeyance with a re-schedule hoped for; however time is at a premium.
CW now has almost a stranglehold on the League title, although out at Westshore, the current Champs flexed their muscles. Heard tell that this coming week, CW has an "away" games against V.V. on Thursday evening with kickoff at 6:30pm at Westshore Colwood fields.
The rugby action started at 1:00. CW started encouragingly with some fifteen phases only to toss an intercept for an eighty meter, solo run and first blood to The Visitors. For The Hosts, the contest seemed to go rapidly downhill from this point on. At the 'quarter', VRC's scrum was in the process of decimating their opponents and on this platform, the Rowers had forged a 21 – 0 lead, including a Leprechaun-like dash from Rower's #9 and former Irish Schoolboy XV, Nolan. The Irish Connection of Nolan and Crotty was proving a handful, not to mention the work of Dubois, Fagan and Andreucetti! Nearing the break, CW's Captain, Horan made good yards, #9 Keshoofy dummied, broke and his sheer will got CW on the board. From the k.o., CW moved ahead and Brendan Carroll made a 35m break to narrow the gap to 21 – 12 @ the interval.
From the re-start, Rowers kicked to clear to supposed space but Keshoofy caught, threw a huge dummy, found space and set off from his own half. It seemed as if the heavens opened a gap and he went untouched for 55 meters to bring the score to 21 – 19. With such a good start, it would be thought this should have been incentive to dig deep to get on top however it was Rowers who took the bit and proceeded to score five unanswered tries (33 points). This second half debacle and overall, eight try capitulation was a very disappointing exhibition. The tackling was inept and it gave the appearance that it did not really matter, as the trench got deeper.
MoM for me for Rowers was #9 Nolan and close runner-up, his half-back mate, #10 Thompson. Well done, VRC. This result enables them, almost certainly to avoid the cellar. For CW, I liked Horan who tried hard all day. Matthews at #2 gave a good account ball in hand and Keshoofy and Alexander in the backs ended untarnished.

Premier Contest.
CW started on the front foot with eight recycles and good variation of direction of attack and width. They won a tight head and got close to the line, earning a penalty which resulted in Crossland stroking a trey. Kelliher made good yards, ducking and weaving, followed by a nice break by Fraser and a "cool" pass under pressure that sprung Morris for 45m dummying and swerving run to cross for an early 8 – 0 lead. Shortly after, fans witnessed the best try by the boys at home this season. Crossland started the affair with a shifty 30m break. He fed Ilnicki who carried the thrust, inside to Fraser who shimmied past defenders and fed Morgan who had linked and crossed under the sticks, 15 – 0 @ 12 mins.
To this point, Rowers had been deprived of ball. When it did come their way, they used it effectively and eventually, a big unit, #5, Johnston, broke a tackle and went 8m to make it 15 – 7. Like the curtain-raiser, this was to be it for a long time, in this match for the Rowers. Cut and parry from both combatants occurred for the next ten minutes, of particular interest being The Rowers ignoring two easy shots at goal, taking a line-out and tap penalty choice with both options back-firing. CW worked their way off the hook and gained yards out of their territory. The fans were about to witness an even better tally than the last. It was commenced by The Skipper, Ilnicki, weaving and breaking away from tackles, there was interplay between backs and forwards, the ball eventually getting into Fraser's hands, on to his center partner, Morris who went for big yards and when the cover came, he slipped it back to Fraser, crossing for a 'cracker' of a try and 20 – 7 lead at 30 minutes. CW continued to ask some quality questions with good play from the pack, a variety of probes, only to be spoiled with spilled ball. From a defensive scrum on Rowers line, the shunt gave a tight-head result, Ilnicki alertly spotted the squirted ball to score. The kick off went to Thomas who made good yards, a feed to Morris who backed himself with three dummies and a side step, a feed to Hickman who was caught but off-loaded to a patient Fraser who had "shadowed" the break. Three champagne tries; giving CW a 34 – 7 lead at the break. Ambrosia!
The second stanza was only two minutes old when Thornber made a great break, feeding Morgan who was ousted into touch. From the ensuing lineout, CW stole for Kelliher to cross for a deserved tally, 39 – 7. Denial of possession continued to haunt Rowers. Next it was a long break from a swerving Horton, a feed to Ngongo, Crossland backed up to cross out wide and a 44 – 7 difference. Fraser precipitated another attack from a stolen ball in the tackle, Hickman took the ball from the base of the ruck, dummied and went 40 meters, 51 – 7. Rowers, to their credit found some energy only to be rebutted by some solid 'D'. On this day, CW are to be credited for the way they took responsibility for every tackle and defensive alignment. The CW pack then splintered another Rowers scrum and Clay 'Burger' Thornber got his hands on the ball from ensuing loose play and went 40 meters for a very creditable FRF try, 58 – 7. Rowers ended the day when #2, Cox was rewarded for his afternoon's work. Final. 58 – 14.
Thanks to the day's officials who did a great job in both matches – Pierre, Phil, Dave and Chris. For Rowers I give MoM to #15 Gurniak in the backs and #3 Roman, in the forwards. For CW there were no weaknesses or shirkers and to name one over another in such a complete effort is almost impossible. This being said, I honor The Skipper, Ilnicki, with MoM. Riley led by example and his half-time tirade appeared to be a classic! Morris in the backs was Jonny of old and along with Burger in the pack, one wonders if there are any honors in store at some point in the future? Congratulations to all and thanks for a very entertaining performance. Happy Easter. Seattle Saracens Roadie is the next to last outing for this year's rugby……although a playoff game is still a mathematical possibility!!
---