National Boys and Mens Age Grade Winners.
---
---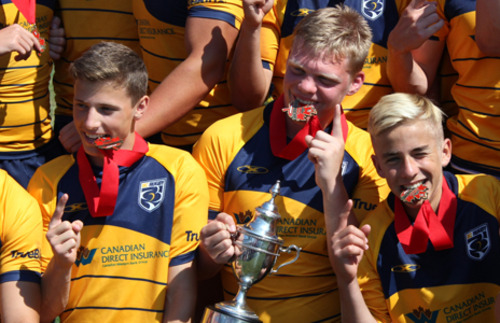 CW's Simon Gray, with a John Thiel look-alike beside him, chomps the gold after B.C. Gold (#1's) defeated Ontario by a score of 50 - 0 in the Final. A tip of the Ruggernut's cap to Dante Morandin and Simon (Ed. - add Gavin Kratz), who were members of the undefeated B.C. squad. We would be remiss if we did not mention coaching staff and Assistant Coach, Old Boy, UVIC and Castaway, Dave "Mongo" Chambers. Good 'onya, Mongo, still "giving back". In other U16 action, the Blues (B.C. #2), lost to Alberta in the Plate Final by a score of 35 - 12. This team featured CW's Brennig Prevost. 'onya, B.C. boys!
In Men's U18 action (CW's Morgan Tate), Ontario bumped off local favs, B.C., 29 - 21. The 'Baby Blues' proved this was no fluke, having defeated B.C. in Pool play by a score of 15 - 13. So, a creditable performance by Jeff's boys but not in the cookie jar and a "Double" for Ontario @ U18's.
We will have U14 results when we sort them out! Just a point to capsulize the past four day's action. This was obviously an amazingly well run Tournament and an opportunity for the hosts to be able to field two teams in some age grades by dint of location. That being said, to play still cost in excess of $1000 for a B.C. player! It is easy to extrapolate that teams are not necessarily the strongest representation based on affordability to play. How can teams be representative of the best available talent when you have to add travel costs on top of this amount? It would be fair to say that standards are improving however, when a sport is based on socio economic wherewithall, we have to find ways to get around this barrier. Sorry, I have no answers!!
POSTSCRIPT: Boy's U14 #1 lost to Ontario #1, 7 - 17. B.C. #2 d. Ontario #2, 19 - 15 (CW - Jim Newman, Lachlan Kratz). The CW Fall U14 program is very lucky to have B.C. Assistant Coach, Shane Muldrew return to club coaching after a very dedicated and lengthy stint with V.I.R.U.'s Ebb Tide. Shane was a former UVic and Castaway player, so it is good to have another past player "give back".
Hats off to the organisers, hosts and U.B.C. and of course to all of the players and their fantastic parents, coaches and managers.
B.C. Bears Drop Opener
CW's Mozac Sampson lines up former CW Mini grad, JBA's Connor Braid and that seemed to be the story as the Prairie Wolf Pack kept a more vaunted B.C. Bear backline under wraps in last night's CRC Opener at U.B.C. Final score was 30 - 21, perhaps a little flattering for the hosts, as the last try from former Islander and current Loma's Callum Morrison, came in the dying stages. Evidently, The Wolf Pack managed control at #9 & 10 and the forwards held their own against a bigger pack with Gilmour, Panga and Franklin being the standouts. The Prairie boys have "only just come together"....who knows, this may be their year? For B.C. who have been going at it on the training pitch for some time, there obviously is still much to be done. It is not good enough to rely on other players from the Nats coming on board. We have to work with what we've got and the product needs to be better...harsh words from one on the sidelines but one who is a believer in B.C. talent. We, in Victoria will get to see the Bears at their next outing against Ontario at Westhills on Friday, August 30th at 7:00 p.m. Growl, Bears, growl.
---