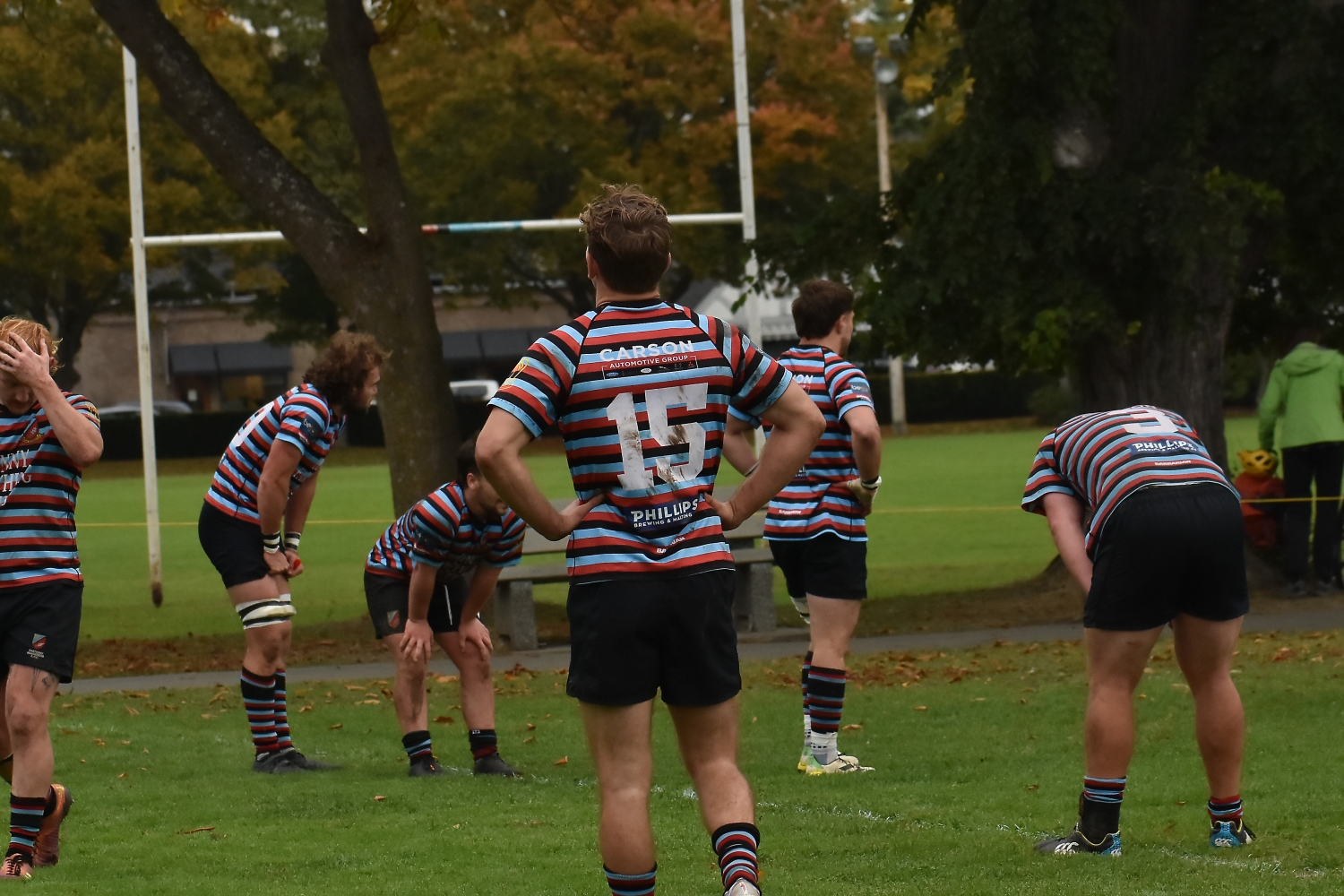 Every picture tells a story.
(Photo - Norm Le Bus)
Pride Pedigree Prevails
There is not much to say in favor of the home team in a seven try to one loss. Admittedly there were pockets of resistance between the scores and the second half was a pretty good effort against a "full time" rugby outfit. The Pride opened with pressure, specifically scrum pressure which earned a penalty. Their attack was temporarily rebuffed only for a good scamper from loose-head, Miller and a feed to lock, John, to post points at ten minutes. Five minutes passed and that was added to – UGH! 14 – 0. Despite the Pride's confidence, CW held for a long period, but it was mostly defense and in their own half. The Pride's Noah Flesch caused fits with a quick tap penalty. Klimchuk and Johns in the forwards and Flesch and Jones in the backs were all proving a handful. The visitor's next score came around thirty minutes. A quick tap penalty was moved wide; a couple of recycles and ball moved to the other side, opening an overlap for winger, Kosemple. Had the scoring been halted at 19 – 0, matters would have been respectable. It was another quick tap and six pairs of hands and a finish by "CW's" Poulton giving a 26 – 0 lead that really swamped the hosts.
The second stanza opened with a tidy CW lineout that earned a penalty, Nick Carson had a 40m breakout and Morra sought space providing a glimmer of hope. The Pride held and pressure forced a CW knock on. The Pride's pace, cohesion, support and alert reactions, saw another score only to be recalled after an AR call on 50-20 decision. This mattered not, because Flesch alertly dummied and took the gap for a 33-0 lead after twelve minutes. At his stage CW stiffened and were rewarded with a try by Pilgrim from a scrum drive. A worthy goal line stand followed but there was no stopping the Pride juggernaut, Thiel making a lengthy break and creating overlaps, all players full of running and the support such that the likelihood of a break was always on.



(Photo -Norm Le Bus)


All of this took its toll despite a reasonable length of time when both teams traded territory and gave honest defensive efforts. It was with a mere five minutes remaining, the Pride added to their lead and akin to the first half, CW allowed a final last try – another quality effort with many involved and a 47-5 score. For the Pride, a polished performance and the talent which rotates often has been given a good finish by coaches Mack and Bydens. It was difficult to pick one over another, but tight forwards Miller, Hunger and John were valuable. I give my M-O-M to Noah Flesch, a fine talent who reads the game well. For CW, Steve Pyke and Nick Carson got through some work and Shaw at fullback was always on the lookout for opportunities. A thank you to the officials for a good job, referee Klaver showing the lead.



Pride Visit Temple for Post-game Action.
(Photo - Logan Dring)

Other matches at the House saw our Premier women drop a 12 – 26 decision to Capilano. CW opened the action very early with a sixty meter try by #8 Temitope Ogunjimi. Caps immediately responded. The first half action ended with Caps ahead 19 – 5 at the break. The second half action was very even with both teams adding a try, CW's from Emily Samek. The scoreline was probably indicative of the difference between the sides, however, the CW coaching staff noted a considerable improvement from last week's performance.

The women's Second Division side lost to Cowichan, in a match that was somewhat one-sided. Our women's scribe describes the numbers growing, with many new players stepping onto the field for their first match. This pundit, adds, a difficult task against a well prepared and experienced Piggie opposition.

The final game score is for the men's Div. 3 match which visiting Comox Kickers won 48 – 12 against CW's Islanders.


Elsewhere in the world of Rugby it was another 'epic' at the RWC with South Africa 'pinching' a one-point victory. What a classic final there is in store between RSA and NZ.

Speaking of NZ, Canada's NSWT Women continued their winning ways on Friday night over Wales with a 42-22 (six tries to three) victory. Hopefully CW's age grade girls and many others watched this game. The match was highlighted with the play of W-O-M Awarded to Captain Sophie DeGoede, a lady who played her pre-University rugby from a very young age to her U18 National selection, at Windsor Park. Not to prattle on (but), it was exciting to hear a Wellington TV colour announcer describe Soph's Club days as being with CW. We are extremely proud of this lady whose play is world class, whose leadership is hugely respected and whose role modelling is exemplary. Sophie finished her night's work with seventeen points.

There was plenty more to it than Sophie's outstanding contributions. The first half was quite close at 21-17 for Canada after a 'telegraphed' pass was intercepted by Wales in the dying seconds. The second half score of 21-5 for Canada was more reflective of the action. Rugby Canada posted these reflections from Coach Rouet: "We're building. We won, but we just need to be more clinical sometimes," said Head Coach Kevin Rouet. "We gave them an easy penalty, and after that a simple interception at 60 seconds before half-time. We know that if we didn't give them those gifts, it shouldn't have been a close game for us. The win was what we wanted, getting the bonus point [for scoring four tries]. We only have six days until we play England, we know it's going to be a short turnaround. We are ready for that for sure."

We let Sophie have the last words. "I think it was definitely a bit of a soft start," said de Goede. "I think we had the momentum at times and then we just weren't quite finishing some of our chances, but I thought we did well to get them. I thought our scrum was very strong, some good momentum with the backs on the edge. We just need to finish our chances and be a bit more disciplined to make sure that we don't give them easy opportunities."

Canada next sees action on Thursday against England, the #1 ranked team of six. The game will be shown on TSN3 at 11:00 p.m. It will be very interesting to see if Canada can draw even closer to this nemesis.

Finally, a shout out to former CW Junior player and UBC rookie, Aida Pye. "Aida was awarded the Rookie-of-the-Year at the weekend's Canada West Championships, helping UBC to a Final, 10 – 0 win over Uvic.

Pye burst onto the Canada West scene in a huge way for the Thunderbirds. Showcasing breakaway speed, the first-year Victoria product scored an incredible conference leading 11 tries for UBC, four more than any other player.

It didn't take long for the Victoria product to establish her dominance offensively, as she was named the U SPORTS Rugby Player of the Week on Sept. 20 after putting up four tries against Alberta, all in just her second career conference game.

She stepped her game up to another level in the postseason, scoring three tries in the first half of the T-Birds semifinal win over Lethbridge, before eventually helping the T-Birds claim the conference championship with a win over Victoria in the final." (CWUAA). There you go! What a benchmark for our age grade ladies. 'onya, Aida.






---