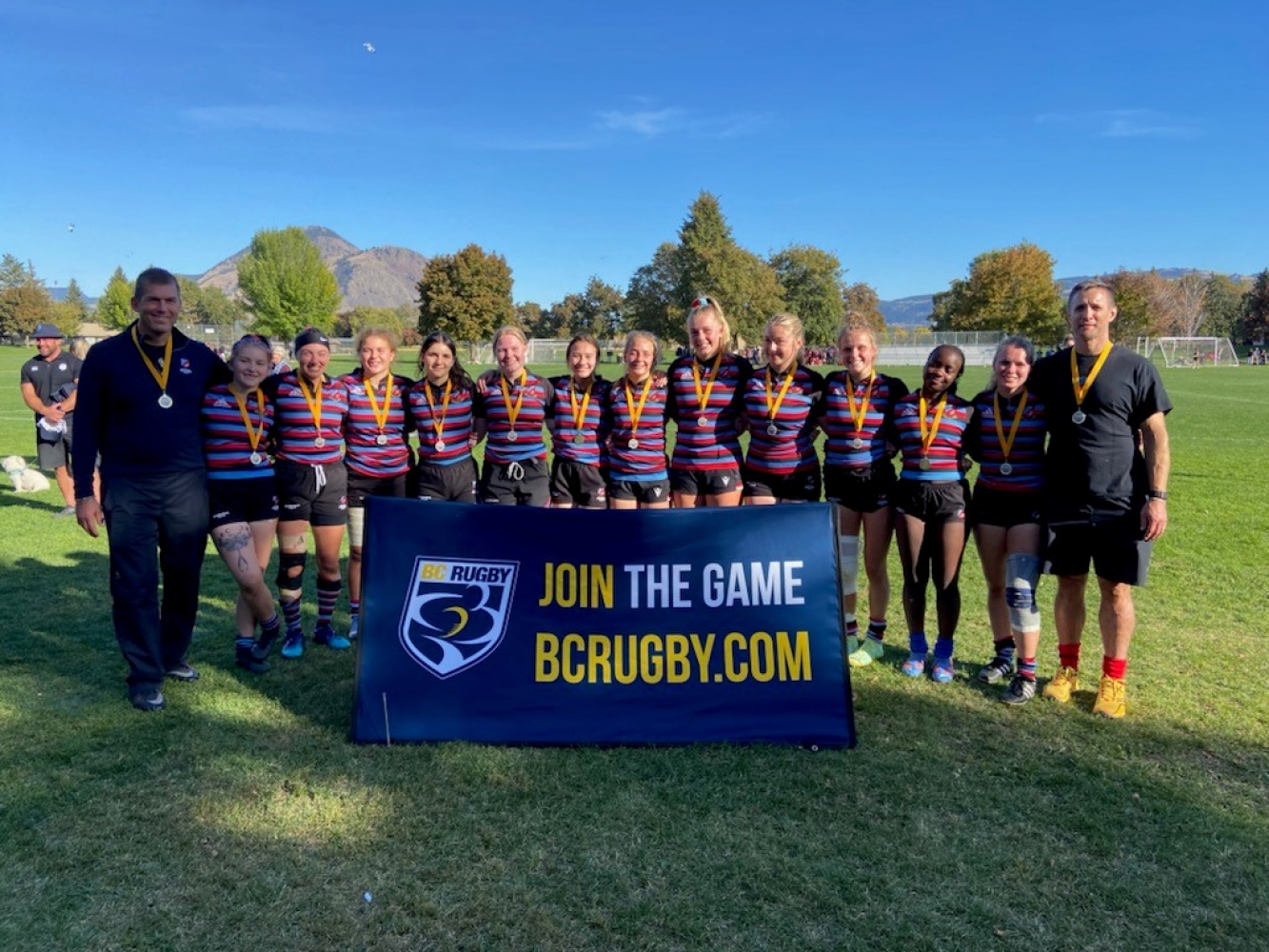 U18 Elite Champs.
Local Rugby Plays Second Fiddle
As the header describes, that was exactly the case as fans watched the All Blacks, Scotland and South Africa flex their muscles at the World Cup, CW U14 Boys and U18 Girls Elite win titles at the Kamloops Sevens, and CW Men's First Div go down to James Bay. For Canadian fans, it has been a treat to watch many of the RWC games, shown "live" on TSN, at least to date, (more on this following). Exceptions being the RSA/IRE match, and upcoming WALES/GEO match, both aired on TSN +, a channel requiring further subscription to, in the form of an App to be downloaded. It was also somewhat frustrating for a programmed AUS/PORT match to be pre-empted for the first half by the National Women's Tennis Championship of China, played in front of not a single fan in the bleachers!



CW representing National Day of Truth & Reconciliation
On the CW front, of the eight teams, parents and coaches that made the trek to Kamloops, two were victorious and the others put in good shifts. Well done, all. A special shout out to the Kamloops RFC who hosted 92 teams with some 1200 players over the three days. Pictured below is a section of the group, most of whom experienced their first Rugby Roadie. Over at the Mac, the Men's Divvies suffered a loss. Positives of the game were both clubs with improved numbers, including subs, and many quality players with a few less experienced players sprinkled in, getting invaluable minutes. CW knew going in, the Bays might have some limits in the front row. Set scrums were depowered for much of the second half. None the less, a good battle continued with more open and free running, in the end, favouring the hosts. A rematch will occur on October 14 at The House of Windsor.
Recognizing a CW Great from the Past – Spencer Robinson.

'onya, Spenny


RWC Telecasts Remaining.

The Ruggernut has received information about the remaining games from RWC, programmed to be telecast by TSN. Included in the e-mail was the following: "during the conversation with Senior management, they assured me that all games in the QF's, SF's and Final will only be available on TSN +, and that will cost $8.00 a month. Even then, they will only be available on your computer and not your TV." This was further confirmed in conversation with a "supervisor". This represents a change from published programming. When asked WHY this change, they simply replied: "Licensing Rights." "I was informed I could email my concerns to

[email protected]


It is to be hoped that TSN will receive enough emails from interested Canadian (and other), rugby fans for them to revert to their original programming announcements that the matches will be shown on TSN #1 – 5.
---