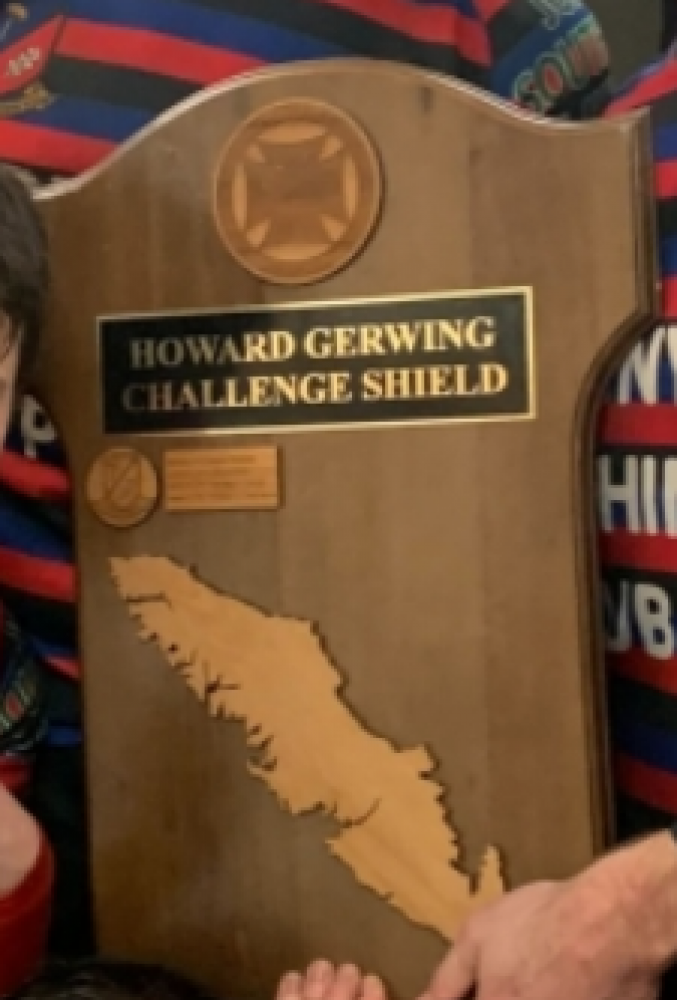 GERWING SHIELD GOES WEST
WESTSHORE UNVEILS KENYAN CONNECTION
The vaunted 'the Kenyans are coming' was on show at Windsor Park on the weekend. The show started well enough for the hosts with some strong set scrummaging rewarded with penalties. Around the ten-minute mark a tight head scrum, saw two determined carries and full back, Robinson over for opening points, 7 – 0 CW. Westshore almost equalized immediately from a blocked clearance, and some good interpassing for 5/6 phases. The Whites managed to get over the line from an alert quick tap penalty, only to knock the ball on in a stiff tackle. A big unit, # 8 and two hard charging props seemed to have plenty of energy with ball in hand, despite being out scrummed in the set pieces. Hard defense turned away the questions asked. What looked like alert sevens rugby from another quick tap, caused further angst. The hard running, support and sure handling finally paid dividends, when quick ball went wide and the resulting overlap, saw Westshore's first try, 7 – 5.
CW next faced the challenge of a yellow card for deemed cynical interference. Somehow the scoreboard failed to change and when finally the smoke cleared, CW was able to work their way back into Westshore territory, only for a halt in play to replace long time veteran, Riley Ilnicki with a severe knee injury. CW did post the next points when Sandner coolly slotted a 45m penalty, 10 – 5. The half ended with Westshore tails up and a rampaging ramble for their #8.
The second half was not to be a good one for CW. A mere two minutes in, some fancy footwork from #20, saw him elude tacklers from 20m. and the first-time lead of 12 – 10. This was a lead not to be relinquished. Sandner was to provide some raised hopes for the locals with a successful chip and chase, starting a brief period of home-team pressure. A missed clearance by the visitors should have been capitalized on, however the lineout was lost. This was an anomaly on a day when lineouts and scrums were CW strengths. From this let off, a combination of Kenyan players, party of two, initiated by #10, saw some fine interpassing and sheer pace for a try in the corner, 17 – 10.
The visitor's #8 again asked questions and a glut of possession led to a flavour-of-the-month, extrapolated from the RWC, field goal, 20 – 10. Another trey was added from a penalty, 23 – 10. A wee glimmer of hope came after a creative, chip and chase, and fortuitous bounce saw Pilgrim, get the pass to Robinson for his brace and 23 – 17, only for this to be the end of scoring for the home side. The capper was put on this one with the Try-of-the-Match by the visitors, via five or six pairs of hands, some shifty stepping and a Kenyan player scoring out wide and a 28 – 17 final.
The contest was entertaining enough with some opining CW shoulda, coulda. Not so, in this pundit's eyes. The Westshore scrum did eventually stiffen, providing better quality ball to a #10, who I give my M-o-M to with a close second to #8. The visitors demonstrated good patterns with hard running and thence sure passing and support, getting the ball to their strengths of speed and creative running. It was certainly not doom and gloom for the Tricolors. I go for Ollie Nott for M-o-M. Set scrumming was good and should have been rewarded more penalties, with an arguable, penalty try. Peters was noticeable, as was Denver Fatt and Steve Pyke in the open, with a good contribution of bursts. Zech Pilgrim again showed his value, with Ray Robinson popping up at the right time. Overall, it was a better showing than last week's outing against the Bays. A week's rest should show more numbers in the hopper, which needs to be if commitments are to be met.
Thanks to referee Horton and AR's, not a perfect performance, nor was that of the players! Congratulations to the victors on their bonus point win and takers of the Gerwing Shield, a trophy that the home team cannot seem to retain for any long period.This seeming Westshore "resurgence" is a healthy thing for Victoria rugby, promising to make for good competition between four clubs, as UVic also flexed their muscles against TWU on Saturday. It was well attended, on a perfect sunny afternoon.
WANTED – Amateur photographer for home games!!
---