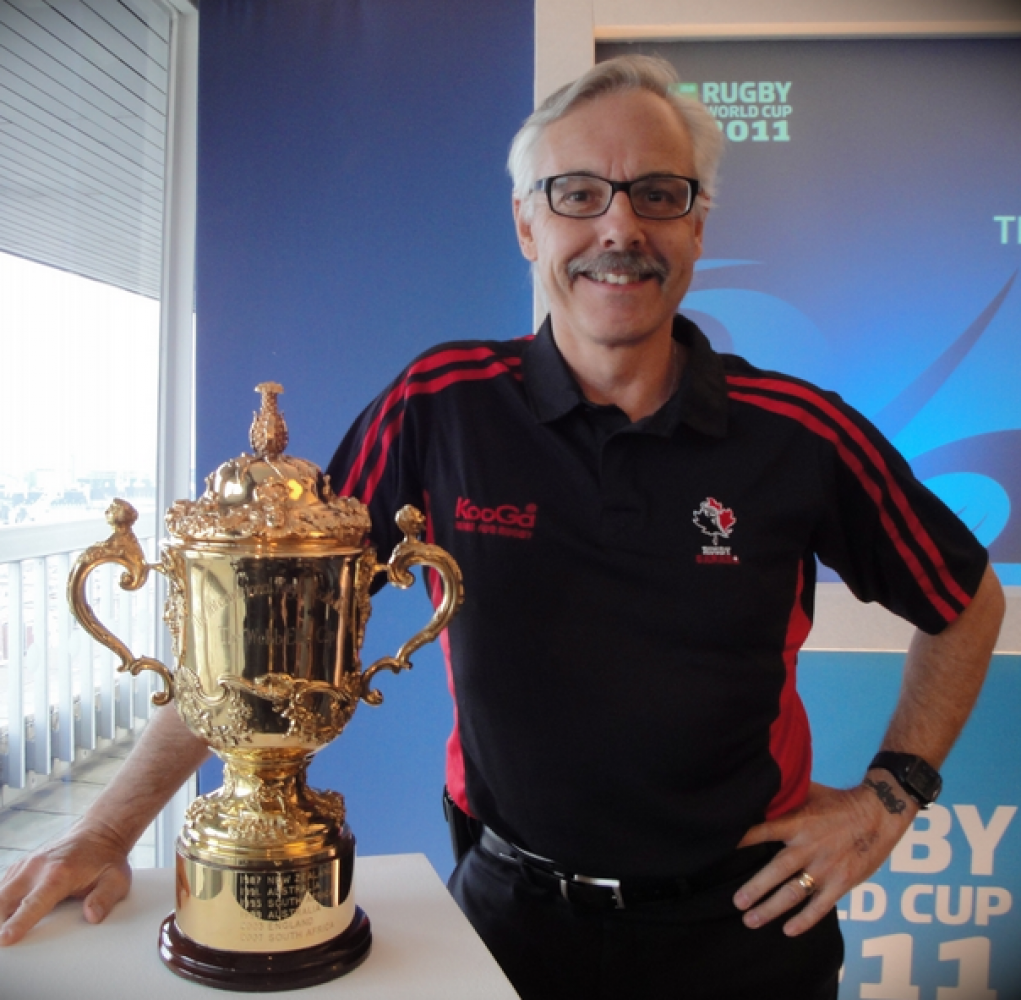 In His Dreams! Johno With Bill.
Plenty of rugby news today, following the weekend's Paris Olympics Qualifiers at Starlight Stadium.
Let's start with some old news. Canada's Men were unsuccessful in their second match against Tonga, losing 36 – 12. Not sure that Rugby Canada can put any spin on this and in fact, the best that could be mustered after Isaac Olson managed a brace of tries was the comment from Coach Jones; "We've got to keep building. It's unfortunate that we haven't got a game next week, because we feel we get better and better." And so it goes.
DATES FOR THE CALENDAR
Rugby World Cup opens with hosts, France playing New Zealand.
Thursday, 8th September
. (See below).
Senior Men's opening matches Vs JBAA –
September 9th.Weekend of 9, 10, 11th September
– Club Coaching Summit.
Referee's Course, Windsor Park –
Saturday, September 10th.
Club Volunteer's Recognition Night -
Saturday, September 10th.
Try Rugby CW Style – 10:30 – 12:00,
Saturday, September 16th.
Men Vs Westshore (A)

RUGBY WORLD CUP 2023 VERSION
Arguably, the most exciting and open Men's RWC yet, takes place in France this fall. There are five or six teams that could get hot enough to be feasible winners. It is hard to go beyond favourites, Ireland, perennial winners, New Zealand and hosts, France. But the performances of "Johhny-Come-Lately" Scotland and never to be disregarded Republic of South Africa, also stake claims. England and Australia have gone cold at the wrong time and although the Welsh have shown glimmers they are hardly likely to threaten. The Argies always have a soft spot for most fans and the minnows – Georgia, Tonga, Fiji, Samoa, and Japan will have some backing at huge odds.
We are VERY privileged to have Mine Host and forever, club patron, Matt McNeill of Vic Pub Co., bringing in the games. We urge supporters and fans to patronise Matt's establishments, for the tele will be buzzing at all three, with doors open at 6:30 a.m. to account for the time difference. Breakfast (to die for, the full "English" deal), will be available for $9 before 9:00 a.m., (usually the hour of a second game). There may be other showings but what more fun can there be than watching with like-minded friends? We will post PST times on this site.
Wear some Tricolour Gear!
Dougie 'Fresh' Fraser Hangs Them Up.
Doug played with the Tricolours for three seasons, Captaining the team in his last two, before achieving his goal of "turning pro" in 2019. He has four National caps to his credit and served well, with many starts for the Old Glory Rugby Club who made it to the MLR semis this past season. 'Fresh' started out with age grade and some senior games at a young age with the Cowichan Piggies before Doug Tate's Finishing School at UVic. CW was then the fortunate recipient of this young man' s talent. Always the gentleman, but could play a prank or two with a good sense of humour Doug's skills were a treat and his leadership qualities cherished at CW. 'Fresh' no matter what you may do in life or where you may be, you are welcome at the home of the Tricolours. Best of luck with your future endeavours.
PARIS OLYMPIANS
We offer our congratulations to Canada Women's Sevens and USA Men's Sevens, qualifiers for next year's Paris Olympics by winning RAN 7's event at Starlight Stadium on Sunday. Our commiserations go out to Canada's Men 7's who played well but lost to a stronger US team. US tactics were simple enough. Big men ran good lines and forced two to make the tackle. The recycle was quick and effective, with wide ball usually resulting in an overlap. All is not lost as a repecharge opportunity still holds hope. This writer thought CW "grad", Lockie Kratz really came of age this weekend and was arguably, Canada's Man-of-the -Weekend. His try and 7/9 conversions against Mexico was his highlight. Newcomer, Ethan Hager, from Ontario via CW and UVic, replacing a late injury, Josiah 'Mercury' Morrah, was not out of place and used his speed to score some good tallies. The Women played very well with an admittance that the standard was not that of the HSBC World Series Circuit. A final note – well done officials and well done, Mexico Men's & Women's teams, earning a regular berth in the Big Show for next year. The two days were well organised, with ample food and beer sites and 4,000 fans took in Sunday's action. Parking remains an issue at this venue, but things were an improvement from past tournaments. A note to Rugby Canada, is it really that difficult to compile a program for such an event?




















OUR THOUGHTS TO ALL OF THE PEOPLE IN OUR PROVINCE (AND MAUI), WHO HAVE LOST THEIR HOMES, MEMORIES, AND POSSESSIONS. OUR THANKS TO OUR MEN & WOMEN (ESPECIALLY CW BOYS ON THE FRONT LINES), WHO HAVE BEEN FIGHTING THE FIRES. BLESS YOU.
---