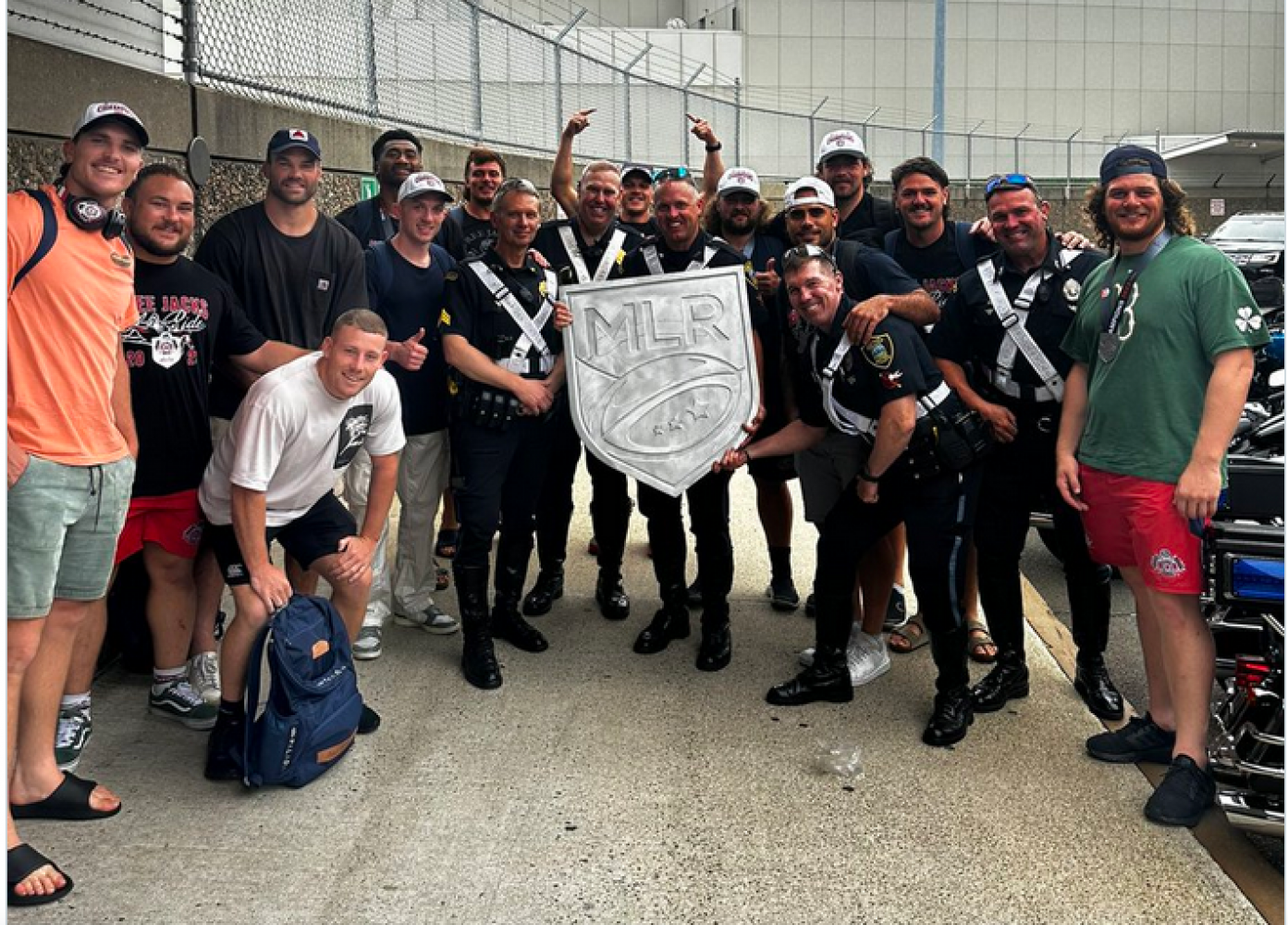 (Photo - Credit, New England Freejacks)

As predicted, Saturday's brace of games was well worth the watch. The first of the two, the MRL Final between San Diego and New England, saw a large collection of overseas players battle to an enthralling one-point finish, favouring New England, 25 – 24. There was a preponderance of kicking as a tactic which did not pay great dividends. San Diego's Ma'a Nonu, a NZ three-quarter GOAT, was on this occasion perhaps more of a goat in terms of its negative connotations with handling errors that were not favourable for him. They started at three minutes with a knock-on for New England's opening tally. Regardless, S.D. inched their way in front at the half, 17 – 13 after some clever guile and switches to score twice and they did look to be the more explosive of the two teams.
With the presence of Shaquille O'Neal, it was a good tv showcase of the game, although the crowd was sparser than this pundit would have expected. The Freejacks came out of the gate in the second stanza on the front foot. After what must have been almost twenty recycles, they went ahead at the five-minute mark, 20 – 17. Their increased energy held the score until the sixty-minute mark when S.D.'s patience prevailed with some slick passes, one particularly creative effort from Canadian, Michael Smith, to regain the lead, 24 – 20. The final score came at the 77th minute, following intense New England pressure and quality handling, for the go-ahead, 25 – 24 line. In a last-minute comeback attempt, Nonu book-ended his day with another knock on and the ball was booted to touch from the ensuing scrum.
Nonu, well under control
(Photo credit - The Guardian)


A couple of side bars. Firstly, a correction and apology. San Diego had some seven Eagles, a few more than an earlier opined, three or four! The Freejacks' standoff half, Kiwi Poltroz, in his final career game was the maestro. Canadian, Ben Le Sage played the full eighty minutes for the winners, and I thought that Canadian hooker, Quattrain also was good value for N.E. There were plenty of big units on the pitch, laying some big hits and there was definite enterprise on display. Canadian and former JBAA's, Keith Cole, came on late for the Freejacks, and was used to hit up on several occasions, leading to the winning try. In summary, enthralling enough but too much leather on leather. Just ask Wallaby fans about the effectiveness or lack thereof of this tactic!






(Photo - Rugby Canada)

The second game was equally entertaining although the final scoreline was rather one-sided with NZ Women defeating Canada 52 – 21. I'll predicate my match comments with a couple of thoughts. An oft observed, seemingly unconscious action by referees in awarding 50-50 decisions to the higher ranked of the two teams was on display by the English W-i-M. Comment #2, as stated in a blog las year when our women won a close match over Italy at Starlight Stadium, their kicking from hand left a lot to be desired and is simply not up to International snuff! With six assistant coaches this should be a coachable improvement, as it was also an obvious deficit in last year's RWC as well. Finally, rather than take the tackle and seek to retain possession, there seemed to be a frantic need to spread the ball under pressure, to someone who was inevitably in a worse position.
A record crowd of 10,000 saw Canada react to a first-quarter, three-try barrage by the Ferns. An instinctive, instant reaction by Captain de Goede, saw her bully her way over from a quickly taken, tap penalty. Next came another from the tireless flanker, Forteza to reduce the gap at the interval to 14 – 21 to the Visitors. Although New Zealand opened the second half with a try, FRF, De Marchant scored to get it close again, 21 – 28. New Zealand seemed to come awake, led by South African-born, W-o-M, Amy du Plessis, the Blacks poured on another three tries, as Canada seemed to lose its structure with substitutions.
In summary, de Goede iced her spot for my money, as arguably, the World's premier #8. The Canadian FRF and locks, Beukeboom and Holtkamp were very good and threw all they could at the Ferns. Flanker, Forteza was tireless. #9, Pelletier more than held her own and Kaljuvee showed on occasion. The remainder of the backs were in NZ's wake, and it was unfortunate to see Farries with virtually no ball. Fitness, strength, desire, ken for the tackle were all outstanding aspects of the Canadian's play. The shortcomings should be coachable. We will await the outcome of the lessons learned when the Women play the Australian Wallaroos next weekend.
---