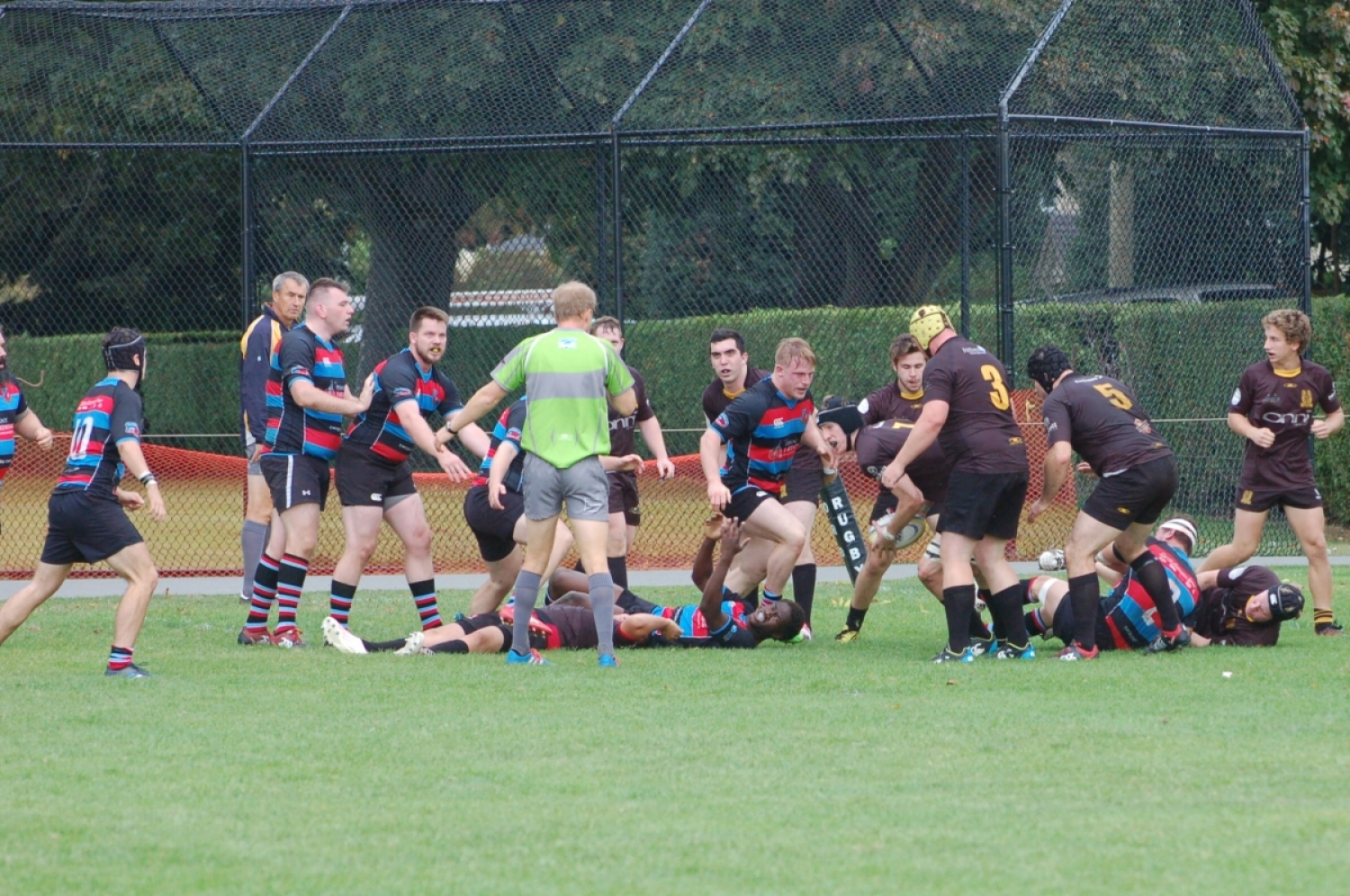 DIVVIES RULE THE ROOST
Last Saturday, CW's Mens Prem Reserves led their Capilano hosts 22 – 8 at the half and went on win this one, 32 – 16 and open a space in fourth place on the points ladders, ahead of UVic Norsemen and only a single point behind Ravens in third spot. Although this pundit did not see the game, I am privy to a few sidebars.
The morning of game day, Captain, Kyle Horan woke up feeling under the weather. Coach Hepp was salivating on the ferry at the thought of getting a trot. Indeed, Doug did get on the pitch and as always, was most worthy of his spot. The captaincy was transferred to another veteran, Gordie Keogh, a well deserving choice and an honour that Gord was touched by, thanking all of his mates for another great effort and the honour of leading them on the day.
Next item was a CW red card that was issued, nothing belligerent but leaving the boys short a man for most of the match. Finally, there was the joy displayed by the Scribes after their Division 2 victory over Caps, when they observed a former member, Scott Mc Cann, sporting Tricolours. Every time Scott got a hand on the ball, the raucous cheers provided great reinforcement. 'onya, Scribes!



So, the day moved to the main game. Caps provided the usual full house of partisan support and Klahanie is always electric for a Home game. Today's comments come courtesy of the Sage on the Sidelines who could be a little rusty, given there has been no work to do since last season! The match video can be viewed HERE.
"CW went out early, 7 -5 however, found themselves trailing at the half,14 – 19, seemingly a little off the boil and out of sync. This match exposed CW to a surgical kicking game from, Mike Moloney and Jeremy Simon, both chaps we have read game reports about on other occasions. CW tried to incorporate a kicking tactic of their own without any great deal of effectiveness and in fact, on occasion leading to unnecessary error and pressure.
Despite all this being noted, the lads managed to extricate themselves from the deficit and inch ahead 26 – 19, a lead which should have been sufficient for the win, but it was not to be on this day. It is full credit to Caps that they fought back, willed on by the full stand of vocal fans, and ended up with the score being 29 – 26 in their favour. Two bonus points were gained from CW's effort however, Caps pig-a-backed over CW in the standings by one point. Shout out to the day's officials.
CW did put in a superior shift in the scrummaging department. The other reality was that they were exposed by tactical kicking that they had not seen to date. As mentioned, the response was out of sync. One note of interest for me was that the team's leaders emphasized how no one individual is responsible for success or misfortune. Each match is a tight group of 23 no matter what occurs. The next encounter which will test this, occurs this Saturday with a visit to the House of Windsor by Seattle RFC. This will be a Premier level encounter that the Faithful will not want to miss. Stay tuned for more information".
The Sage.
CW Premier Women were also on show at Klahanie. We don't have any specifics however the scoreline of a 42 – 38 win for the Hosts indicates a struggle took place and probably, on paper, with injuries and unavailable players, CW would have been double digit underdogs going into this match. This is a commendable outcome, and it may be a hint of turning the corner, as Playoffs draw near. The Women also play Seattle on Saturday, in what will be a "really big show".
---