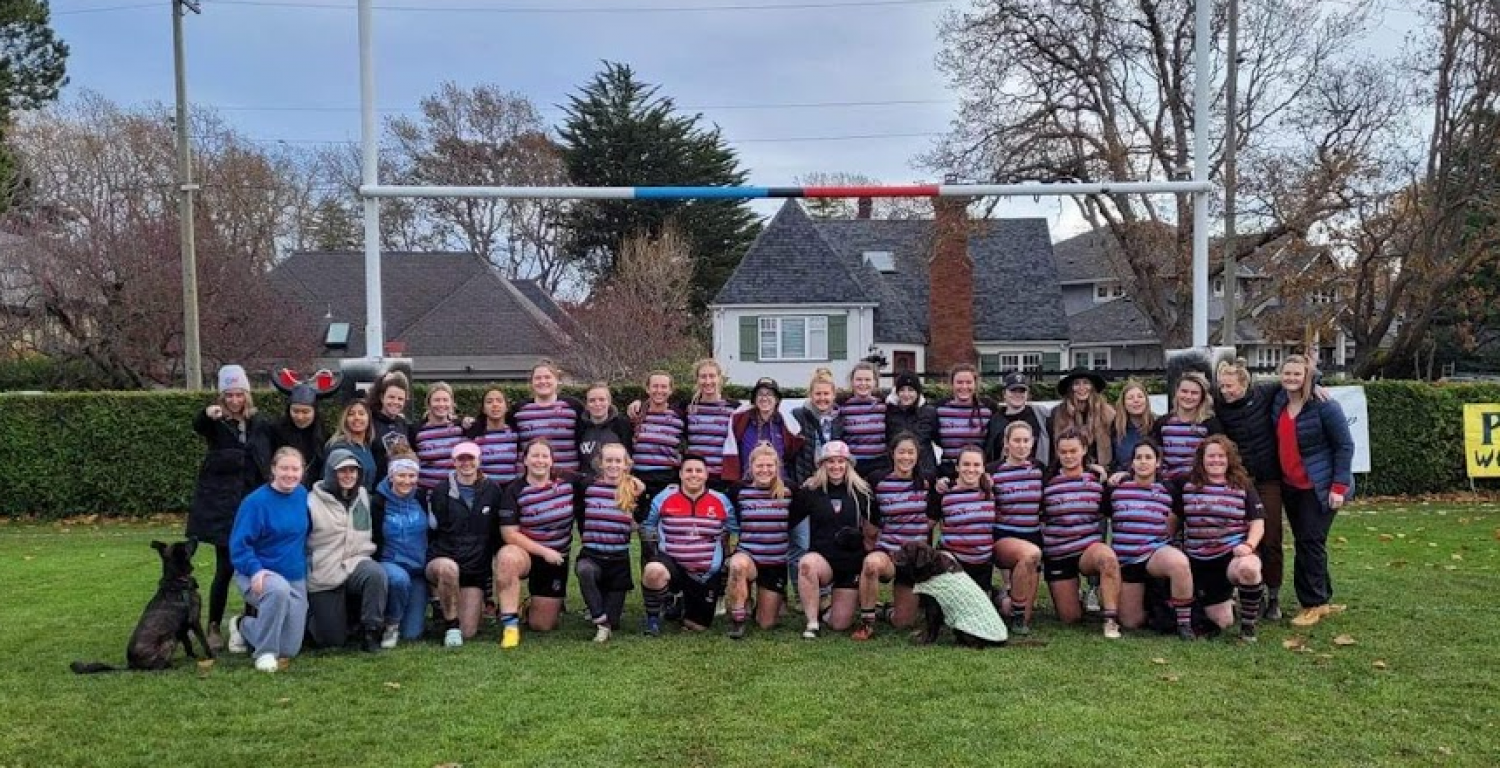 VIRU FINALS – A SATURDAY RECAP
THIRD & FOURTH PLACE
The opening game at Windsor on Saturday saw CW I play JBAA for third and fourth spots in the pre-Christmas League. CW opened with early pressure and James Bay pushed back with action fast and furious. An early break from CW's #9, Celine Nguyen looked dangerous, but it came to naught. The game was fifteen minutes in when James Bay found a gap out wide for the first try. It was to be thus at the half.
The second stanza started in a similar fashion, with both teams gaining and losing possession due to good defense and turnovers in the rucks. Despite strong tackling from Paris Jensen and McKenzie Eckart, James Bay crossed again,12 - 0. Although CW stayed strong with good efforts at the ruck and hard running lines from Nguyen, JBAA was committed on defense and prevented any CW try scoring chance.
JBAA crossed for two more tries and a 24-0 score to earn third place. There was no need for The Tricolors to hang their heads. It was a hard-fought match and players could feel proud of their efforts.
FINAL
It was a determined CW squad that was ready to face off against Nanaimo in the VIRU Final. With experienced players #3 Adrienne Shepherd and #10 Emily Samek leading the bunch, CW was fired up from the opening whistle. The first play of the game was a scrum at half after the Nanaimo kick-off was in error. From the scrum, outside centre #13, Lucy Beauchemin found space wide and took off down the sideline, offloading to speedy Samek who touched down for the early, first try for CW. CW carried this momentum and continued to dominate the first half with powerful scrums from the forwards and hard lines from the backs. Winger #14 Danica Pedrik used the straight arm fend-off to her advantage, providing her with space on the outside to cross the try line multiple times for CW.
The second half proved to be no different as CW maintained composure and continued to control the game. Line breaks from #1 Kelsey McKinnon, supported by locks Miriam Griessier and Delany Kitchen, kept Nanaimo on the back foot, allowing #7 Jamie Beck, and utility back Allie White to punch it over the line for CW. The final score of was very one-sided and it reflected the drive and class displayed by this CW squad. The result was a massive reversal of last week's loss to Nanaimo in the Hub City. CW played rugby for each other this past weekend and came out victorious. Well done ladies!
The CW Senior Women's team were lucky enough to be able to field two teams this fall. The club is excited to take this momentum from these games into the second half of the season when they will compete in the BCRU Division 1 and BCRU Premier Leagues. Go CW!
(Ed. With thanks for these game reports to Francesca Fraser and Josie Anzai)
CW heels were seen often in this one!
It's a wrap!
ELSEWHERE – BOY'S U18 – RUNNERS UP
CW's U18 Boys fell short in the Island Final to the Salish Sea. For those reading who may not know about the constitution of this team, opposed to "traditional" club teams, they are a team made up from a combination of Shawnigan Lake School and Brentwood schools – a very strong combination. They came out swinging with an early try. From this strong start Salish controlled field position and deprived CW of possession. Arguably, a sense of frustration caused penalties to mount up against the Visitors which did not help matters. A very strong Salish pack and clever half-back combination ensured field position throughout and resulted in a lop-sided scoreline, 46 – 14. CW lads did not throw in the towel by any means and the lads can be proud of their season. They defeated all and sundry at the Kamloops Sevens and managed to place three lads on the BC team to New Zealand, along with victories over all the other Island cubs. There will be plenty heard from this group in their future rugby careers. Well done, all.
BOY'S U16 – WINNERS
This U16 team is a very special group. The boys finally faced off against the other undefeated Island team. CW controlled Cowichan the entire match and took the Island Title with a lop-sided win. Rookie head coaches, Alistair and Carmichael Howes had this group dominate from the get-go. Next week they will face off against the mainland champ for the Provincial Title. Go, you good things. Best of luck.
BOY'S U14 – FINALISTS
U14 Boys played Westshore/JBBA and won their semi-final convincingly. Next week they play for the U14 Island Final. Good job, boys and best of luck against Cowichan.
---