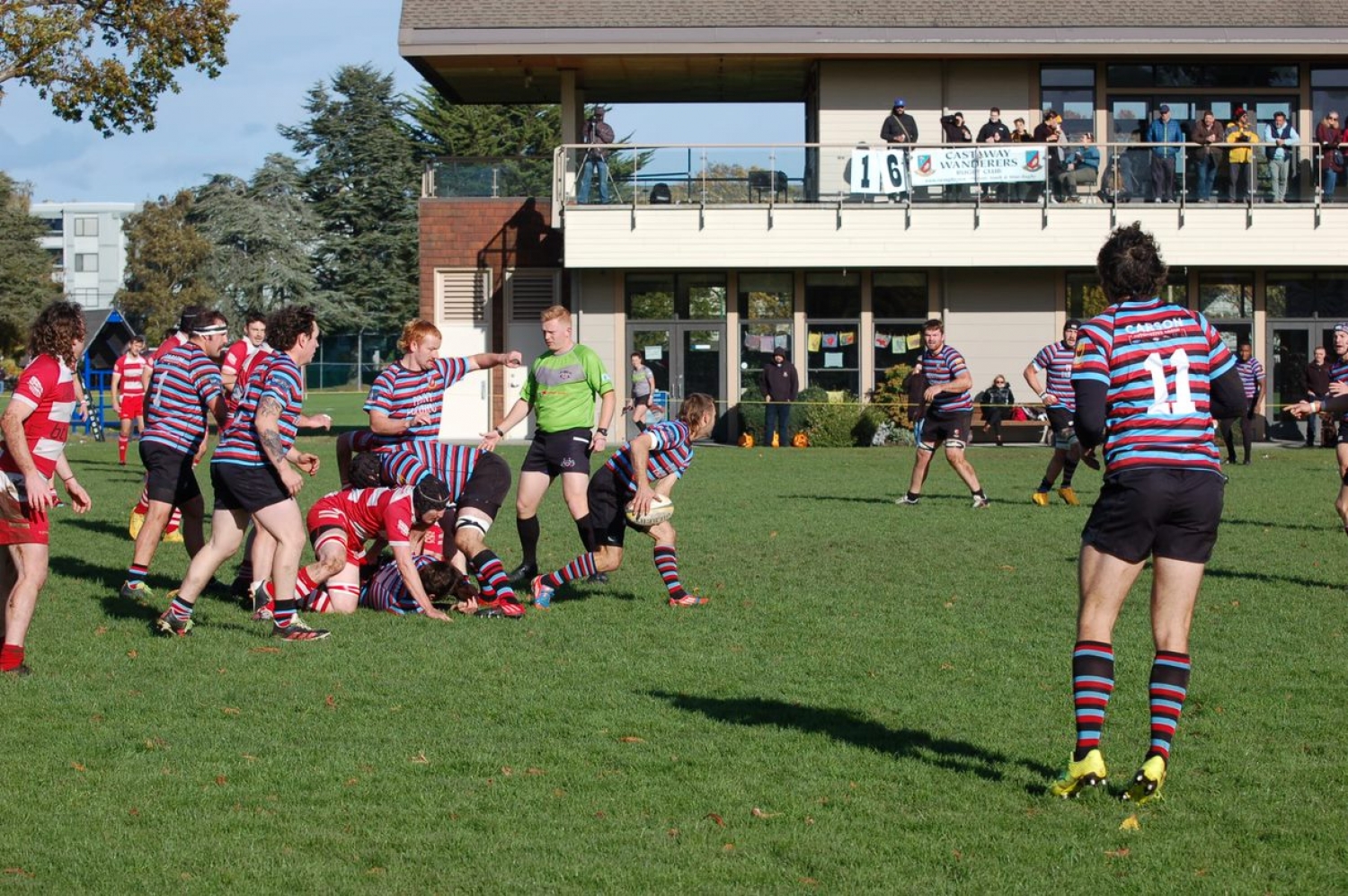 CW's 16TH Man, cheers the action.
MEN'S BONUS POINT WIN BUSTS BAGEL
The rains ceased however, cold winds from the Strait on a sunny afternoon made conditions challenging and resultant attendance rather poor at Windsor Park on Saturday. All three games got out of the gate. Opening action between CW I and CW II women was for Premiership points. Today's report of the action is from Francesca Fraser.
The opening match saw the Senior Women's team split and face against each other in an intersquad showdown for Premiership points. CW I had Emily Samek and Lucy Beauchemin take the lead against CW II's Adrienne Shepherd and Kate Richards in a strong showing of CW talent. The first ten minutes was a contest of speed and strength as CW II's backs led by #10 Sara Einarson made ground and pushed into CW I's red zone with #8 Kate Richards, posting an early try. This was quickly followed up with a breakthrough from winger #11 Francesca Fraser and quick ball fed to #15 Frelen Grost to get back into CW I's 22. A pick and go saw #5 Maddie Smith, punch through the defense for the II's second try. With the stakes set early, CW I went to work and moved into CW II's end zone soon after, with a strong running line from #13 Lucy Beauchemin to score their first try.

This CW game had some special guests, with coach Catie McNally and two of her Guelph Gryphons alumni taking the field in the backs and showcasing their talent, as they tackled and stiff armed each other while adding tries to the scoreboard for CW I and CW II. It was a contest that ebbed and flowed with CW I getting a late "second wind" and in the final twenty minutes Emily Samek danced around players to add two more tries. The final score was CW I: 36 - CW II: 29. It was a wonderful showcase of CW rugby. Fans should be excited for what the senior women's team will bring in the spring leagues. Post-game, CW hosted many UPSORTS players from teams including UPEI, Acadia, Guelph and UVIC who had showed up to watch, support, and celebrate women's rugby.




The Men's Premier Reserves opened with good handling and enthusiasm from both teams. CW was first on the board at the 20min. mark when Corbin (#7), broke and Mitchell (#15), linked on an evasive line and 45m. scamper, 7 – 0. Rowers came back and the hosts faced a defensive lineout which they happened to steal, only to mis-pass for clearance and the score was 7 – 5. The half ended with marginal CW territorial advantage.

First blood in the second half came when CW's Makaroff, back in the fold, made a dangerous incursion, fed to Captain Hohert and it was 14 – 5 and matters looked promising. Without warning, things visibly altered, and CW went off the boil. The team's organisation with "revolving subs" came unhinged. Rowers persisted and found the disarray and it was 14 – 12. The Visitors suddenly looked full of running, spreading the ball and breaking tackles. They were rewarded with a try under the sticks, and this was how the matchup ended.

In summary, there were far too many visits by CW to their opponent's line, only to come away empty handed however, it was a much-improved effort than in past weeks.

PUNDIT'S PICKS. 1. Referee Gallagher, out here from Quebec for the USports Championships did a good job. Onya! 2. For the Home team – plaudits to Peters, Hohert and Cobin in the pack and Robinson, Morris, and MacDougall in the backs. 3. Brickbats for the "Revolving Subs Experiment"!




PHOTO CREDIT – Wendy Norman, others can be viewed
HERE.
The main game had a sense of "make or break" for the Home team. CW veteran, Riley Ilnicki opened the scoring around the ten-minute mark. It came from a "long-gainer" by Tait, lineout steal, two scrums, one penalty and four recycles – textbook stuff. Next it was Ollie Nott who made a silky 35m. break and fed Smith who had some work to do. He dragged JWR over in the corner and Elliott notched his brace in windy conditions from the sideline, 14 – 0. It was Nott again and a feed to Clark for 30m. and a wide "miss" pass to Elliott, flashing up to add five more to his total, 19 – 0. Rowers were rewarded for their efforts after some crisp passes and hard lines from O'Hare and Joyce – one of whom accepted a "crash" ball for 19 – 7. CW did threaten again after a break by Keta, only for the final pass to go astray. Rowers went to the interval on the front foot.
The second half was not particularly inventive by either team and Rowers must have felt considerable doubt after having such a massive territorial advantage for so long and no points to show for it. Time seemed suspended as the Tricolours repelled attackers. The CW bench then took over, fresher and stronger, they methodically ground the ball downfield. From a maul, out about 15m, veteran #9, "Weeman" Hickman, dummied and almost made it, but it was a quick recycle and feed to unstoppable Finnie for the bonus-point lead, 26 – 7. Then the fat lady sang.
PUNDIT'S PICKS.
1. Rowers for joining Ceedub in post-game fellowship at The Temple. 2. Rowers #9, Riori a cheeky and constant danger, also O'Hare and Joyce who ran good lines with accurate handling all day. 3. Vikes Quintet – Carson, Nott, Illinicki/s and Kratz. 4. Others – CW's Pyke, Finnemore and Elliott. 5. Thanks to barkeeps – Caitie and Julia. 6. Thanks to M-i-M, Cole Pedrick.
Next up for CW, "Two For the Road" (no, not Albert Finnie) but Ravens at Jericho. Back-to-back roadies to this venue may beg a question about scheduling. However, the boys will be buoyed after this weekend.
WOMENS' RWC SEMI-FINAL
A SHOWCASE OF WOMEN'S RUGBY AT ITS VERY BEST
One cannot say enough about how the Canadian team has progressed since its opening contest at RWC, against Fiji at this RWC. The progress lends credence to Captain de Goede's post-game remarks about more resources for our Women's program, leading to greater opportunities in the future. Hopefully, anyone reading this blog saw the Canada – England match. By some chance you missed it, might I suggest Utube? There was too much happening to try to synthesize matters. This pundit loved Paquin's opening try, almost a replica of last week's try Vs USA. Canada was down 12 – 0 and about 18 mins in when Pelletier broke with a weaving ground-gainer, as the defence closed, she grubbered ahead for Karen to break out of the pack and touch down – sheer desire. Five minutes to the interval, the score was tied.
It was a good re-start after the interval for Canada with prolonged attack and phases for about ten minutes only for the ball to be turned over. England, rather than any specific plan, backed themselves and moved the ball wide after such pressure and the handling and fleetness of foot resulted in a length-of-the-field tally and the TSN Turning Point. With about ten minutes on the clock, Canada had closed the gap to 23 – 19 but a win was not to be. As a Canadian supporter, I must admit, I was very emotional after this game. Thanks, ladies, and bouquets to all.
This match was followed by NZ sneaking a 25 – 24 win over France. A very makeable penalty was missed on full time by the French and the Kiwis earned their berth in next week's Final. This was another nail-biter, very well played by both protagonists. In conclusion, I would recommend that neither the Consolation Final nor the Final be missed – bouquets to TSN. Bookies would probably favour France. Personally, I would not hesitate to back the underdog. As their Captain stated, "It's not hard to get this group up for a game. The opportunity to play for a medal is not something I will have to sell". These ladies are soooo Canada proud. Vibes from afar, you good things.
FOOTNOTE:
There will be opinions offered regarding the officiating at a later date.
---