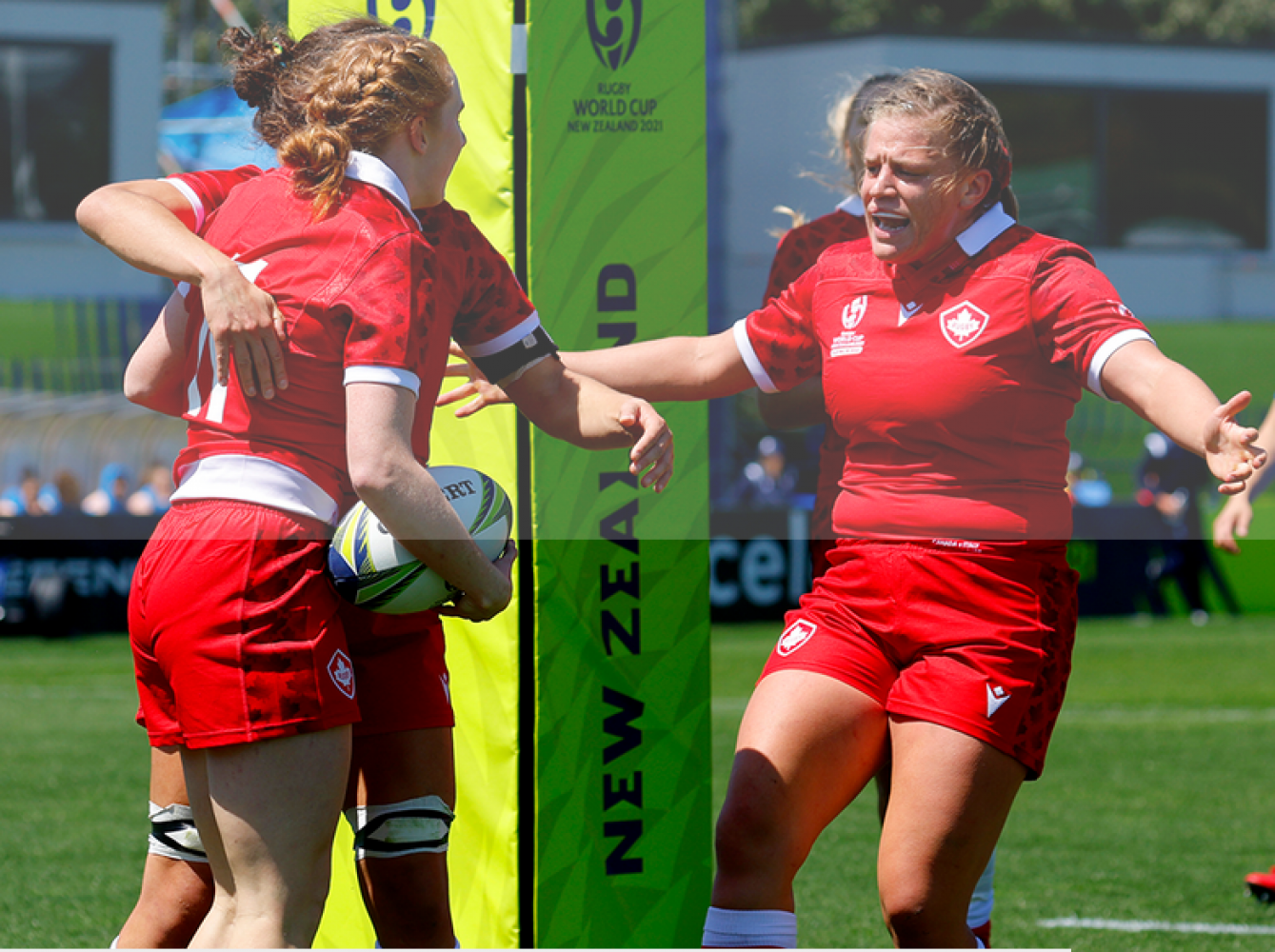 CANADA WOMEN COME UP TRUMPS
Led by Captain, Sophie de Goede in every aspect of play, Canada defeated Italy with a bonus point 22 – 12 victory on the weekend in RWC action. Tuttosi led the way again with her brace to top the Try Scorers list with five. Sophie's hands displayed her basketball skills, be it lineout catches, fly ball "takes" on the run or 'out-the-back' passes in contact, she led by example. Paige Farries was the pick of the backs for this pundit. I was very happy to see the team had reviewed its tactics this week- "we can run and pass, so leave the boots on the grass"! It looked to be a more satisfying and rewarding strategy.
It was a very shaky, early start for Canada when some missed tackles allowed Italy first blood. Further early attacks were rebutted with more sure tackles and resolve. Italy did "book-end" the match with a very late try and Canada a player short. Just a comment on the yellow card return-to-play situation. This last try occurred with Canada's player in the bin well over her ten-minute punishment. Italy was in the midst of some 10/11 recycles which extended the time spent. I wonder if the IRB has ever considered allowing the assistant referee to re-instate the player when the ten minutes served has ended, rather than waiting for a stoppage in play? AR's seem to have plenty to say on rulings and infringements, so why not this action? Teams often, very skilfully manage as many as 15/16 or more recycles. This last try could well have been the match decider and the attacking team just grinding out possession until they scored when the time had been fairly served but the miscreant denied readmission to the game.
In between these two tries, Canada scored their bonus-point four tries, all well earned and executed. There was Tuttosi's brace, Farries' and Kaljuvi 's solos. Only one was converted, an aspect of scoring that could improve. Congratulations to former CW player, Olivia De Marchant on earning her fiftieth cap. In all, a very good result. The final pool game will be against the USA next weekend. Other results were according to Hoyle, although both Australia and England were pushed much closer than the bookies predictions! France, in Pool C, earned a bonus point in their six-point deficit loss to Tournament favourites, England. There was not much doubt as to who the winner would be, yet, at the same time, France could well have pulled off a monumental upset. The Australia Vs Scotland game saw a missed conversion being the difference. Meanwhile, the hosts, NZ, looked even stronger this week with their trouncing of Wales.
In the northern hemisphere, CW was in action on three fronts at Windsor Park. The Women had a lop-sided win over Nanaimo. The Men's 3RD Div., Islanders had their first victory with a gutsy 25 – 20 win over Nanaimo and the Men's Premier reserves went down again, although the scoreline was much closer, Nanaimo winning 32 – 29. Next week the men travel to Westshore to determine the cellar-dweller for the season in Barnard Cup play, with JBAA already having secured the prize.
Photos, credit Wendy Norman, others can be found under Latest Photos.
CW AGM – A note from the VP.
Hello CW Community,
Just a reminder that nominations for Board positions must be submitted in writing (i.e. email) by 8:00pm (PDST), Tuesday, October 18th, 2022 to the Board Secretary, Jon Donald (
[email protected]
) and/or President, Brian Huse (
[email protected]
).
Nominations can be submitted for any of the positions listed below. There are 4 Board positions opening: Vice President, Treasurer, Director of Junior Girls Rugby and Director at Large. The Board meets once a month for 1.5 hours via Zoom, and beyond that you choose the amount of time you give to support CW. Have lots of great ideas? Want to be part of a dynamic group of people that are passionate about rugby? Now is your chance!
Please note that incumbents' names are provided where these individuals have agreed to let their names stand for nomination – additional nominations for these positions can be submitted. Confirmation of CWRFC Board of Directors:
Executive:
- President: Brian Huse
- Vice President - Open for nominations (contact
[email protected]
for details about this position)
- Treasurer - Open for nominations (contact Brian Huse at
[email protected]
for details about this position)
- Secretary: Jon Donald
Directors at Large:
- Director of Junior Boys Rugby - Byron McAllister
- Director of Mini Rugby - Dave Hill
- Director of Jr Girls Rugby - Open for nominations (contact Olly Winser at
[email protected]
for details about this position)
- Director at Large - Brent Johnston
- Director at Large - Jon Braddock
- Director at Large - Open for nominations (contact Brian Huse)
Player Reps:

- Senior Women's Rep - Nominated by the team

- Senior Men's Rep - Nominated by the team

Information about on-line participation will be provided tomorrow on this site.
---