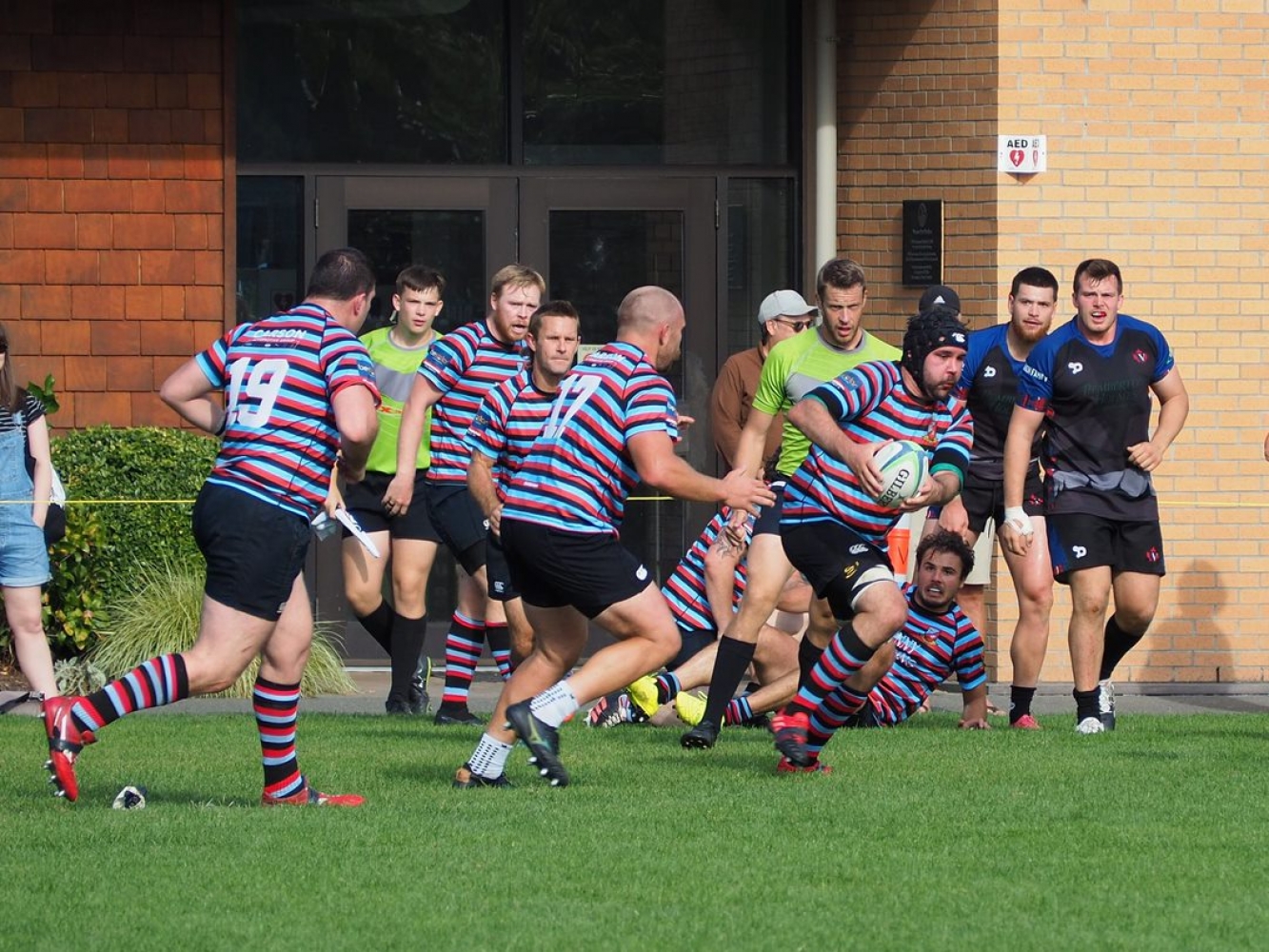 CLOSER … BUT, Still A Bagel!
CW Men played three games on Saturday, resulting in two losses and a tie. The Third Div., Islanders were at UVic to take on Shane Muldrew's, very fit Saxons squad. Although it was a competitive first half, the final score was a lot to a few. Despite this outcome, spirits remain high amongst the players as they now prepare for their first major road trip to Comox next weekend.

'The Chaplain' does the hard yards
Premier Reserve action was more of the same with Westshore leaving the pitch with a 36 – 5 win. The Visitors went up 24 – 5 at the half with a brace from big prop, Simeon John, and singles from Nordstrom and Shmyrko. CW responded with a lone tally from Noah Kynaston, coming off the bench early, due to a number of injuries. CW had some chances in the second half but failed to capitalize on the score board. The affair ended after sustained Westshore pressure and Nordstrom earning his brace.
There was plenty for Westshore to like about their effort with John and #8, Symon-Burke very noticeable. In the backs, #9 Nikkel, fed good ball to ensure Nordstrom would be a threat. #12, Dunstan-Adams (c.) ran hard as did winger, Mentiply. For CW it was a disappointment with few shining lights. Most impressive was try-scorer, coming off the bench, Kynaston. He ran hard with every touch, tackled surely and sought work. Very promising for a 17-year-old! Alex Mc Callum, another youngster also worked hard, and Seamus McDougall earned a due reward with some Premier game time later in the day. Peters showed flashes and that was about it!
Must admit, the constant treadmill of rolling subs did not do it for this old-school opinion.



Kynaston breaks away
The Main Game, under idyllic summer skies proved to be somewhat anticlimactic with the Visitors leaving with the feeling of a win on "away" soil and the hosts refuting this by pointing out they were "held up" at the try line on four occasions. Perhaps the 24 – 24 tie was fitting. The first quarter saw neither team dominant, CW's evergreen, Ilnicki, standing out with a try-saving cross-cover tackle. Westshore's #10, Mouret opened the scoring around the 25-minute mark. Mouret, in his two games played to date is proving to be a shining light for the "Double V". During his time at UVic, he mostly shadowed Bowd. He has now come into his own. The Westshore captain, Holland was off on a HIA mid-half. Vikilani broke a tackle rambled for twenty and quick ball was "reversed" and transferred for a good try by Eager and a sudden 10 – 0 lead to Westshore.
A hard-earned break by CW's Pyke and a pop pass to Herron on a good line, only to be "held up" came next. From the ensuing dropout the ball came to Bowd, 45 metres out and he coolly dropped the goal. CW sets were causing fits for Westshore and it was from one such play that sent Tait blind side on a good scamper. From the ruck, Smith dived over, and it was 10 – 10. CW earned a third penalty from their scrummaging – plaudits to an extra midweek session however, points were not forth coming. Another set decimation, almost at the bell, resulted in an injury to Groenewold and a lengthy delay, awaiting the ambulance to ensure all was safe. Fortunately, the player eventually got to his feet with support. We wish him the best. Upon resumption, the whistle finished the first stanza.
CW was first to strike after early pressure in the second half. A penalty touch-finder and lineout drive enabled Clarke to finish, 17 – 10. Westshore was not deterred and gained field position with sure hands. Despite two dominant CW scrums, possession was not secured, and general play resulted in Westshore's Mouret going blind, throwing a wide "miss" pass to his wing and the contest was again tied up. The next key play was when CW sub, McDougall made good yards and Westshore was penalised at the breakdown. An alert Herron tapped and scored. Finnie was almost away, thence a long gainer into touch from Bowd and at 30 minutes, CW was penalised three meters from the line.
Time ticked away and Westshore pressured but the defence held firm. Eventually, Finnie broke, and Herron was over, only to be penalised for not releasing! CW continued to press, and certain Westshore players were flagging. A long CW penalty was missed, and the 'Vees' started in their own 22m, aided by 2/3 CW penalties they seemed buoyed and picked up the pace. It was Vikilani who broke some tackles and a couple of recycles later and Dewitt was in. A good convert out wide by Mouret ended the scoring.
REPORT CARD
For Westshore, #9 Waugh had a good day behind a scrum that spent most of the afternoon backpedaling. Mouret is a slippery customer whose kicking also impressed. The pack slaved well in the loose, Vikilani, Dewitt being the pick. Reserve #8, Symon-Burke did all and more when he came on and no doubt, will have pushed his cause for permanency. As a team, they showed belief and often backed themselves from scraps of possession.
For CW there were many good stints. Improvement at the breakdown was noticeable although deemed infringements often negated the good work. Tait had another solid day, as did Hickman. McDougall, as a spare, was valuable and Herron made the selection experiment work. Set scrummaging was powerful and all the pack had their moments – none better than Ilnicki's (Riley) tackle count and non-stop action of Clarke.
Next week it's another crack at James Bay at The Mac. Thanks to today's officials, arguably, not always correct but then again, nor are the players or fans! An additional thanks for this week's photos to Wendy Norman and Craig Thornber.
Clarkie, non-stop work on the day
---