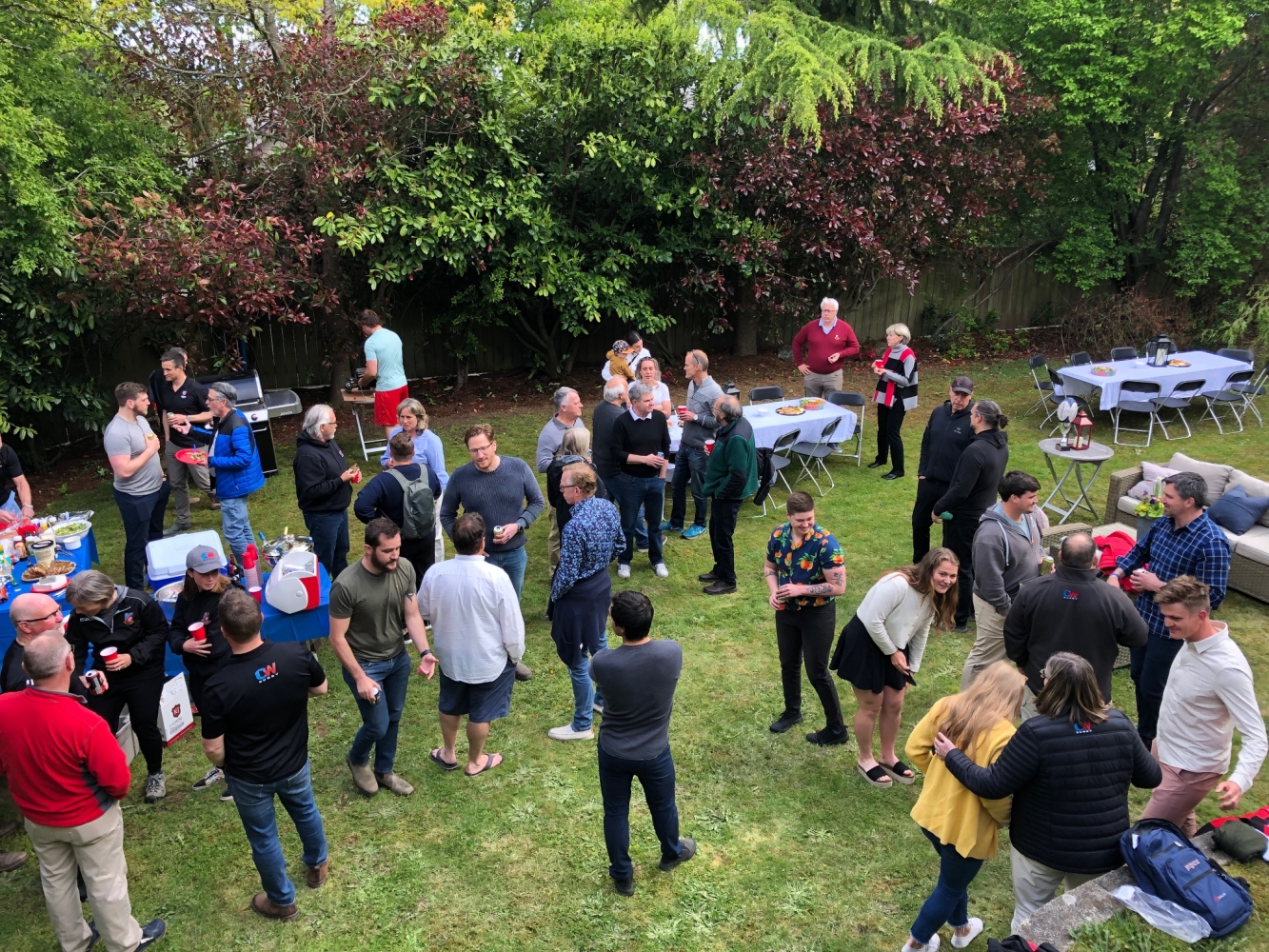 What Makes A Rugby Club?
No matter the outcome, the commonality of the game produces respect and life-long friendship!










Firstly it needs players. Hopefully, players who want to get better by working hard and then there are those that just wish to play for the love of the game.

Then there must be the volunteers. The coaches, the ground crew, the managers, the physios and trainers and the committee members.

Finally, the club can really only be as good as its supporters for the amateur game in this day and age to exist, costs a great deal of dough. Supporters are the life and breath of the club's existence. Creative fund raisers, people who delve into their pockets more than once during a season to ensure the game they love will flourish are essential to the show.

CW currently has a solid cadre of men and women players, as well as girls and boy's youth and mini players. There have been nine Age Grade Champions, and six Vancouver Island Age Grade Champs, along with three Senior Men's and Women's BC Champs in the last decade. Recently, the Club President hosted an evening to recognise and honour CW volunteers (pictured above). It was a most enjoyable evening with approximately fifty men and women from all walks of the club's life present. CW is also blessed with solid coaching throughout the ranks, in both men's and women's teams.
Finally, if you cannot support the club as a volunteer there are three ways in which you could support. First and foremost, a direct donation (
HERE
); secondly via our 20 Club which involves $20 per month with a tax receipt from Rugby Canada. This builds an endowment whose principal sum cannot be drawn upon and it is the interest which is committed to club operating costs. The membership of this Club now amounts to some thirty men and women. It is a drive that has been initiated by Chris Spicer and details can be found (
HERE
). Finally, one can be an annual member of our Supporter's Club for a fee of $200. Membership entitles one to; free admission to CW home games, and membership to Discovery Sports Club.
CW is currently crescending to a final total for our on-line 50/50 Raffle. This will be drawn on Saturday, 28th May, 2:00 p.m. Tickets can be purchased

HERE

. The pot currently stands at $5,600.


SEVENS WRAP


The trip to Toulouse resulted in a mixed bag of results for Canada men and women on the weekend. Both squads appear to be on the rise to this pundit, however, Sevens being Sevens, the outcomes did not really confirm this observation! CW's Ella O'Regan scored her first ever try on the Series – 'onya, Ella, onward and upward. The Player-of-the-Future for me is eighteen-year-old, Krissy Scurfield, she is the real deal with a package of speed and skill.

The Men opened with a marvellous victory over second place in the Series, Argentina, lost to England and thumped Japan with a second half overwhelming display. At the end of the day, they were totally 'stiffed' with a deplorable act on the part of both Argentina and England. England, down 19 – 0, finally scored a try at the end of the game. With the three countries tied in points, the differential was the factor which determined who went into the Championship Round. The English player, with confirmation from his bench as to how the teams stood, held the ball for almost two minutes with NO attempt from the Argies to make the tackle, ensuring England and Argentina would go through – despicable! Were the Argies so upset that they lost to Canada or was it just English arrogance? Whatever the case, Canada tanked for their remaining two matches and now find themselves at the very bottom of the table with relegation a distinct possibility and only two more venues remaining. A pity in this fan's eyes as they showed some real promise on Day #1. Sevens officiating still leaves a lot to be desired, technically correct, and fair to both teams but to watchers of the game – mystifying!

In the tight and the loose – have a great Victoria Day – The Ruggernut
---