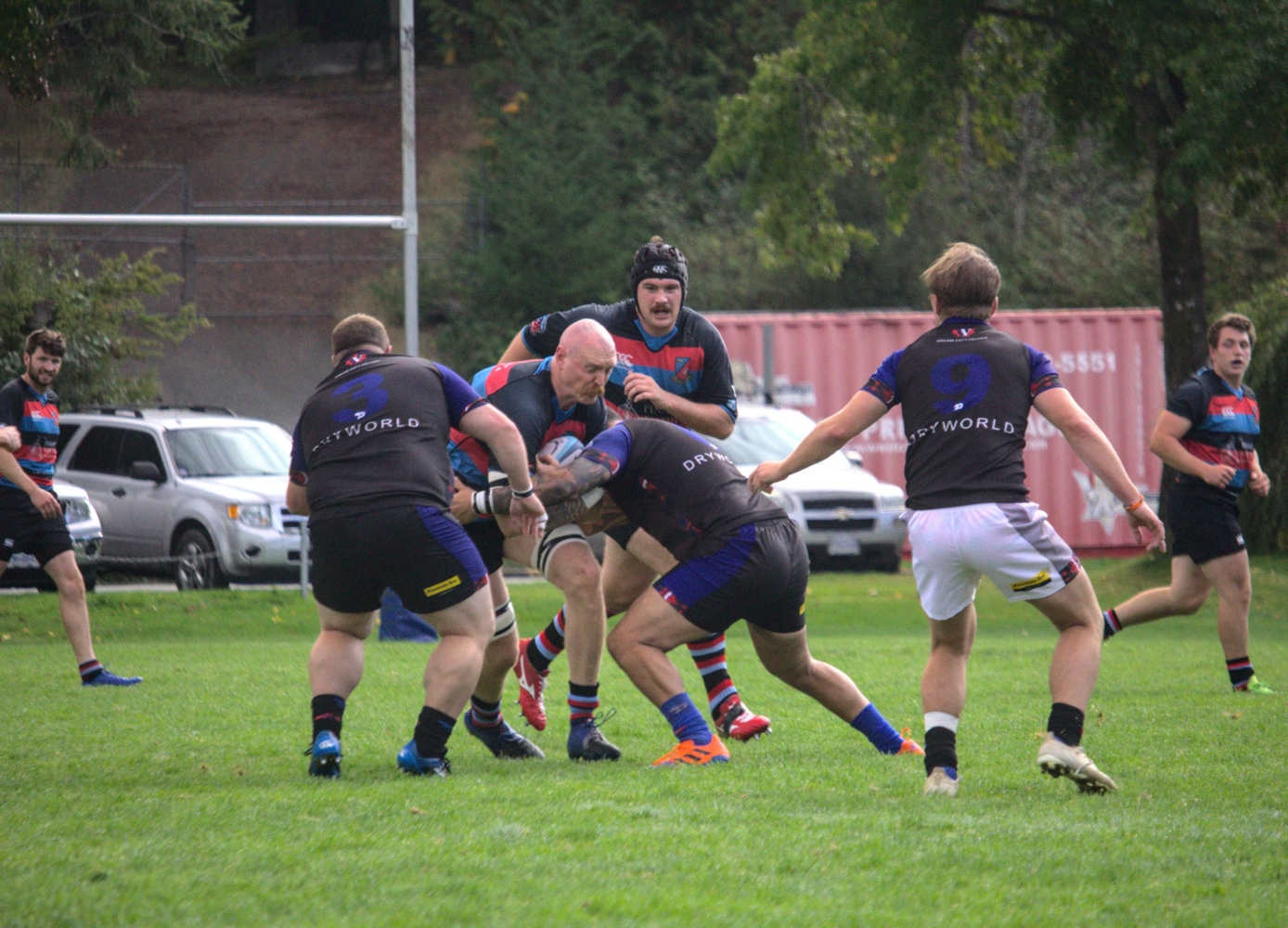 Westshore hems in the Skipper. Credit, Alisatair Howes.
Saturday, Another Rugby Day – Exhibition Rugby Continues
Saturday was a great afternoon, typical Fall weather with sun shining and temperatures lowering. CW/JBA played Westshore Combined 1st/2nd Division for bragging rights for the Old and the New. CW started out with gusto, but the Home team finished strong, and a tie declared the outcome! For Ceedub, Makaroff, Gerhardt and Schellenberger all stood out.
The boys respect Truth & Reconciliation
The Premier Exhibition, capably officiated by Julia Zussman, was set for three periods. Westshore welcomed their new Coach, Aaron Frisby and the match started with appropriate recognition of Truth & Reconciliation for Indigenous people. The Tricolours came out on top with Period "wins" of 12 – 7; 12 – 7; and 14 – 0. There were several players who stood out. Club Captain, Chiz, was at his best and it is so good to see this man well and leading with elan. Grady Bowd took up where he left off last weekend with the Tide, making those around him, recipients of his offloads, look good as well. Irishman and newcomer, Pyke, looked impressive as he notched a brace and melded with fellow loosie, Herron, who CW fans have become very used to with his skilled and energetic antics. Hohert and Dan Griffiths also stood out, Griffiths looking particularly solid and he added a try. Stay tuned for future matches.
Players then headed to a full house at Starlight Stadium to support Canada's men in their attempt to qualify for RWC, 2023 in France. The match was not a good outcome despite a 22 – 21 victory for Canada. Disappointingly, it took a last-minute penalty from Robbie 'Ice Man' Povey after a late substitution, to do the honours. We turn it over to Our Man at the Field for a synopsis of the action.

COMETH THE HOUR.....
A large crowd was on hand occupying all the "new" stands, a welcome addition to Starlight. Most of the opening stanza featured rather "middling play", with Chile and Canada trading box kick attempts. Chile ended up having three shots at goal, two of them sailing through. Despite the Chileans being pesky in defense Canada was its own worst enemy with knock ons and other simple errors. The first try came courtesy of Canada's Corey Thomas. Wait, it was under TMO review! Try given. Chile went ahead after two penalties, 6 – 5. Canada tried to play expansive on the kick returns, with some success via Brock Webster and Cooper Coats. Near the end of the half, Chile caught Peter Nelson without support and converted another penalty, 9-5 for Chile.
Canada opened the second half with a quick try from a ruck drive which finally showed some impetus and took the lead after Braud made a cheeky scrum half thrust, 12-9. On the kickoff, Nelson caught the high ball and got it away, only to be the recipient of a late tackle which had to be argued with the ref by Captain Rumball. There was no consequence for the transgression. Finally, again Braud crossed the line for his brace following some useful kicking play and a few hefty carry-ups, Canada, 19-9. Following a short high ball by Chile which ended up with a reckless contact in the air, Canada's Tyler Rowland received a yellow. This seemed to be a disparity after the neglect of the earlier mentioned incident on a Canada player. On the ensuing lineout, Chile mauled a try in. The conversion was missed, 19-14. With about twenty minutes left, Chile received a yellow card after repeated maul infractions. Another indiscretion occurred for playing a man in the air and Chile was penalised for a third time, yet no card was forthcoming. Mystifying, to say the least. With such largess in their favour, Chile eventually banged another try over and converted, for a 21 – 19 lead. Canada had plenty of chances with pressure during this last quarter but failed to capitalise – again, dropping the ball or being offside, coupled with solid Chilean defence. So, time dwindled. Whether the ref was pricked by conscience or whatever, Canada did receive a penalty from directly in front and 'Ice Man' Povey did the honours, 22 – 21.
Thanks to Our Man for this report. Sounds like the M-i-M did not have a match to remember! Rugby Canada described the victory as "thrilling", hardly in this pundit's opinion! Canada now travels to Valparaiso next weekend to take on this big, tough combination on their own turf – a Herculean task. While there's life, there's hope.
COMETH THE MAN!
(Photos, credit Rugby Canada.)
---