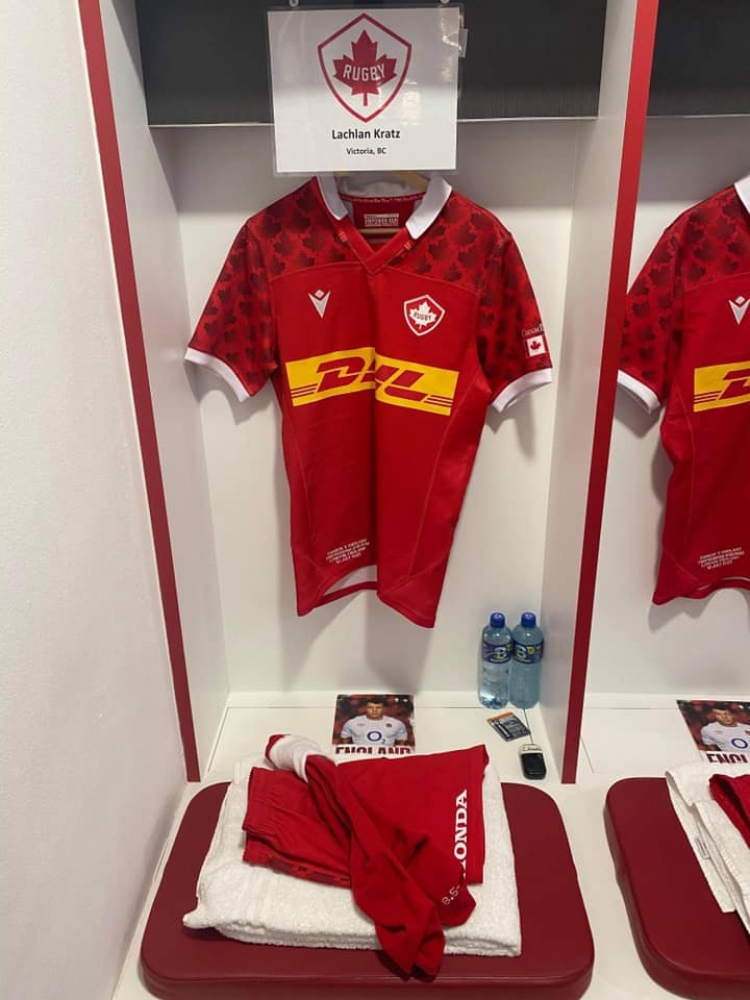 CANADA MEN NO MATCH
Canada's NSMT lost heavily to England last Saturday by a score of 14 – 70.The first try came in the first minute and the try line parade continued, unabated for the next seventy minutes. Contrary to a report from Rugby Canada which lauded the positives from the lineout play this writer noted that lineout defence yielded four tries. This pundit found few significant positives, although, to be fair, Coats, Keys, Le Sage, Lloyd and Kratz had some moments however the experience was somewhat painful to watch. There were few bright moments for the men in red.
CW and U.Vic's, Lockie Kratz earned his first cap in place of a long-time friend and foe, Quinn Ngawati, an age grade rival at Westshore RFC. For Kratz, it would have been memorable only for the occasion, not the contest. A little pre-game hype from Victoria's Times Colonist (July, 9th), named the team which included "CW produce (plural of products??), Jake Ilnicki, Djustice Sears-Duru….." For this blogger who often makes errors, a wee bit of literary levity! Canada next faces the U.S. in ST Johns (ND) in September. The Eagles managed to notch 29 points against a similar English combination last week, although they took it on the chin against Ireland, 10 -71 this past weekend. There is much work to be done in the interim.
It is a total Welsh Braintrust at the helm with the recent addition of Byron Hayward as Technical Adviser. Hopefully, he can help with the skills of how to win and retain the ball. Go, Canada!
NSWT 4 DAY CAMP.
This past weekend also saw former CW Junior player, Sophie de Goede head a large contingent of ladies who have worn the CW Tricolors, called to try out for National selection for the upcoming RWC, hosted by New Zealand in October. The calibre of player was high. Sophie, who scored a try for Sarries in their close loss to Quins in the Allianz Final, had also been named to the Allianz Team of the Season. Other CW identified players, past and present included; Ada Okonkwo, Chanelle Edwards-Challenger, Ella O'Regan, Emily Belchos-de Goede, Gabi Senft, Julia Folk and Maelle Reed.
Photo Credit - Rugby Canada
Canada finished in 5th place at RWC, 2017 and in 2nd in 2014. Go, Canada!




AS THE RUGBY BUBBLE DEFLATES…..
Players are training, coaches are coaching and others are planning for an upcoming season, whatever format it might take. This brings an appeal from Peter (how fitting, the Heavenly Gatekeeper) Kilshaw. Peter is one of the many dedicated volunteers around CW who 'keeps the show in the road'. For very legitimate reasons, the time has come when Peter needs some assistance with his home game contribution. "The Gate" is one aspect of adding valuable bucks to the operating costs and is also a vitally important "face of CW" to regulars, newcomers, drop bys and visiting club supporters. If you can help and maybe it's time for you to "give back" to your club, you can contact Peter at; 250 360 7459 or
[email protected]


Adios, Scott.
NB. Opinions expressed in this blog are solely those of the blogger.
---