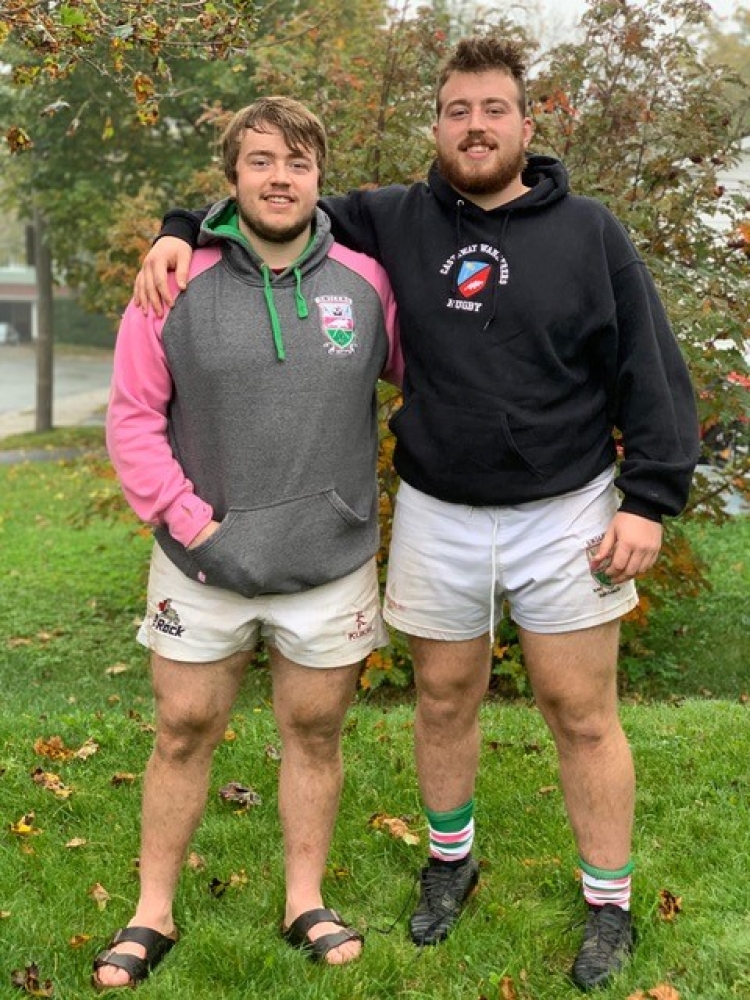 Last year's "discovered" hooker, Dave Mallard, has returned home to The Rock and appeared in the first "Covid Rugby" game in Canada last weekend. Dave Mallard and his brother Stephen are seen above, 'post-match', Swilers vs Dogs this past weekend.
The match was intense with a loss for the Swilers and the Mallard Brothers to the Dogs, 22-13.
Rugby is being played on The Rock as the rest of Canadian Clubs look on with envy! Well done to the organizers/leaders of Newfoundland rugby. We all get some long distance pleasure knowing the game is alive and well in Canada!
Alive yes….doing well maybe, not so much as the pictures below show for Frank Walsh; (yes, CW Alum, Frankie "Six Fingers" Walsh is still playing back home in St Johns)! Mallard giving Frankie a bit of "how's your father" in the match, however he did spend ten minutes sitting at the sideline reflecting on his tackle. Frank was Rock solid when he played for CW and it is a great tribute to the man still doing battle in the front row. The young Mallard brothers are at home learning from the best for sure.
Dave goes on to note; "…also, I'm playing a game tomorrow in the first University of Newfoundland rugby game…a real honour". 'Onya, Dave.
AB's put Wallabies through a 'Clinic'.

Let's start with a sizeable bouquet to referee, Andrew Gardner in this one. He gave an excellent exhibition and allowed play to flow for the enjoyment of some 46,000+ Kiwi fans present at Cooper's Catch Park and the voodoo continues at this venue for the Green & Gold. The AB's were well served by the collective, all players off the bench getting playing minutes but arguably best served by winger, Caleb Clarke, on debut, 'Beaudie' Barrett, Mo'unga back to his best, orchestrating the affair from #10, Ardie Savea and Tuipalotu at #4, all being led into the fray by Captain Cane. For the Wallabies, apart from Slipper and Hooper, there were none to give credit to, the team's errors, forced by a fiercesome defensive line and aggressive tackling, detracted from any potential 'go-ahead' that they produced last weekend. So, the travelling show now goes to Australia to see if home cooking can make a difference! Next match, October 31st.


Says it all!
(Photo credit; Phil Walter - Getty Images.)



NSMT Training Camp
This past week, NSMT Coach, Kingsley Jones announced a long list of some 36 players, invited to the National Institute to train for three weeks in November. We note three players who have worn the Tricolors in recent seasons – former Captain, Dougie "Fresh" Fraser, now with Old Glory (Washington, D.C.); Jake Ilnicki and "DJ" Djustin Sears-Duru, both with Seattle Seawolves. Perchance there is an exhibition "game", we'll try to bring the details to readers of this site. Best of luck to all involved.
---