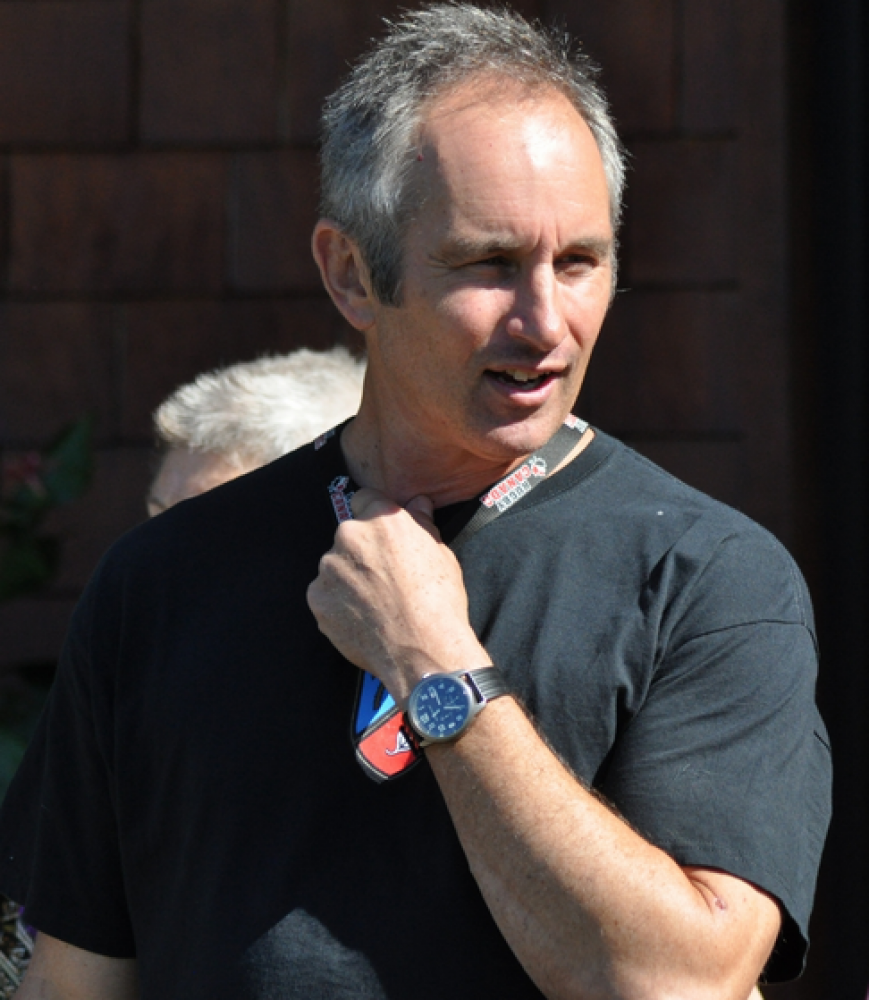 A Quiet Transition
In Covid times at CW there has been a major event – apart from no rugby. Three-term President, Matt Gordon has transferred the torch de facto, to nine-year Board member, Dave 'Bing' Crossley. Dave will be the second of the past five Presidents who played with the Oak Bay Wanderers. 'Bing' graduated from UVic in 1985, with a B.Sc. degree. He had been a five-year member and leader of the Vikes and also represented the VIRU Crimson Tide; his playing career culminating with a National Team men's trial which was hampered by injury. Fortunately for CW, Dave's professional career has kept him in Victoria and once his business and family life saw him firmly grounded, he returned what little leisure time he had, to his love of rugby.
Hard to Avoid - Bing in Action - Playing Days.
As it transpired, his daughter Caroline had taken a "ken" to rugby at school and Dave started her with CW Minis, this was over a decade ago. In a co-gender, U14 game when Caroline received an injury, this inspired Dave to seek a means to develop a "pathway" for transition for girls from same gender Youth, to Women's rugby. Dave was to become a leader in our club for the women's rugby game, instrumental at all levels for firstly, small, then major leaps of progress – burgeoning and now flourishing! It may have started with his daughter's passion for the game but he was quickly able to transfer that love to a genuine interest in introducing the game to many young girls and later, senior women, via The Tricolor banner. His espousing of the Pathway notion has become well-known amongst BC club rugby fans.











Bing in Action - Post Playing Days.
It will not be until the AGM in September that Dave's role can be formalised however, in the meantime we would ask any who might be approached by him to share the load in any way in these strange times, to lend your shoulder to it, the same way he has done, by example over this past decade, with integrity and hard work. The club wishes to thank Matt for his leadership and no doubt, he will be suitably feted when the time is right. We welcome Dave, a man of his word, with his abundance of experience and a decision-making style, exemplary of what's best for the game. 'onya, Dave.

Elsewhere this pundit took in a recent live NRL (National Rugby League) game (Ch. #159), held in Melbourne between Melbourne and Canberra. League rules have become very flexible over the years, enabling the game to become much more fan-friendly and moving matters along at pace. It was rather unusual to hear appropriate simulated crowd noise megaphoned over the p.a. system in the stadium although, surprisingly it did not seem to detract from the action. Players had been temperature-tested, pre-game and the Canberra team had flown in on game day and flown out post-match. Despite these precautions, it seemed to me that there was still the possibility of spread, if there was any unidentified detection in a game where players did not hesitate to expectorate and beads of sweat were like small rivulets. I guess the jury is out on contact sports and the virus spread at this stage, as Alphonso continues to woo Bayern's fans in the Bundesliga!

On the home front, we bring you the following release in full, (Courtesy Rugby Canada);
Langford, BC – May 11, 2020: Rugby Canada and the Provincial Rugby Unions are pleased to announce the formation of a pan-Canadian working group with the objective of developing a nationwide 'Return to Play' strategy. The formation of this working group comes as various jurisdictions in Canada begin to loosen some COVID-19 lockdown restrictions.
The working group will be chaired by Annabel Kehoe, CEO of BC Rugby and consist of representatives from each Provincial Rugby Union and Rugby Canada. Additionally, each of the provincial unions will be inviting key leaders and coaches from their rugby communities to contribute to this work. The working group will adhere their planning to the guidelines of relevant public health authorities in each province and the Sport Medicine Advisory Committee. The group will also work in conjunction with Rugby Canada's national insurance provider. The objective is to establish what the various stages of returning to play will be. To ensure that club rugby can be part of the gradual reopening of communities across Canada, the working group will initially consider creative options in terms of 'rugby-type' activities, while also developing plans towards resuming full 7s and XVs competitions.
No timelines for implementation have been confirmed at this point, but these will be in sequence with the relaxation of current Provincial public health restrictions within each Province.
Currently, there is an indefinite national suspension of all sanctioned rugby activities including all in-person registered participant team training sessions, all in-person training/education courses and all inter-provincial, club, domestic and international matches and tours. The national suspension on sanctioned rugby will be lifted when the first Province(s) return to play. Play will not have to resume uniformly across all Provinces at the same time. The decision on when to return to play will be made individually by each Provincial Union, with notification made to Rugby Canada.
"Through this national working group, we will be working hard to find rugby solutions to the phased restrictions that we must follow to keep all communities safe," said Kehoe. "While full-contact, 15-a-side competitions may be some time away in BC, we'll be looking to propose Return to Play plans for non-contact and low-contact training and games that can allow our clubs to open their doors and play their role in re-connecting families, friends and teammates."
Rugby Quebec President Stéphane Hamel said, "This year, more than ever we will work together to ensure we get everyone across Canada back on the field safely"
Rugby Manitoba President Dave Simpson said, "With the unprecedented effect Covid 19 has had on the rugby community across Canada, the rugby community has embarked on a cross Canada effort to prepare ourselves for the opportunity to return to play on the fields, in the clubhouses and enjoy the camaraderie that has made rugby what it is. With the efforts from coast to coast, from so many diverse backgrounds, our plan is to have a comprehensive and safe plan to return to play."
Rugby Canada CEO Allen Vansen said, "This is a positive first step in what will be a methodical, long-term process of returning to play safely. We all want rugby to resume as soon as possible, but we have been steadfast in our commitment to the welfare of players, staff, officials and fans as our top priority." Vansen continued, "Sport plays a critical role in the physical and emotional wellbeing of Canadians, and rugby clubs are at the heart of our communities providing opportunities for many people to be physically active and engage with new and old friends."
It could be said the reaction maybe on the slow side but better safe than sorry is the mantra.
Meanwhile, in NZ; Crusaders CEO Colin Mansbridge, is optimistic fans will be in attendance for the Crusaders' first home game of Super Rugby Aotearoa.
The New Zealand competition kicks off on June 13 following the country's recent move to alert Level 2, with games initially set to go ahead without fans, however, due to crowd limitations and restrictions still in place. Very interesting.
And on the global front, World Rugby has released a document outlining ten temporary law changes; https://playerwelfare.worldrugby.org/?documentid=226
Thus endeth today's Musings!
---