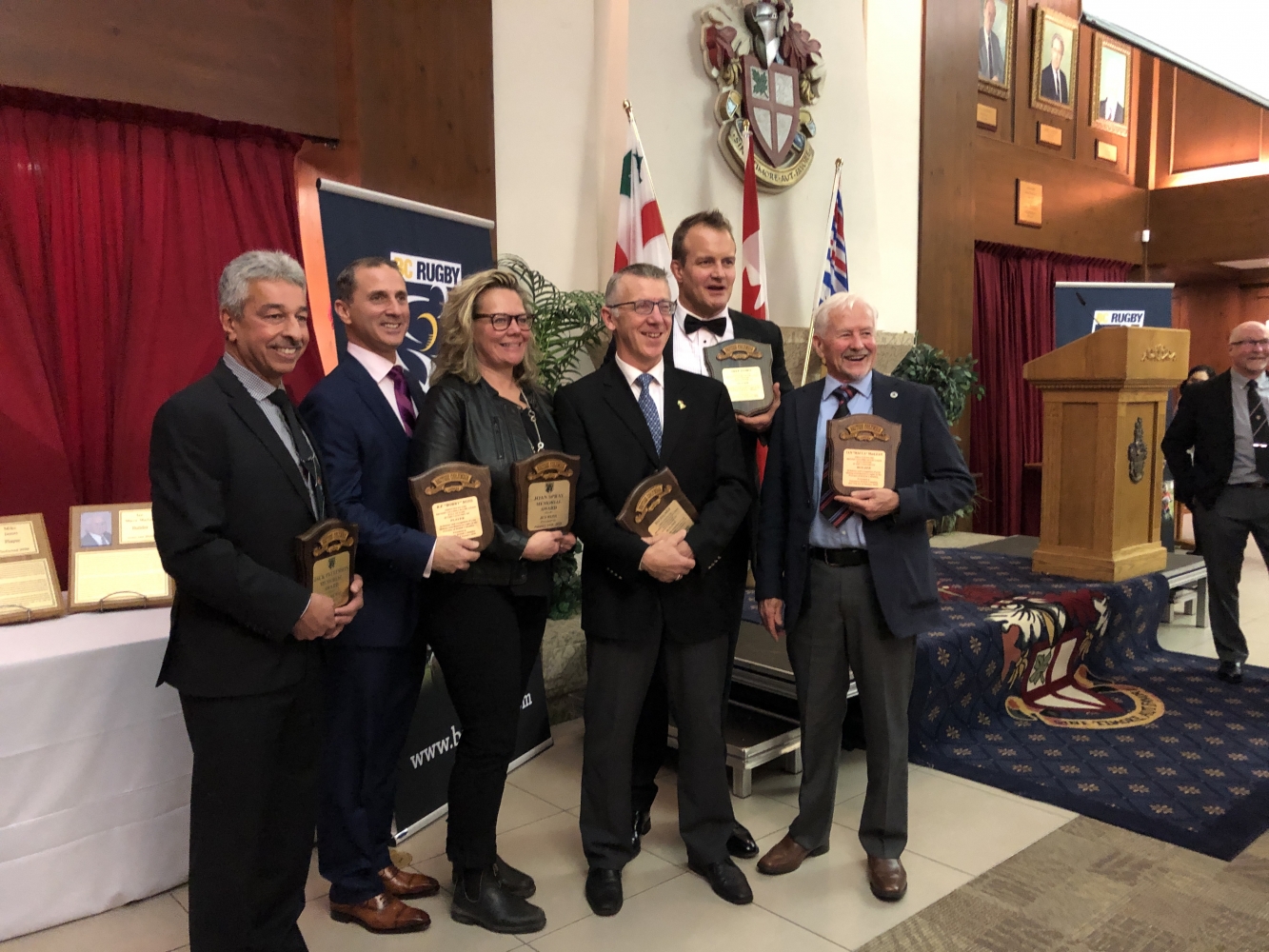 THANK YOU, THANK YOU.
Wowzer! What a weekend and for some, still not ended! The Ruggernut takes the liberty to blog today because he can! For openers, it is with thanks to fellow site partner, Dave Crossley, for his posted blog last Friday. Indeed, the B.C. Rugby Hall of Fame is some honour. I wish to thank the myriad of folk who have e-mailed and messaged congratulations, I am deeply touched.
As I sit in Helijet's wait room for a 3:30 Sunday flight home, I ponder the past thirty odd hours. I come up with the following, this after an early morning arrival at Tswassen at 10:00 a.m., only to be told that sailings to Victoria would not be considered before 8:00 p.m. It made me think of supportive friends from my club, rushing to be the last vehicle on at 9:00 a.m. yesterday and a couple of "foot-sloggers", similarly making the 3:00 p.m. after a four hour delay, for the 6:00 p.m. Function! Now that's friendship. Our table assembled as booked, for a great evening. The combination of highs and Sunday setbacks of Island travel, simply added to this never to be forgotten weekend.
The following acceptance was based on a deep sense of humility to elevate the recognition and thanks for my achievements to those who have been instrumental in my induction into the Hall;
"I'd like to begin by thanking the Committee and congratulating my fellow honourees on your notable achievements, especially my good friend of many years, from Port, Jas. Also a special thank you to Louise, epitome of the word, "professional", for all of your work with B.C. rugby.

I have a special 'shout out' for Mick Eckardt with whom I have worked for 46 years with our Greater Victoria Schools, Annual Mini Rugby Program. Thank you to our club photographer, Wendy Norman for editing a photo collage of 50 years of rugby involvement. Further, I am deeply indebted to the late Howard Gerwing, for his love of UVic rugby and his guidance on two overseas tours. Finally, a special thank you to Shane for your words tonight.

Most of all I want to thank my wife, Frances. Your patience, support, encouragement, skill, help and sacrifice to support what I have done, cannot be repaid.

1968 – 2020 seems to have passed in a flash. From co-starting Nanaimo Hornets RFC, through some amazing and privileged coaching stints along the way; to my developing an interest in Mini Rugby; administrative involvement at the club and Union level and finally, to give club support via an active website; has all been an amazing run.

To all of the fantastic players I have met and formed lifelong friendships with along the way, with special mention to my Vikes and CW fraternity; all of the parents who have supported their kids (and some of you are here tonight); I am forever indebted. THANK YOU, you are all part of tonight's honour.
Regrets? I have none.
Highlights? I have a few to mention.

In 1972 I had the privilege of working with the Vikes on a Tour of Australia and Fiji. The side contained five players who would go on to play for our country.

In 1976 I was involved with a very good UBC Braves team, which also had five players who would go on to be capped.

1977 was a further highlight when the Vikes, led by Gary Grant, upset a highly ranked Thunderbirds team for the CWUAA title. I would like to take a moment to recognise arch-rival and good friend, Donn Spence.

1978 produced a career coaching highlight when the Vikes, with three future Canadian players, defeated the Yugoslavian National team. I congratulate the Vikes on the field that day for your special performance and this lasting memory.

Finally, there was a Crimson Tide victory over a storied Cambridge University side in 1980.
But, above all of these is the number of boys and girls who started with Mini Rugby and followed a club pathway to higher honours – Provincially and Nationally.

In closing, tonight has been a joy and great honour and I thank you for being part of my induction. I have been blessed with good health and great friends and I look forward to the latest initiative of Try Rugby – Victoria style and where we might go with it.
For friends and family in Australia, take care and God Bless. THANK YOU."
Concluding today's Musings; it was a joy and humbling honor. There was great Island support for Bobby and me, (some who are still trying to get home at time of posting), and great to see so many rugby folk who I have not seen for some time.








PLAYING DAYS


COACHING DAYS











MINIS
---