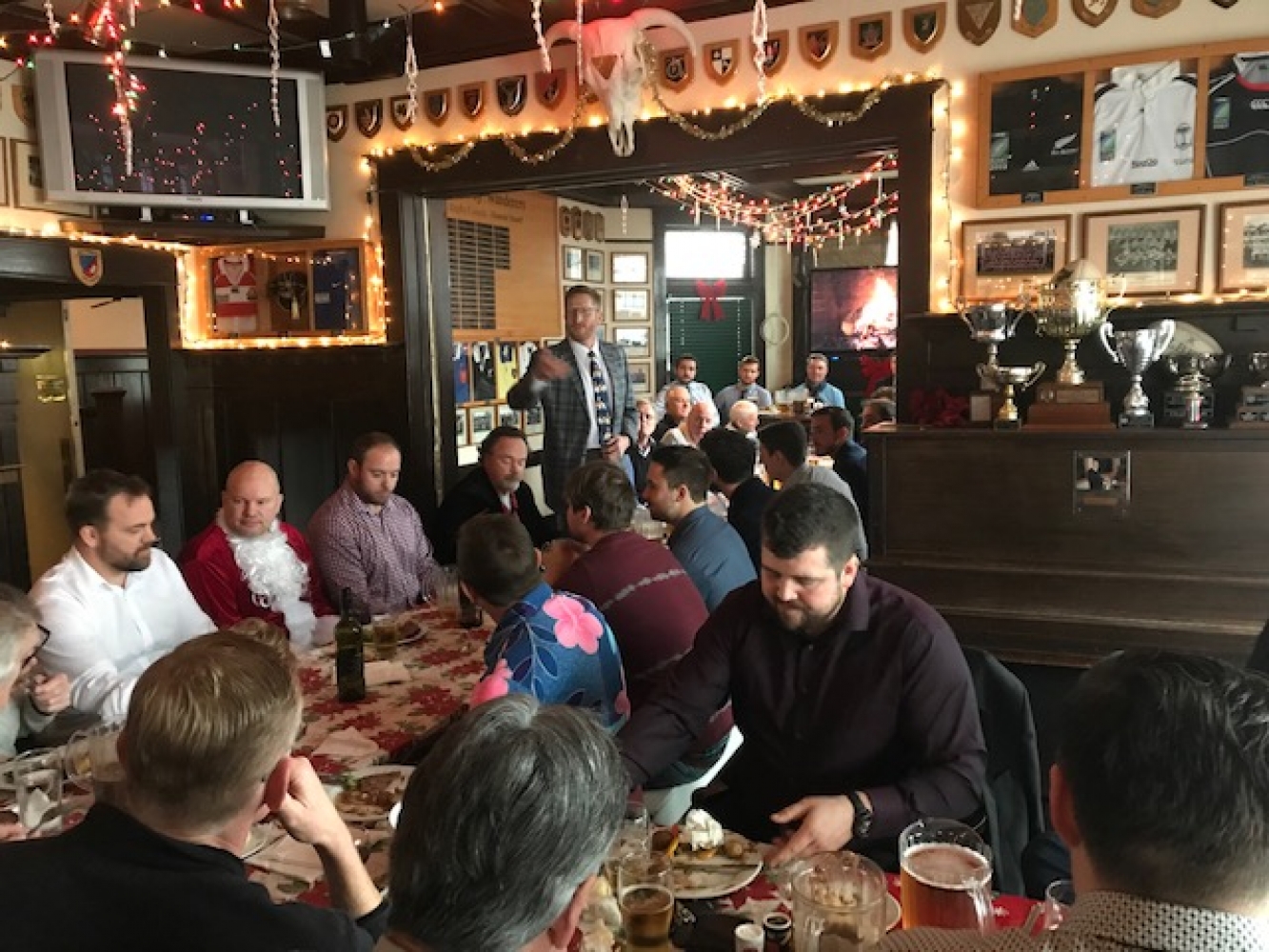 'tis the Season

.............to be thankful.
The Treasurer gives thanks for the club being able to keep its financial head above water!
A relevant reminder to ink Feb., 29th's Fun(d)raiser!
It was the days before Christmas for the thirteenth Annual Guido Luncheon! A spectrum of clubs and ages were present at The Temple on Friday for another wonderful gathering. Great to see Guido's High School Principal from Brentwood College present. Bill Ross will be remembered for his legacy of placing value on the liberal arts at Brentwood as well as the classroom and playing fields. Whilst speaking of the liberal arts, let's segue to the performing arts. Other talk was with Juno Award winner, Tal Bachman who recently completed a short stint with a show Ballet Rocks, with first class performers and the music of The Kinks, Queen, Police, Christina Aguilera, Pink Floyd and Roy Orbison. Who knew, CW rugby is so multi-talented? Love the required format of each guest assembled, sharing what they were thankful for from the past year. Anyway a great event to kick off the Season. Thanks to elves; Jonesy (Captain CW – three time Champs of BCRU, 2000 – 2003) and Knaggsy (19 Canadian caps to his credit) and of course, the MAIN MAN, Guido.


The rest of Friday was turned over to Happy Hour, followed by the Pride "schooling" The Tide, heard 40 – 7. Are these boys the real thing or not? Found a good shot on BCRN Twitter feed and thanks to Mark, we share it here. Yes, it's 'The Magician', out-flanking Sion Griffiths.




Finally, we bring to you from Rugby Canada, the opportunity to vote for the NSWT's Player-of-the-Year. Although Olivia De Marchant played a season with CW Premier Women, this blogger's bias is strongly in favour of Sophie De Goede. Despite her Canadian Rugby icon father, Hans, having the blue blood of the Bays, Sophie has unfailingly credited her rugby roots with CW. Soph first trotted around Windsor at about age six. She pioneered the pathway for girl's rugby at CW and OBHS until she chose Queens University for her tertiary path. Here she has become an outstanding multi-sport athlete. She has risen through the National ranks from U18 to now being an ensconced member of, and becoming a prolific try-scorer for, the NSWT XV's. We know Olivia will have her strong supporters as well, but my money's on Soph!
POSTSCRIPT - SEVENS @ CAPETOWN
A good final day for Canada. NSWT with a third place finish, defeating France in overtime after losing to them in Pool play. Ghislaine Landry and Britt Benn on the Dream Team. NSMT with solid four try win over Australia, 22 - 5 for eleventh place finish. Well done all.
---