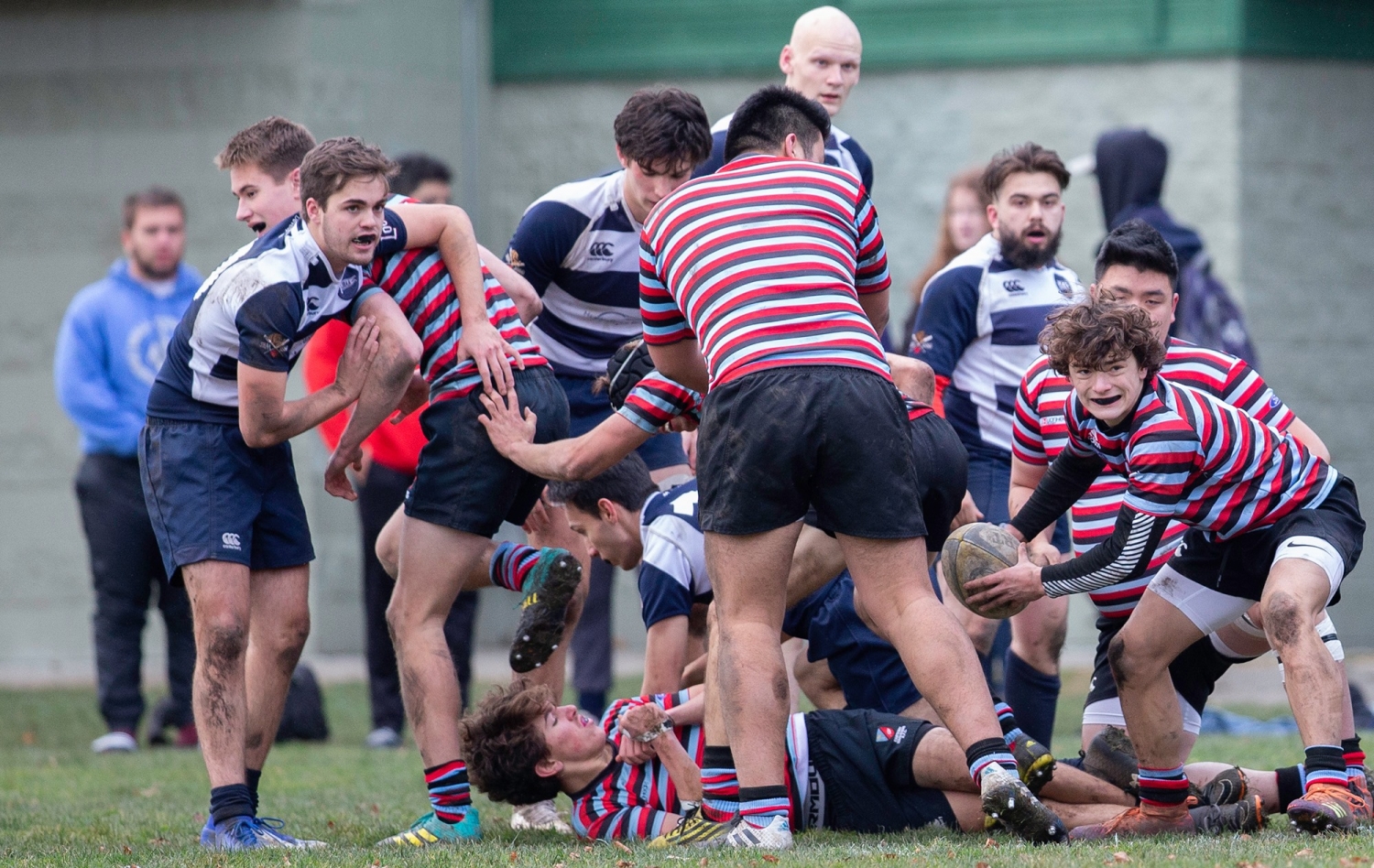 A Good Day for CW
U16 Girls lost to Abbotsford in the B.C. Final, 29 – 44. Down, 22 – 29 @ the half, the girls ran out of steam against a deep bench. Congrats to Abbie. B.C. Champs. Thanks to parents and coaches.

U19 Girls. This crew repeated as B.C. Champs with a lop-sided victory over Abbotsford. Coaches Winser and Cook have assembled a quality group and have instilled some quality properties into their game. Well done, all – players, coaches and supportive parents.

Meanwhile back at the Capital, CW travelled cross-town to play the Bays in the season "decider" in Boys U19 action, with the winner being crowned V.I.R.U. Champion. This writer interviewed a CW parent pre-game, with the question; "Just when did "x" get started with Mini Rugby at CW?" "He was five when he started at Windsor!" "X" was teamed with a number of mates who were at the end of a 9 – 12 year pathway. Full credit to parents and all coaches along the way.
CW received a yellow at the mid-half. From an alert tap, the ball was moved wide and the James Bay winger scored in the corner. CW was under the cosh as JB sought to capitalise on their "downhill" advantage. It was only stout tackling and arguably, 'risky' use of the running game, primarily by Isaac Olsen, Matt Klimchuk, Owen Smith and Luca Djurickovic that moved them out of their defensive red zone. CW failed to get inside the Bays 22m as the half wound down. Would the 5 – 0 lead hold up was the question? Both teams are to be congratulated on backing themselves on an adventurous commitment to the running game.
The second stanza was only minutes old when CW's Smith made a productive foray. From the ensuing ruck, short ball went to prop, Mallard's hands on an unstoppable line, 5 – 5. Standout stuff followed with ball in hand and it was upon first touch for newly inserted #10, Stove, that sent Olsen on an unstoppable burst, this big unit being a hard man to bring down all game. 12 – 5. Next it was fullback Bamford with a perceptive insertion for 40m, a feed to Smith for a further twenty and an "off-load" to winger, Tarrant who finished as a good winger should, with pace and decisiveness. Breathing room at 17 – 5.
As often is the case, there was a lull in momentum and loss of concentration – perhaps an unconscious "easing of the pedal" and James Bay seized the moment. Their big lock, #4 pinned his ears, fended two attempted tackles and showed clean heels that would have matched the best of the backs on the pitch for a 70m tally and 17 – 10 score line. It was tense moments with James Bay asking tough questions with a glut of possession. As had been the case in the match on a few occasions, it was the BIG tackle that changed the picture. Olson jolted the ball free and it was moved quickly on the counter to Tarrant – he skipped out of the first tackle and he was sixty metres away with considerable work to do. His desire and effort was clearly seen and again he got the job done with sheer pace. His brace and 22 – 10 final score.
Both teams and their coaches are to be congratulated on the level of play in bitterly cold and windy conditions. As posed after last year's BC Final, where is the disconnect between this level and NSMT play?? CW will now go to the B.C. Final as defending Champs. This game will be held at Westhills, this coming Saturday. Have heard 5:30, however, will confirm. Referee Horton did a good job with a performance that was arguably, marred with the issuance of red card in the dying moments. This writer did not have a good view and heard rumours as a "shoulder charge". If this indeed was so and it was to the head area, there is no question. If it was to upper body, perhaps at this stage of the game and given it was a youth game, it may have only been a penalty or yellow card that was warranted due to "not wrapping". Regardless, it is what it is and CW will be possibly down a starting member for the B.C. Final. This is not a whine, merely a point of view, without evidence from both positions at hand.
For CW, there were many standouts but we know tho coaches and players would give the credit to a team effort with every member contributing with a significant effort at the critical moment. Well done all. Best of luck going forward.
P.S. The writer apologizes for any error of names in this report.

A "don't argue" with the approval of many Premier players in attendance!
Isaac Olsen sees daylight!



SEVENS HEAVEN – SEVENS CIRUS STARTS UP FOR AN OLYMPIC YEAR




CW wishes to offer our best to a number of Tricolor players suiting up for NSWT and NSMT Sevens this week in Dubai. The games are reported to be "live" on CBC Sports with updates World Rugby (Google). Matchers start on Friday, with the women playing Russia and Brazil and USA on Saturday. The men play Samoa on Friday and NZ and Wales on Saturday. No easy game anywhere!
For the men, Fuli and Pat Kay claim CW as their home club and the women, Caroline Crossley and Karen Paquin. Thanks for recognising a major player with your development along the way, although not necessary the start of your rugby career. All the very best to you and your team mates. Go, Canada.

U19 Brain Trust (M.I.A. James Pitblado)
---