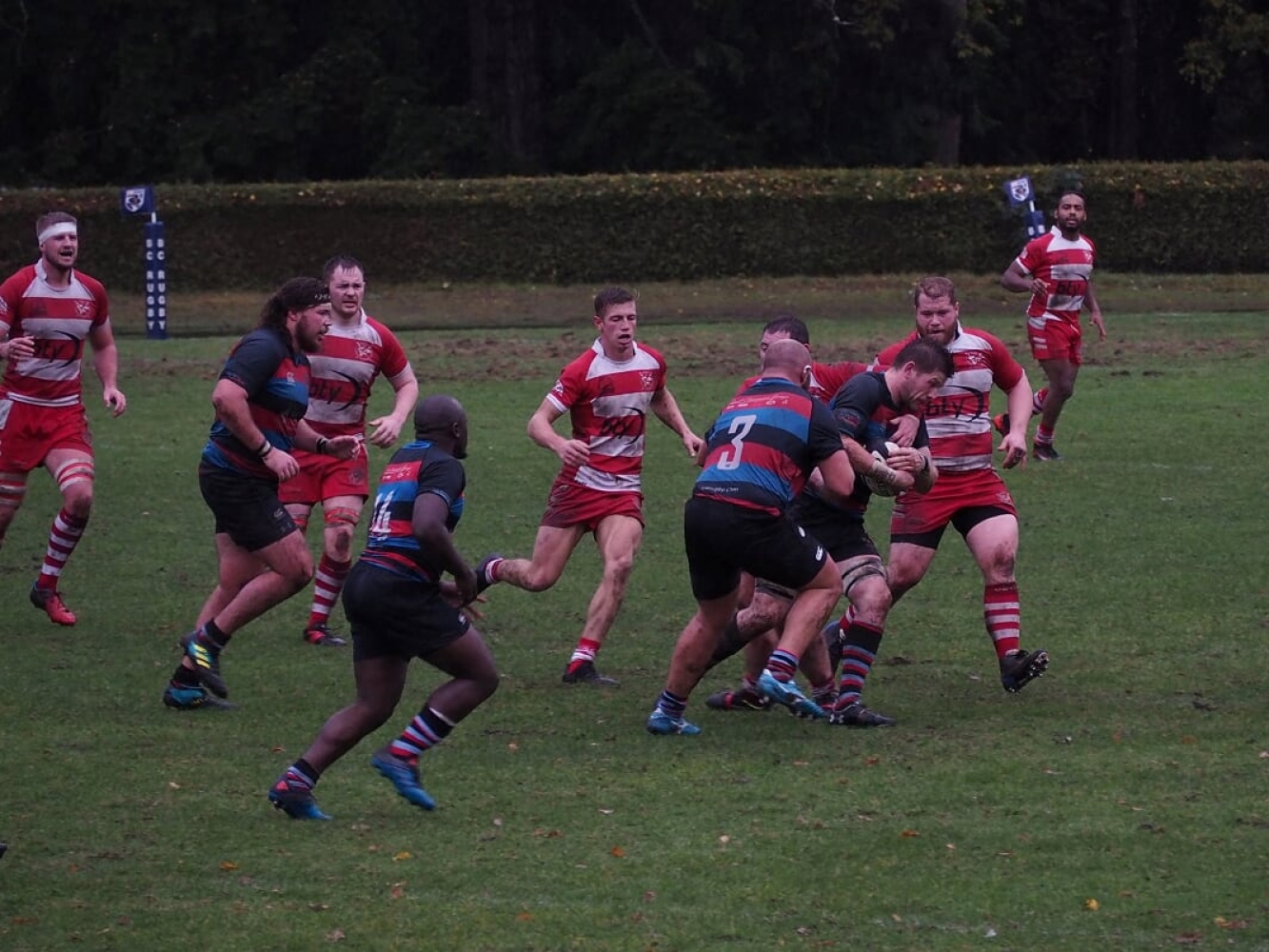 Wiliams Lake Connection!


CW Takes a Brace.
Hi, ho, it's off to work we go!
With time running out and a Rowers' lead, it appeared that their season's bagel would be broken. Then there was McCarthy with his "double brace" to save the day! BUT, we will get to that. Apologies for this cobbled report as neither The Ruggernut nor The Sage were at the match, however a few snippets have been garnered. The usual bustle of mustering and getting the gang on board BC Ferries was the precursor of a good day for The Tricolours. The weather became more inclement as the day unfolded.
The Divvies took the field against a 1 – 6 team yet, as predicted, had to fight hard to earn the win. Ahead 3 – 0 at the break, CW found themselves in arrears, 16 – 19 with time running out. The second stanza had opened with A CW try and 10 – 5 lead. Gus Porter added a pair of penalties to two tries by the Boatmen. Cometh the hour, cometh Curtis Bailey who had a good day at #9, sniping here and there and taking his lumps in so doing. In the dying moments he spotted a gap blindside from the breakdown for Gus to convert, a personal tally of 13 points and the 23 – 19 victory. Reports gave the boys credit for their defence against a robust Rowers attack, worth noting for a team that has had 258 points scored against them in eight games! Up to the Hub City next week to keep the train trundling. Good work, Divvies!
Not on my watch!



The Premier match was a grind, superiority in the FRF with the footing causing some interpretational problems at the scrums at the "set" stage. One snippet gave great credit to Rowing Club as being a team who will soon cause an upset of the apple cart and not to be taken lightly. (Ed. The same could be said of next week's opponent, Nanaimo.) The scoring opened when Fergus Hall fed Jack McCarthy from a received kick and there was work to done but Jack got the job done, 7 – 0. Rowers replied with a penalty and then went ahead, 10 – 7 with a well-worked try. Hall answered with a pair of penalties and a 13 – 10 lead. Rowers equalled for the interval score – 13 - 13, no blood!



Then it was McCarthy again, 18 -10; soon to be 18 – 13 and then 18 – 20. Not to let his mates down, McCarthy notched his hat trick to regain the lead, 23 – 20. The contest was intriguing to say the least but cool heads prevailed and McCarthy was soon across again, 28 – 20. Rowers added another for a final 28 – 25, a four-try-bonus-point win against three home tries. Adversity on this day came not only from travel and inclement weather but predominantly from a well-prepared and hungry opponent. A couple of "notables" for The Chaps – a barn-burning tackle from Sion Griffiths putting Rowers on the back foot and constant rampages from Horton – likened to by one wag as a wild bull from the Pampas! Shout out to officials on a miserable and testing day, also to hosts Rowing Club, always a good time with these boys. The trip home was tiring but in a most enjoyable way.



Next week up to Nanaimo and the Hornet's Nest ready to sting anyone who brings anything less than their A Game. The black and gold have scored 30 against UBC and got within ten of Burnaby at May Bennett. (FOOTNOTE – Prems, FYI, your defensive stats to date are identical to Divvies, 32 points against per game. No room for smugness!)



P.S. Great pics this week. Wendy had the aperture wide open in difficult light - go to; "LATEST PHOTOS" - Prems and Divvies. 'onya, Wendy!




That will cause a knock on every time!
Who said rugby training is not fun??
Shout out to Girls' U19's who knocked off James Bay in a good match and now move into the V.I. Finals next week.
---