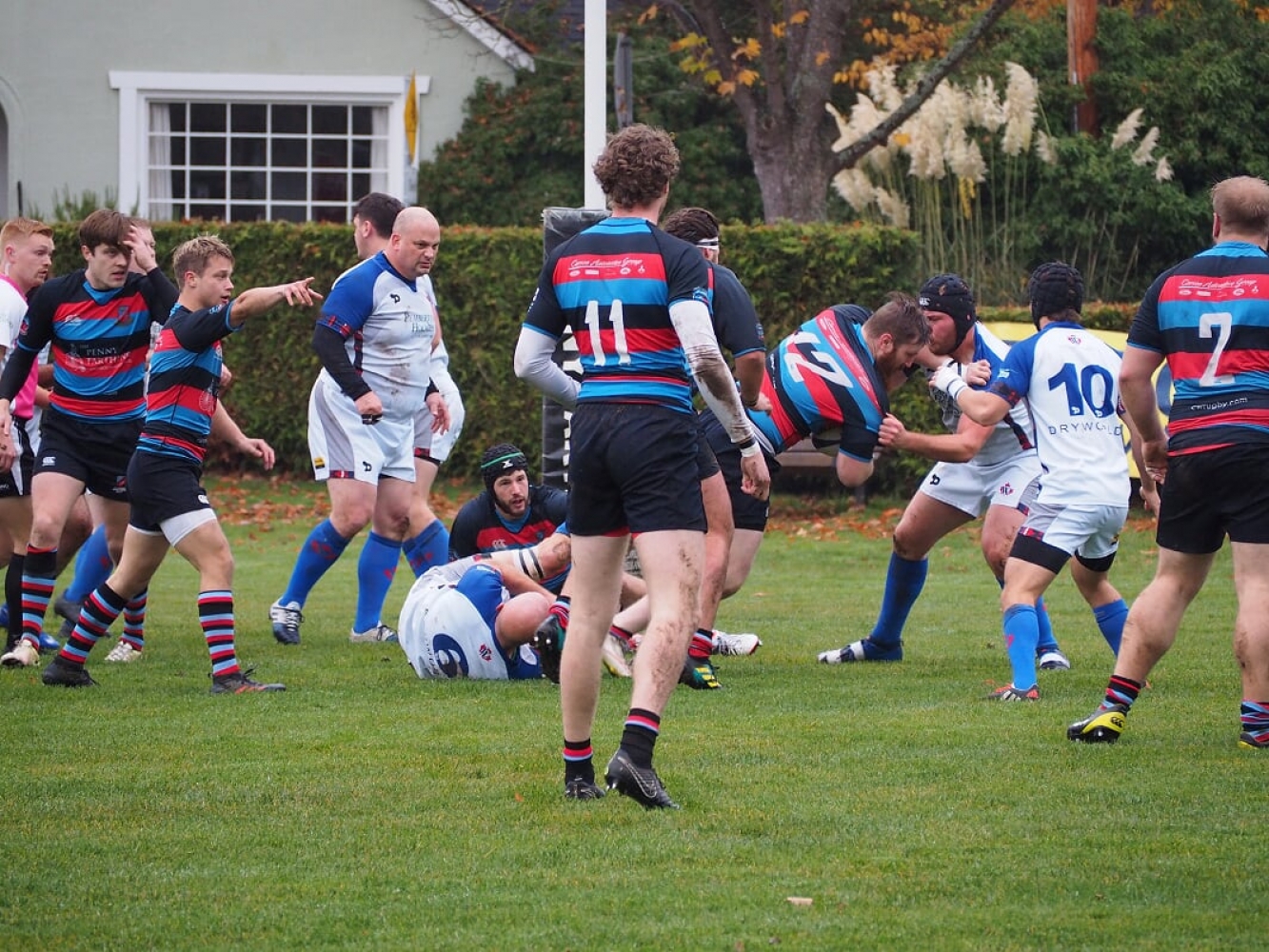 Brandon, 'The Director', Schellenberger - in the office!


A DAY TO REFLECT AND GIVE THANKS TO ALL THOSE WHO GAVE THE ULTIMATE FOR US
It was a good start by Westshore at Windsor on Saturday, no doubt, expected by the home club. After a few recycles Jones or Klaver (WRFC) was hit with a solid tackle, dislodging a greasy ball. CW runners retained possession, inter-passed and went some 70m and aided by a penalty, it was Clayton Thornber who forcibly broke a tackle and it was "first blood". Westshore was not daunted and gave a positive response. Aided by a penalty and a quality series of half a dozen recycles, a scrum was won and Billington alertly picked up and dove over. This interested fans as it appeared that CW had scrum dominance but after twelve minutes trailed 5 – 7. For Westshore this turned out to be the end of their scoring and they found themselves on the back foot for nearly all of the next seventy minutes. It was Thornber again with crisp handling from Humphries, Braddock and Bradley, the opening was sprung and it was Schelly under the sticks, 12 – 7. Then there was a showing of pace from the Double Vees, Newell and McGuire to make ground only for CW to return the favour with hard running from Horton, Bradley and Finnemore. It ended when CW split yet another scrum and Braddock fell on the ball, 17 – 7. Next Thornber and Horton again with impressive build up but as the ball got into the hands of others it was mishandled or passed poorly. So endeth the half and points left on the park.
The second stanza opened with dominant scrummaging from CW which was not converted to points. Play became a little humdrum – CW attack; no penetration or unforced error; Westshore solid defence but there were hints that the dam might break. So it came to pass when CW pressure caused a dropped ball. CW's Griffiths played a little "round ball", dribbling the oval ball some 50m ahead of the chasers for McCarthy to dot down. Then followed a lengthy period of CW position and possession, ending with Finnemore over the line, 29 – 7. CW replaced their props with Ilnicki and Woolridge who subsequently "split" the first scrum! CW worked the ball goalward and when a scrum occurred near the line, the resultant shove saw Humphries, now at #8, fall on the ball for final points. With ten minutes remaining, Velox did not drop the bundle and looked threatening however it was Balucci and Schelly who broke out only for the ball to needlessly go to ground. Perhaps a fitting finale for a game whose result was satisfying enough for CW but against a stronger team on the day, might have had the result in the balance.
For Westshore, I give #8, Eager full marks and his loosie mate, Billington worked hard. A much vaunted McKinnon was a disappointment with both technique and fitness and the remainder of the pack toiled as best they could. Klaver at #10 was worthy of his spot and Newell and McGuire on the wings showed flashes but it was the center, Gonevou who was "head and shoulders" in the backline.
For CW the forwards were very solid with set scrums impressive, providing a base for what should have been more points. Humphries, Ilnicki and Chiz with eighty minutes were good value and Horton put in his best showing of the season, a threat in the open and far more solid technique in the set. 'onya, Quinn! In the backs, individuals stood out and so many times when they started to look good as a collective, the ball was jolted in a tackle or an imprecise pass made however, it was certainly a much improved showing. Schelly was money at #9, feistily sniping ahead or clearing from the defence with sharp passing to his backs or slick ball to an ever willing group of forwards. McCarthy certainly came to play – right from the kick off. Bradley made some impactful charges and Griffiths (new at #13) made some chances.
It is nice to see the boys squeeze into the "top ten" and as mentioned pre-game, baby steps it will be. Next Saturday it is over to Brockton Oval to face Dougie Fresh and his Boatmen. Despite occupying the cellar, Rowers came very close against Caps and James Bay and as both Lomas and Nanaimo have prove, no team can be taken lightly, so another week of hard work should be welcomed after Saturday, with the intent of a good finish to the first half of the season.
NATIONAL WOMENS SEVENS
Canada had a team in the Oceania Sevens in Suva last week. It was another qualifying event for the Tokyo Olympics. With Canada already on the ticket, it was a younger, Maple Leafs team sent to get experience. The ladies finished in seventh place out of the twelve teams. Australia won the tournament and have now been added to the dance. The Aussie women defeated NZ (already qualified), twice, both in Pool play and the final, serving notice to all that Tokyo is a "shoe" for anybody!. Canada lost to both of these teams in Pool play. Pictured above are CW types; Ella O'Reagan, her first opportunity at this level, Pam Buisa and Caroline Crossley with Premier Coach, Jess Dovanne as Assistant Coach. 'onya, ladies.
Australia's men defeated Samoa in the Final to gain entry into the Olympics and Samoa has a chance with another repecharge tournament. Meanwhile, Canada Men's 7's, shook off some cobwebs yesterday at Windsor Park when a serious tournament showcased talent from the B.C. Premier League and the Pacific Pride and the NSMT. All hands were on deck with the exception of Sean Duke (concussion protocol) and Lucas Hammond (injury). There were very few tries scored ageist the NSMT but ex-CW, Anton ('The Magician') Ngongo, now with The Pride, scored a beauty. For the Nats, all looked rather good, some liking Zaruba best of all and probably the hardest to stop on the day It was good to see Braid and Fuailefau healthy and in good form. Jo Jo Morra and Isaac Kay looked sharp, Josiah particularly, in contesting kickoffs and Jones and Hirayama were their reliable and skilled selves. This is a strong group and with no injuries and rub of the green, nothing would surprise in Tokyo. Go, you good things!
Precursor at The Park!
---