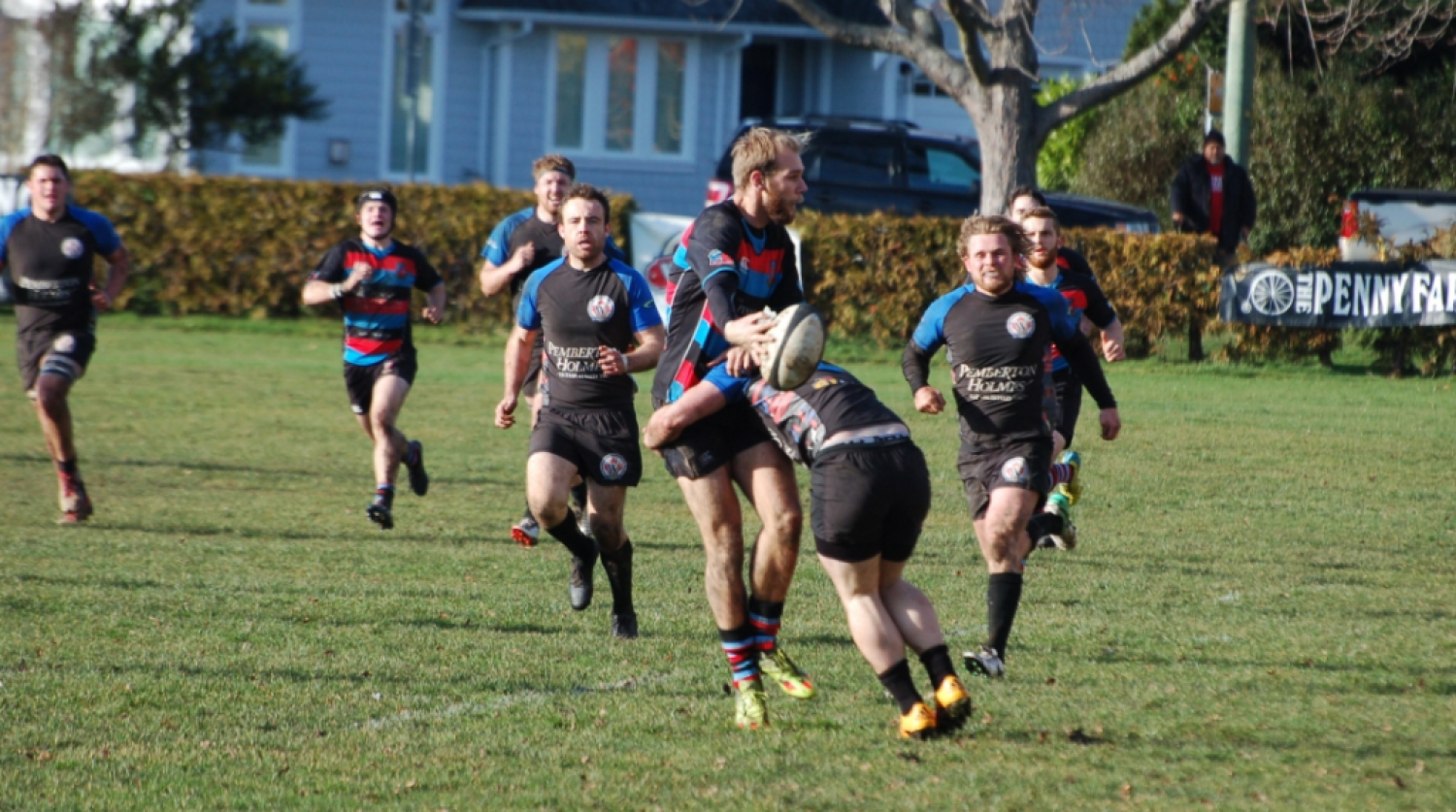 Westshore Shows Early Form in 41 – 38 Track Meet
Saturday's match was merely a minute in when the Westerner's newcomer, McKinnon, a big unit from the Prairies showed his stuff, fending off a couple of "would-be's" and a forty metre trundle for first blood. CW appeared stunned however, cooler heads prevailed and there was an almost, immediate response. A Westshore lineout 'overthrow' saw Kanty flick it to Dan Griffiths and on to Edwards for the tie at twelve minutes. CW continued with some enterprising running and passing with The Queen noticeable. From one such foray, Dan Griffiths in the centres kept pressure on with a handy break and three pick and drives later, Turner was over for the lead at "twenty", 14 – 7. Then came a drop of champagne. From the kickoff, sixty meters out from pay dirt, Sion Griffiths scooted wide of outstretched hands and pinned his ears; who could count the number of hands and deft relays as the pace was commendable and some six inter-passes later, Griffiths completed what was one of the best tallies seen at The House for some seasons, 21 – 7 and all CW. With the boys revelling in running rugby, the next score came somewhat against the flow, when Westshore answered with a good solo effort from winger Edwards, also showing pace, who fended and went 35 metres, 21 - 14. To this stage, Premier player, Mosychuk was outstanding for the "Double V", capably supported by strong running from Gagnier and McKinnon, this group also forming the basis of an experienced set piece. CW earned a penalty and Gerhardt ran a good line and was away, transferring to Kirk (?) for the 28 – 14 lead. As the half drew near, Westshore's #10 Gonevou and Mosychuk asked questions and when a penalty from a set scrum went against CW, an alert Mosychuk, tapped quickly and was over to reduce the affair to 28 – 19. With mere "ticks" left, massive McLeary at lock made a fifty metre break only for the ball to go loose in a desperate tackle, bringing the proceedings to an end.
The second half opened with a "yellow" to Mosychuk for a late tackle with his effort, most of the afternoon to upset CW's Kanty. He was punished by three points and a 31 -19 lead. This proved to be far from unassailable as the second half unfolded to be the antithesis of the first. Then came what was arguably the TSN "turning point" when CW substituted what might have been a "key three" before any of the first half ascendancy had been repeated. A quick Westshore heel from a scrum saw Gonevou to Edwards on a good line, to be stopped by a desperate tackle which resulted in a penalty and a series of good Westshore retentions and Hagerty was in for try and 31- 26 score. With WV's tails up, only a knock on saved a further try after missed tackles. Thence there was a spell of "to and fro" and mostly, Westshore field position. After another good #10 to # 7 line at 25 minutes, there was a swift offload to a 'sub' and a 31 – 31 tied match. The lead came after a noted build up from McKinnon, Mosychuk and Foster (normally seen with a whistle rather than rugby ball in mitt), all showing a good nose for the charge and finally this man was over for the lead, 36 – 31. With the weight and experience advantage, the game was skewing towards the Visitor's favour. Somehow CW managed a visit to the Westshore half and after a scrum from a penalty to CW and it was 38 – 36 nose ahead! From the restart and resultant home team penalty, one had a sense that this could not be retained and so it came to pass when from a Westshore line out win, Gagnier made a massive 40m break and offload for the 41 – 38 victory

In conclusion, an entertaining match, shout out to referee, Pedrick. It was a fully stocked Westshore team that CW faced and showed well with not quite the same commitment to the tackle as the match against UVic. Plenty of stars for the Visitors, none brighter than Mosychuk, capably assisted by McKinnon, Gagnier and Mc Cleary in the pack. In the backs Gonevou, Gervais and Edwards all shone. For the home crew, Humphries and Gerhardt were the pick of the pack, with Howes, Dan Griffiths and Gus Porter looking good in the backs. A good outing against a fully loaded opposition and true test of where the Divvies are at, well ahead of this stage last season in this pundit's pov.
---