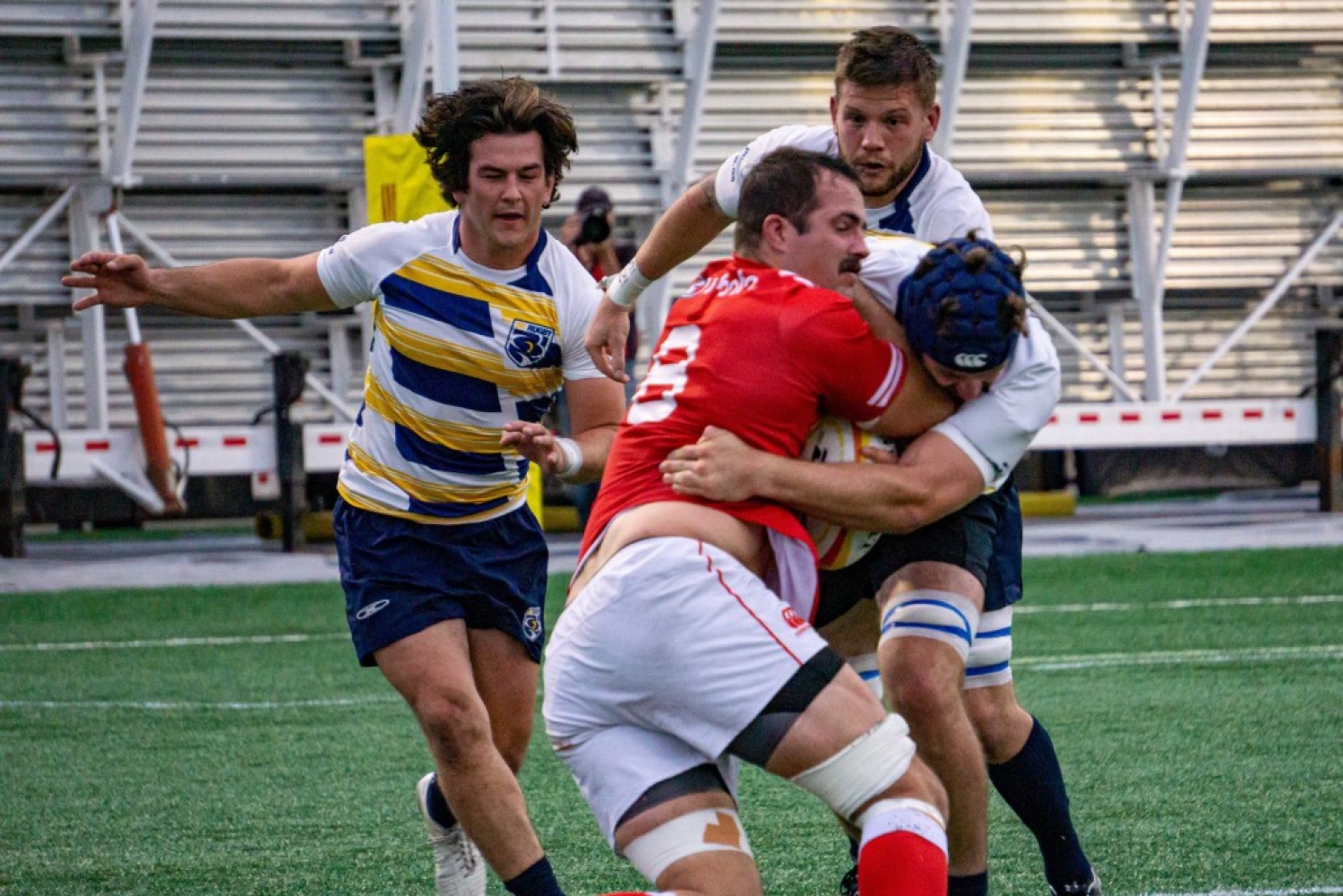 Stewart Eyes His Options (photo- BCRU)

CW Boys Show Well Before Second Half Swamping
Rugby Canada 45 – B.C. 13
CW's Braddock, Finnemore and Stewart knocked heads "pretty good" with their more vaunted rivals for forty minutes on Friday last at Westhills. Then there was the amazing Schellie who kept Hassler under wraps to the senior's chagrin, starting on the wing but showing up in the half-back spot or wherever it looked like he might make a break. 'Bam Bam' Bradley, in his first "representative" outing in some time, playing in the centers, was not out of place. Braddock, in particular, seemed to revel in his battle in the sets with Cole Keith, along with being visible around the park.
The B.C. boys kept the affair at 13 – 17 at the interval, in front of crowd whose allegiances went to and fro, with an expectancy to see a free-wheeling Canada team amass points aplenty and indeed, it started out that way. It was a with a brave goal-line stand that seemed to swing the affair around, ending with a well-taken B.C. try from a hard-running Mason. The second half manifested a huge difference, although one could arguably say that Team Canada's play was far from enterprising against a lesser opposition. The only bright glimpse for the BC boys came midway through the half, against the flow, when they broke from their own line, moving swiftly into Canada's half, only for an inside pass unfortunately into the back of the ref, with pretty much an 'odds on' chance for a try; probably his only glitch on the evening!
For Team Canada, Larsen, Campbell and Coe caught the eye of this pundit with good enterprise from Sauder at #15. Justin Blanchett scored a brace of tries. Mack, Fraser and Lloyd's late insertion brought some dynamics to the action, in what was otherwise, pretty much a lack-lustre affair. The second half change in the FRF saw Ilnicki and Barker create scrum dominance which resulted in numerous B.C. penalties on their line and more often than not, tries against. On the other side, good for the B.C. boys, probably much under-cooked with their prep compared to the daily workouts of the NSMT. Reid Watkins from Burnaby at # 9; Adam Mc Queen from UBC at #10 and Cole Mosychuk from Westshore, all deserve a shout out. So endeth, one man's opinion.
We will look forward very much to next Saturday's "test", a return match against USA, with the score line a telling tale as to improvement or not since the last time the teams met. CW is certainly behind Team Canada and wish all the boys well as they strive to be included on the flight to Tokyo. Go, you good things. There are still plenty of seats available at B.C. Place next Saturday.
n.b. Not sure if Sir Graham was present for this one, whatever, he will have to rub the magic lamp methinks!
Hasta Lluego, Riley Di Nardo. Riley Di Nardo, pictured here at CW training, wearing the 'Trainer of the Day'' awarded kit, bids farewell to CW as he heads home to Ontario. He heads back to Guelph to finish his Kinesiology/Fitness and Health Program course of studies. He will play there and we know he will help their team enormously. Likewise, he will be enormously missed at CW as the season progresses, with his top quality/aggressive/take no prisoners style of play. Riley reflects; "Mike Danskin and Spencer Robinson were influences that helped me decide on CW as the place to be out West, when not at home running with the Scottish or Arrows. I have many memories, one of the best being in Seattle after a four hour border wait; arriving late; no time to warm up; winning the match in the last second thanks to an interception and full field ''dash'' by Dougie Fresh. The night 'on the town' with the team, attired in Country and Western theme was memorable. D.D. & I teamed up into a rented horse costume, we gave rides to random Seattle women all over town and finished the night by riding the Bull at Cowgirls' Bar. We coined our tour as; "The Horse Rides the Bull Tour''. Thanks, CW"
---