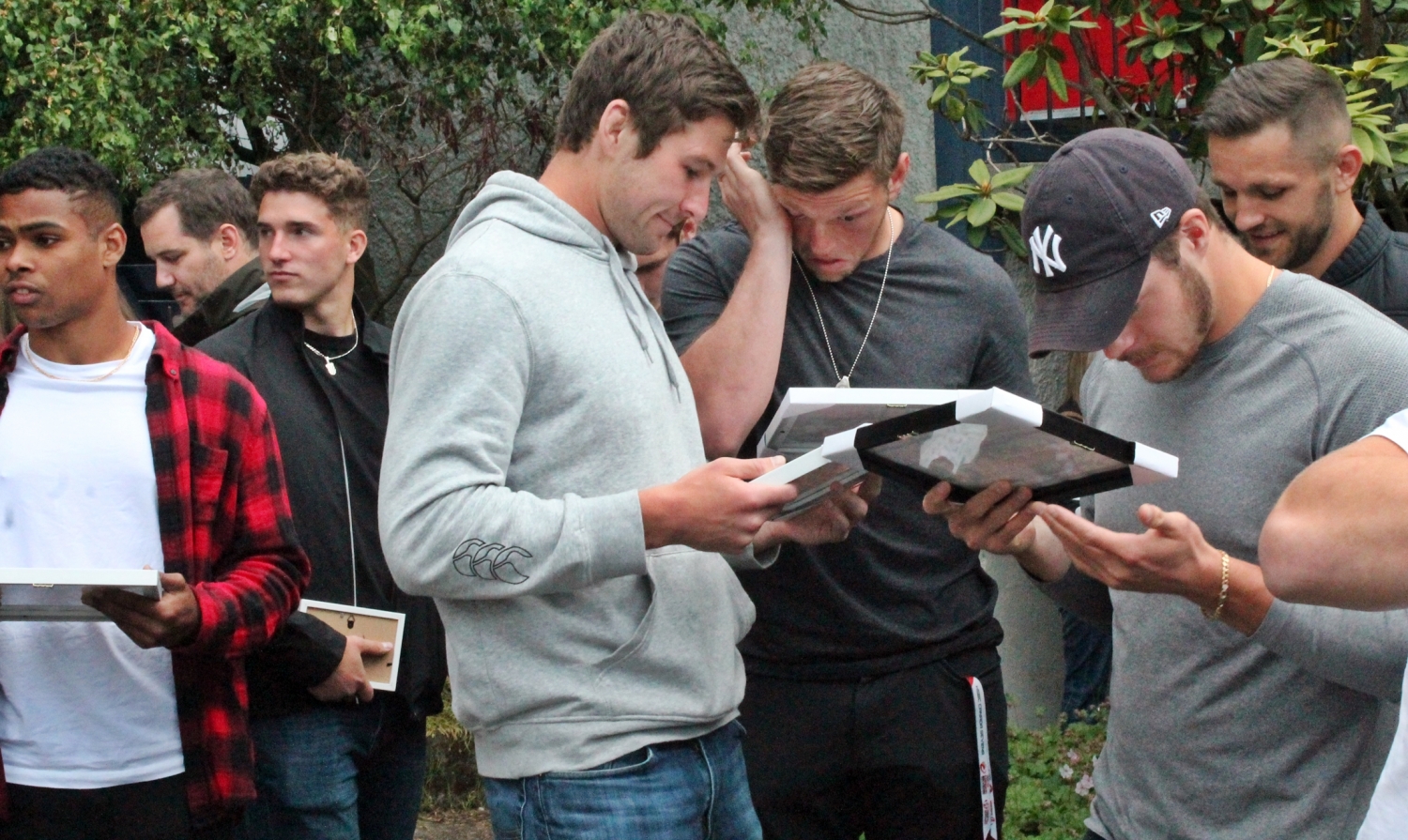 TO A MAN! (Photo; BCRN)
Very interesting to note the NSMT's 7'S were present to a man to offer their thanks and best wishes to their past coach, Damian McGrath, last Friday at JBAA. The coach gave each player a mounted collage of memory, recorded in photo after the team had won their only 7's Tournament title in Singapore last year. Indeed, truly an amazing accomplishment for a time "When We Were Kings!" As pictured, emotions ran high. Things were not replicated this season after a rocky start to the campaign. Despite that, the obvious respect that the relationship the men had with their coach is noted. This group of men are a class act and will continue to do their best to reap honours on Canadian rugby and we wish them well in the remaining two tournaments – London and Paris.
Whilst with the NSMT programs, keep an eye on this site for reflections on; "Rejuvenation of the 'Pride' Program."
Our congratulations go out to the members of the VIRU Women's Tide team that won the B.C. title; the Ruth Hellerud-Brown Cup, when they defeated Vancouver Women Reps on Saturday, 85 – 17. CW was well represented with team coach, Julian Carnet and players; Nicole Shaver, Lizzie Adams, Ciara Malone, Lauren Sargent, Julia Folk, Sya Trafford, Sara Einarson, Camille Irvine, Hazel Domingo and Chanelle Edwards-Challenger.


Whilst with the plaudits, some more for OBHS Barbs, led by Jack Carson and Max Abercrombie (a recent selection to the NSMT U18 squad), both Ceedub kids since age 10, defeating SMUS for the LVISSA title, aka, Victoria HS Champs! The Barbs will take on Shawnigan Stags this Thursday at 4:00 p.m. at U.Vic`s Wallace Field to determine the VI Champion. This could be a repeat of last year when the Barbs upset the favoured Stags. Oak Bay will field some 5/6 members from last year's team and will be very keen to repeat. We say; "Go, Barbs!"

FOOTNOTE: 'Onya to Jack Carson, winner of the Don Burgess Cup for the Most Outstanding Male HS player in Victoria – the Player of the Year. 'Onya, Jacko!
GROW THE GAME
This Sunday, a new initiative, Try Rugby will kick off at U.Vic's Wallace Field at 10:00 – 11:30 a.m. The program is aimed to introduce new or "just learning" players to the game. It will be a non-contact program where skills will be emphasised and games will teach youngsters to use space; beat the man with running and passing skills. The program is geared to Elementary School aged boys and girls. Registration fee - $50 (hardship considered). Spread the word. Questions? Phone: 250 721 1527.


---