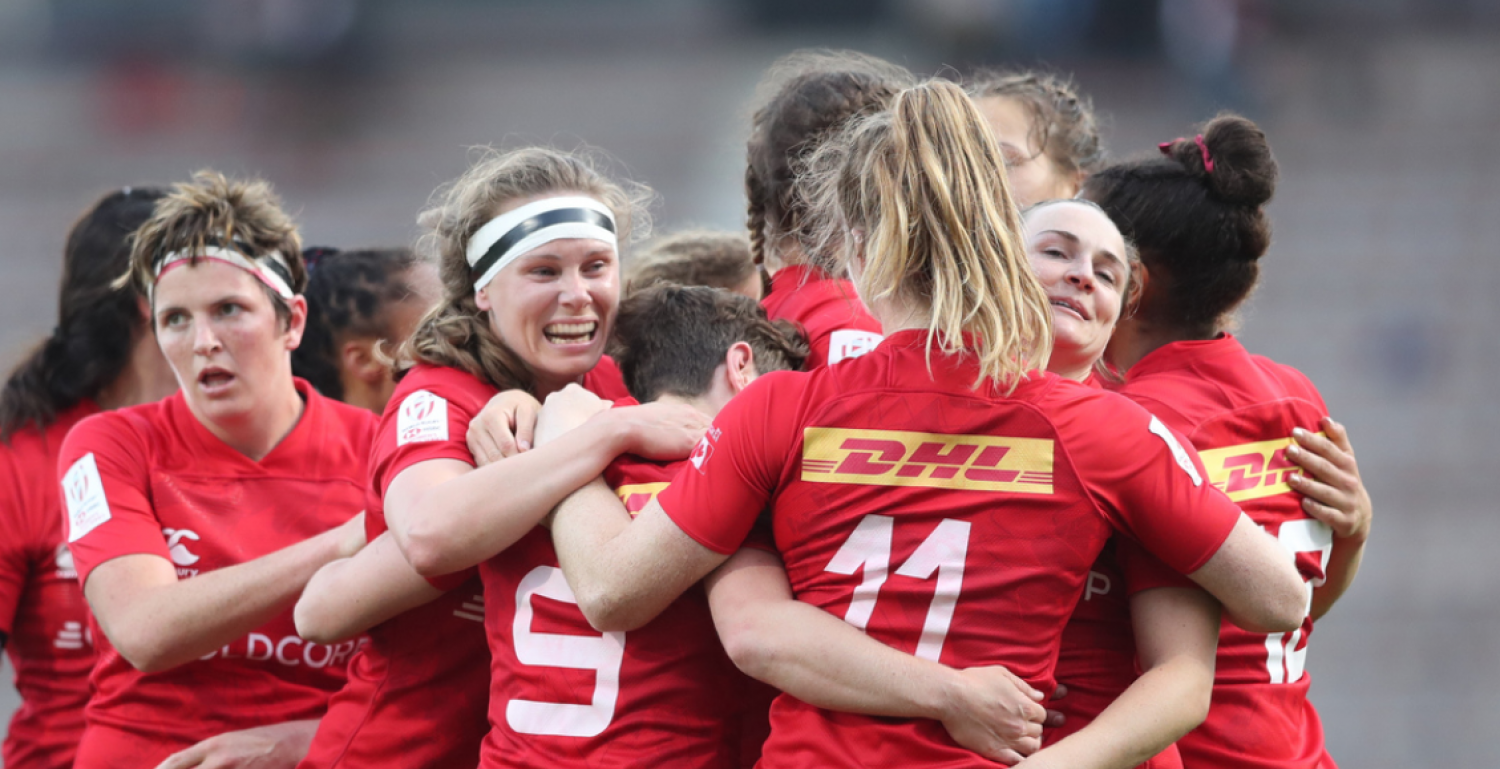 ANOTHER WOMENS' SPECTACLE AT WESTHILLS
Elation, but…..Britt Benn's face shows the exhaustion and possibly, the frustration of yet, another 'Home' underachievement.
A great weekend of Sevens, buoyed by excellent turnouts on both days. The new stands worked well and yes if the same can be replicated on the north side it will be perfect with an "HOWEVER"! Parking is still not sufficient for such a "completed" venue. On Saturday, event overflow could not be accommodated at Belmont School due to a school bottle drive! With the additional stands, the luxury of a beer garden may have to be discarded and patrons simply enjoy a tinnie in the stands!
To the games. "Boy", throw out the form guide when it comes to Sevens! Between matches is difficult enough to predict a winner, let alone between tournaments. This said, the Kiwis again won the day with arguably, two of their best missing from their squad. The N.Z. factory keeps churning them out but it was not without considerable effort and a smidgeon of fortune as the Ferns definitely have a target on their backs. Canada did not confirm qualification for the Olympics and the U.S.A. hurdled ever so slightly past our ladies into second. This pundit predicts, that despite France hosting the final tournament in Biarritz, Canada and Australia will join the U.S. and N.Z. to be the "automatics" for the Olympics. After an early Sunday morning loss to the U.S. – a game which at one stage went for around three minutes without a whistle; a game where the U.S. dominated possession and seemed to have an edge on size/strength; Canada seemed to find its plot, handing Spain a spanking and hobbling an English side, 31 – 7, a feat they could only manage at 7 – 5 in Japan a couple of weeks back.
Two final reflections, "CW's", Karen Paquin had a tremendous tournament and was duly rewarded by being named to the Dream Team and in this viewer's eyes, Captain Landry remains amongst the top three women's players on the circuit, imo. Not enough superlatives. Home-town, Caroline Crossley had a bold showing and is continuing to visibly improve with each outing. Second reflection – I can never believe the number of knowledgeable fans that turn out to the sevens and other games at Westhills, yet women's and men's club games, rarely attract fewer than the devoted! Where do they come from and how have they acquired their knowledge? Oh, must add an afterthought – to the young ladies who are registered in Academies and the fantastic base that you are acquiring and your display this weekend was just great; along with the kids who did their thing during intervals on the program. Great stuff. It appeared to be well organised and it is to be hoped that World Rugby sees in its wisdom to retain this stop on the circuit.
FAST FACTS: 43,000 girls across Canada registered in Rookie Rugby programs this past season!
CW AT THE SEVENS

There was other rugby action on Saturday on the local front, with games at Juan de Fuca grounds. A Schellie-led South Island, Men's Crimson Tide team knocked off the North Island Tsunami, 34 – 17 with a club guy raving about Tricolour, Quin Horton playing a 'blinder' at lock. The Tide Women laid a licking on Vancouver reps, 87 – 12 and these were preceded by a Tsunami victory over a Tide U23 Men's team, 39 – 36. All sounds like pretty good stuff, so congratulations to all of men and women who were selected in these matches. More to come!


---